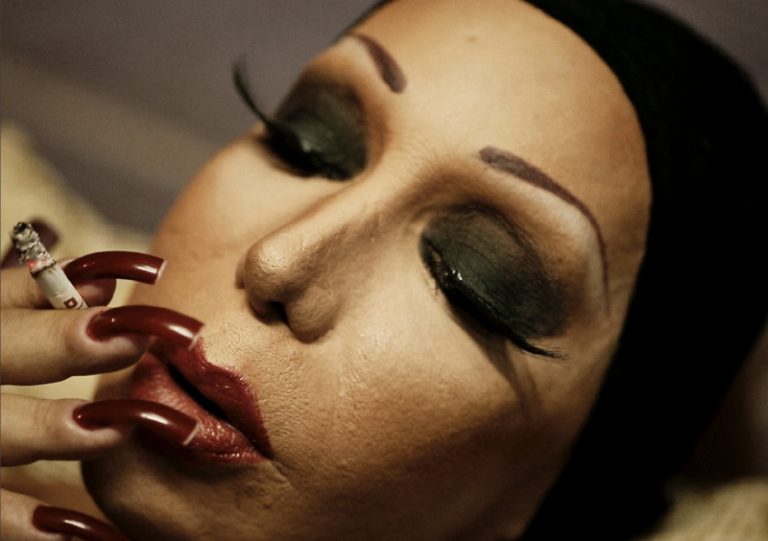 Obscuro Barroco
27 November, 2018
Obscuro Barroco is an acid-laced homage to the forces and characters that give life to Rio de Janeiro. Fragments of ecstatic dancing, fireworks, protests, contorted bodies, and cityscapes are paired with lyrical reflections from the long-time Rio resident, Luana Muniz.
Luana, a highly public trans activist and icon of the underground scene, has been the subject of numerous films, but in Obscuro Barroco she take on a different role. Instead of seeing her narrate her life history, she moves through the city drawing connections between the changing character of Rio and her own trans identity and experience. Processes of metamorphosis, the human taming of nature, beauty and decay, draw these two ideas together. Appearing like a ghost haunting the streets, or maybe the city's guardian angel, Obscuro Barroco seems to pre-empt reality as Luana sadly passed away soon after the film was shot.
Apart from the recurring presence of Luana, the film avoids traditional cinematic structures. Instead, we are offered fragments of stories, moments of reflection, and stylised scenes that together form a beautiful chaos, mirroring the city itself. All that's left for the audience to do is give themselves to Luana as she guides you through the mayhem.
In one fragment we follow a wandering clown through a night of Rio's famous carnival. Despite typically being a figure at the centre of the carnival, this clown moves against the flow of the crowds, ending their journey laid out in a warehouse amongst other discarded carnival props. In another fragment, we follow a favela street party of women and children. Although much less glamorous than the images of sculpted bodies in costumes of thongs and feathers, these moments remind us of the roots of the city's carnival as a popular form of celebration and resistance.
As well as mixing different characters and narratives, Obscuro Barroco moves between documentary and fiction. In some of the documentary fragments, we meet the trans women who sustain Rio's night life, and whose foremothers (like Luana) made the city what it is. We eavesdrop in on backstage conversations, ranging from daily chit-chat to how to achieve that "Nicky Minaj booty". Throughout the film, the naked bodies of Luana and her comrades are exposed to the gaze of the audience. However, the director, Evangelina Kranioti, is able to intimately capture these bodies without steering into voyeurism.
In one of the final scenes, a group of trans performers chant their right to exist, demand visibility, and claim their own forms of beauty. Given Brazil's current political climate, in which a swing to the right has elected an LGBTIQA+ hating President and legitimised hate crimes against LGBTIQA+ individuals, this emotional scene left many of the audience in tears. Although the rest of the film is decontextualised and fragmented, this ending speaks directly to Brazil's current moment. It is as if, given Brazil's ongoing crisis, Kranioti changed direction during the editing process. What begins as a beautifully surreal, mysterious cinematic experience, ends with a political rallying call pertinent to Brazil's here and now.
The success of Obscuro Barroco on both of these fronts has brought it to the attention of film festival juries both nationally and internationally, winning the Teddy Award at the Berlinale and the Premio Felix at the Rio International Film festival. It is certainly one of the most original pieces of queer film-making to address Rio de Janeiro and its residents, and so is well worth looking out for as it travels across cinemas and festivals scenes throughout the world.
This film screened as part of Fringe! Queer Film & Arts Fest 2018.
OBSCURO BARROCO TRAILER from Evangelia Kranioti on Vimeo.

Follow Sounds and Colours: Facebook / Twitter / Instagram / Mixcloud / Soundcloud / Bandcamp

Subscribe to the Sounds and Colours Newsletter for regular updates, news and competitions bringing the best of Latin American culture direct to your Inbox.
Share: