"Oh Yes, I'm a Great Pretender": An Interview with Blubell
04 April, 2011
The thing with Blubell is that once you hear her songs you can't get them out of your head again. This is most certainly the case with "Chalala," a song that sounds like it should be a Billie Holliday or Etta James staple. In fact, it's the theme song to the Brazilian TV series Aline as well as being one of the stand-out tracks on her latest Eu Sou do Tempo em Que a Gente se Telefonava album.
Eu Sou do Tempo em Que a Gente se Telefonava was made Maurício Tagliari on the controls and features collaborations with Tulipa Ruiz, Bruno Morais e Luca Raele. Blubell released her first album Slow Motion Ballet in 2006 – at that point she was known as Bluebell. I wanted to find out why it had taken her so long to release another record, what she had been upto in between, and also her thoughts on the current music scene in Sao Paulo.
Have you always lived in São Paulo?
I grew up here. I do admire people who move to other places seeking career opportunities… But in my case, at least for now, I think I'm better off staying here…
What are your thoughts on the music scene there, it certainly seems like the city's in a good moment?
Absolutely. I feel really lucky to be part of this moment of the city. When I was a child, Rio de Janeiro was the cultural capital of Brazil. Today, it's definitely São Paulo. There are artists from all over the country here now and there's a sense of "artistic community" in the air that I'd never seen before.
Has there been a noticeable change in the city since you released your first album?
It's been growing in shocking speed. Every year, there's more and more people on the streets, the subway, etc. It's pretty noticeable…
Why did it take you so long to release your second album?
When I left the label of my first album in 2007, I already had written most of the songs on Eu Sou do Tempo… and I immediately started looking for a producer to work with. I tried working with a bunch of them, but it never seemed to really work… Meanwhile, I'd been doing jazz gigs with the boys of a quartet called À Deriva (which, by the way, means 'drifting'). When I decided to call those boys to be my backup band, things started to happen… We got a deal at YB Music and… here we are now!
How do you think you've changed since that first album?
I've grown a bit since the last album… I think I became a calmer and more hopeful person over those five years…
Do you feel sad about losing one of the 'e's in your name?
Not at all. I had a litigation problem with it. That first record label I left held the patent of the name "Bluebell" and wouldn't give it back to me. It was kind of a revenge, a very stupid one… At the time I was thinking of what to do with my pseudonym and my then boyfriend Pedro Baby told Arnaldo Antunes about it. Arnaldo was the one who suggested I take off an "e". I loved it right away, because it makes it more unique and less "Englishy" (no offence!)
Between albums you were recording jingles and doing session work. Are you as happy singing other people's songs as your own?
I still record jingles and I still have tons of fun doing it. It's an interesting job to go to different studios and see different producers working in different ways. It gave me confidence to have my own home studio and start producing my own things. I did the pre-production of Eu Sou Do Tempo… on my own, using a laptop, guitars, a microphone and an audio/midi interface. Singing other people's songs can be as good as singing mine. It's just different. Actually, when I'm able to choose what I sing (which is always, except for the jingles), I kind of pretend that those songs are mine. ("oh yes, I'm a great pretender!")
Do you think the Internet has helped a lot more with promoting your new album that the previous? It seems as if artists in Brazil can potential really use the Internet to reach people that they might not have done in the past.
Sure. When I released my first album in 2006, there was just Myspace, which was already a wonderful help. But today, with all those other social networks it's even better, even for major American artists, I think… Your fans can access you much more easily and so the other way out. The better you know how to use those tools, the better.
Who are your influences, both national and international?
Honestly, I listen to so many different types of music, that I just don't know what influences me. I often say that my influences include what I ate for breakfast, my bank account balance, the weather and so on… But I can tell you some of the songs that I recently played in my ipod: "Lay it Down" by Al Green , "Copo D'água", by Marcelo Jeneci and "O Seu Amor" by Doces Bárbaros.
[To find a few more of Blubell's influences she recently made a mixtape for Don't Touch My Moleskin with a selection of songs from male artists including Brazilians such as Tim Maia, Seu Jorge, Rafael Castro and Arnaldo Baptista. You can download the mixtape HERE.]
I'm very interested in where artists and bands play. Which are some of the venues that you play the most in São Paulo, and which is your favourite?

If you're not a major artist here and you want to have perfect technical structure, the best places to play are the SESC's, which are cultural centers funded by a group of retail companies. But if making money is not your prime goal, there are interesting small places to play, such as, Apê 80 and Casa do Mancha [both of these are small house venue]. They both remind me of a kind of "berliner-trashy" clubs… There is a particular small place I played at two weeks ago called Casa de Francisca. It's just like a small 30's cabaret. I think it's the most special place I've played at recently.
What's the plan now the album has been released? Will you be touring?
Yes. I want to tour as much and as far as possible, and I'm working on it… In and out of Brazil… Can't tell you much else right now…
And on that note, we tie up the interview. Keep an eye on Blubell's Myspace for latest concert news. She's normally always playing somewhere around Sao Paulo.
You can buy Blubell's album Eu sou do tempo em que a gente se telefonava from ONErpm. You can read a review of the album HERE.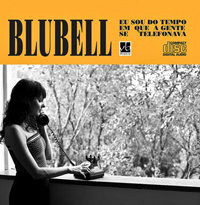 Here is her video for "Chalala":
And here she is performing "Mão e Luva" for Estudio Showlivre:
This is the first interview in a series of interviews we've dubbed the Sao Paulo Interviews. There will be another interview every Monday for the next couple of months.

Follow Sounds and Colours: Facebook / Twitter / Instagram / Mixcloud / Soundcloud / Bandcamp

Subscribe to the Sounds and Colours Newsletter for regular updates, news and competitions bringing the best of Latin American culture direct to your Inbox.
Share: