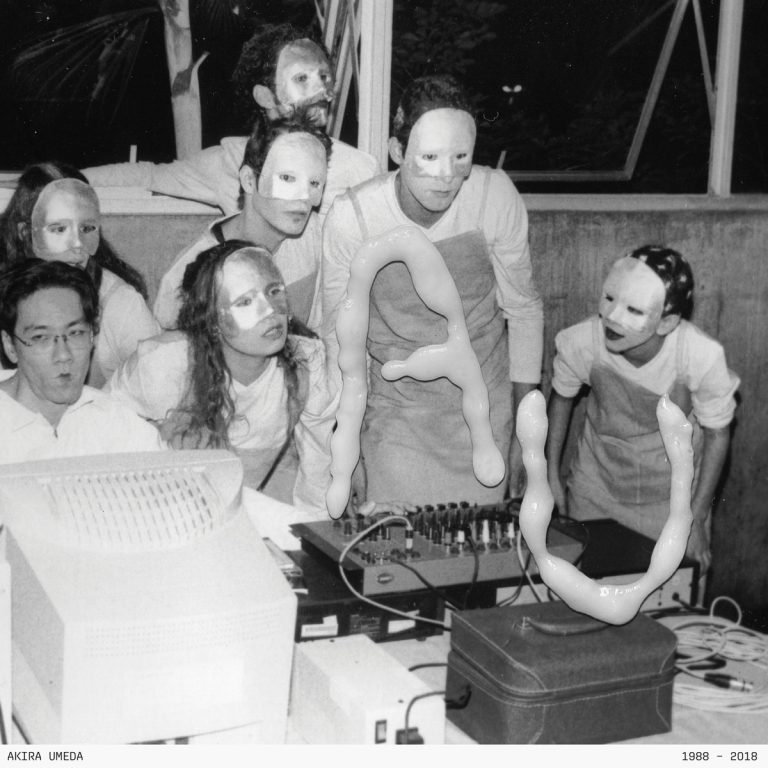 On the Margins
07 August, 2023
Hi, hope your summer is good and I have some recent releases to pique your interest, which include Afrofuturist Brazilian jazz, post-punk proto-techno, cottaging inspired collage, and warm tropicalia vibes, so please proceed to investigate.
Agentss – Agentss (Nada Nada Discos)
The importance of Agentss in the post-punk scene of São Paulo and all the alternative scenes that followed cannot be underestimated, their debut release being considered the "Spiral Scratch" of national independent releases. Back in the early 2000s, when I helped compile the Não Wave – Brazil Post Punk compilation, it was always obvious that the Agentss' debut single would be the opening track. Writer Simon Reynolds certainly agreed when he opened his DJ set of post-punk here in São Paulo with the same track. Formed from the basic trio of eccentric electronics innovator Kodiak Bachine, and guitarists Miguel Barella, and Eduardo Amarante, this double album contains their two solitary single releases with B-sides, but also a whole batch of recordings that have been in the vaults for 42 years. That debut single, "Agentes", was a blast of something new back in 1982, with its disembodied voices and electronic pulse drawing you in, revealing that these city kids had been absorbing a whole load of strange new wave influences, e.g. Devo, B52s and early Ultravox, and throwing out their own arty and weird versions. The unreleased stuff is solid DIY '80s with clattering drum machine, winding new wave guitar and synth lines accompanied by Bachine's heavily treated post-human vocals. There's some well recorded live material from their infamous show at the Teatro "Ilhas do Sol" with live drumming and Barella's classic chiming contemporary guitar playing. "Geneve" really pops along with a demented new wave energy and "Devoltagem" is a pounding piece of proto-techno rock. Quite why these tracks have stayed in the vaults for so long is difficult to understand. With the right record company at that time they could have released an astounding debut LP that would have been years ahead of their contemporaries and certainly would have made them a better known name.
---
Akira Umeda – 1988-2018 (Lugar Alto)
Akira Umeda lives in São José do Campos, an unassuming city I used to drive past on my way to the mountains to visit friends. Little did I know what dark treasures it holds. I could maybe pride myself in being probably the first person to write about Akira Umeda a while back in these same pages, as I was recommended his work and extensive Bandcamp page by the label boss of this release, the always interesting and investigative Lugar Alto. Certainly an unknown quantity in the Brazilian experimental circuit, Umeda is a historian by trade, but also a ceramicist, a photographer, a visual artist, a graphic designer, a DJ, a musician, an audio technician, a writer, and a researcher. His Bandcamp page is a mass of identical looking albums and this excellent compilation helps make sense of that huge back catalogue of releases. The album creates a collage from extracts from those albums and takes in ambient, prank calls, field recordings, indie minimalism and experimental sound pieces. The double LP is laid out as 4 side-long pieces which can easily be listened to as a whole, never boring, jumping from one soundbite to another while at other times the snippets meld together to create a whole new sound. Inspired by the gay practice of cruising, sudden and unpredictable sexual encounters with strangers, the collages are intended to take you to these unexpected places, dark corners in unknown parts of the city where an orgasm is quickly achieved, perhaps followed by feelings of relief then guilt. The cover features obvious phallic imagery and the font is spelled in what looks like sperm, making this an unusually sexually charged release from Lugar Alto, but well worth seeking out, especially in the stunning luxury vinyl edition.
---
Babe, Terror – Teghnojoyg (self released)
Babe, Terror, namely São Paulo producer Claudio Szynkier, makes music that is dense, I mean claustrophobic productions of electronic and experimental densely clustered slabs of samples and groggy sounding synthesizers that engulf the listener and at times overwhelm with the amount of information held within.
The tracks on Teghnojoyg reference the dance parties from the '80s in the north of São Paulo, DIY dance parties with amateur DJs, as amongst the concentrated fug of backwards vocals and slabs of heavily layered sound a house beat can be heard. But there are also darker inspirations to these tracks: "Szynkier" tells the story of a neo-hippie community formed near the São Francisco river in the 1980s, an area that had been polluted by mining decades before, and how this community had simply disappeared among local rumours of stolen children and AIDs. Stories like these and the recent nostalgia of a part of the Brazilian population for the military dictatorship hang like an ominous cloud over much of this album, a feeling of dread that was exacerbated by the Covid-19 pandemic and the then government's reaction to it. The six tracks are long, around 10 minutes each, and there is technical excellence on display in these opaque, ghostly compositions with their insistent distant house beats; but buy the album and you get some videos where you can see these past parties play out on degraded video tape and a further 35 minutes of music on a free EP.
---
Marginals – (I) and (II) (YB Music)
These two long unavailable albums, previously only available on CD from the early 2000s have finally been released onto streaming and if you're into the punky jazz of Metá Metá, for example, then there is much to enjoy in these two rereleases. Marginals feature Metá Metá's Thiago França playing heavily treated sax and cosmic electronic swirls, Marcelo Cabral on double bass and Tony Gordin, brother of legendary tropicalia guitarist, Lanny Gordin, driving everything along with rock infused jazz drumming. I did manage to see them play live in their day, though they were slightly marred by Rodrigo Brandão trying to be all deep and meaningful over their cosmic slop. The first volume is basically two pieces broken up with an intermission and within each piece the players take turns to shine and build their compositions beautifully. The second volume starts with a more abrasive bang and goes into more atonal areas but is never uninteresting and always exploratory and features some fine flute playing from França. A fine and timely set of rereleases, but also worth checking out is bassist Marcelo Cabral's new album Antônio Matador, which features some intriguing sound art as he takes canção torta to the outer limits.
---
Jonathan Ferr – Liberdade (Slap)
When a friend was describing Ferr to me he said he was Brazil's Robert Glasper. I can see the connection, he plays Dilla influenced hip-hop infused jazz, with a host of top-notch collaborators. This release is much more of a collaborative effort than his previous albums, with Ferr providing beats and backing with his collection of synthesizers for a new wave of Brazilian conscious rappers. 2019's Trilogia do Amor was perhaps more representative of Ferr's Afrofuturist take on Brazilian jazz and 2021's Cura was a pensive response to the pandemic. The fact that each of Ferr's albums are completely different to each other is admirable and some of this may be a bit smooth compared to some of the other stuff here, the sing-along chorus of "Meu Sol" is a bit saccharine for my taste, but the album works best, for example, on the title track with the Dilla beats, Ferr's expert playing, and the strong melodies sung by Kaê Guajajara.
---
Modern cosmology & Laetitia Sadier – What will you grow now? (Duophonic)
Modern Cosmology are Mombojo from Recife and French musician Laetitia Sadier, who was a founding member of Stereolab. Stereolab were an anomaly in the '90s, a truly original mix of French yeye pop, Krautrock, and weird indie artpop, creating something wholly different. While Mombojo from Recife were innovative in their own way, being part of a partially successful alternative form of music distribution that tried to bypass the big record companies by distributing CDs through magazines at news kiosks.
Mombojo's sound is a laid-back unhurried vibe, a lazy, and, yes, Tropicalia sundrenched sound, undoubtedly a result of coming from the balmy climes of Recife in the Northeast of Brazil, but also being part of the dynamic independent scene that has existed there since Brazilians started making music. The understatement in their tracks, without great dramatic sturm und drang and clearly signposted emotional moments, means that they are often overlooked as a great current band. And so they have been quietly and diligently working away over the years creating consistently interesting albums. This album grew on me, and with patience you will grow to love it too. The delicate guitar parts, unassuming drums and skronky keyboard sounds combined with Sadier's Anglo and French vocals combine to make jam-like meditative pieces, and nowhere do these elements combine better than in the title track. As I type these words, the sun is shining and all seems right with the world.
---
A_D_A – random music generator (III) (le Petit Chambre Records)
The title behind this release makes it seem as though it's some kind of AI generated nightmare, but in reality it sounds like carefully crafted ambient. André Veloso with his project "a_d_a", from Belo Horizonte, shuffles random parameters built with a new set of variables and equations. A musical project of chance and the cycle between continuum and then disconnection. Swathes of warm ambient tones wash over the listener, interrupted by bleeps and sequenced analog patterns. At times there are drifting atmospheric '90s post-rock textures which are reminiscent of Labradford. I am a fan of the first edition and being a sucker for interesting packaging bought a beautifully produced physical edition which included an arty print and pressed flower.
---
DJ K – Panico no Submundo (Nyege Nyege Tapes)
It was only in my last column that I mentioned the work of DJ GH7 and the sound of Bruxaria in comparison to other producers mining the rich seam of Baile Funk – and now, lo and behold, this album has been released on the ultra cool Nyege Nyege label and has garnered plaudits from Pitchfork and DJ Mag and become viral here in Brazil, taking the classic route of garnering critical attention internationally and thus respect nationally (see Tom Zé, Os Mutantes etc.). And rightly so, as this is exciting, noisy, annoying and full of young spunk. Each track basically consists of overdriven bass drums, filthy vocals, endless shoutouts to the DJ, and monotonous ear-piercing ringtone loops, combining to make sense in the bailes of Heliópolis, São Paulo's largest favela. The influences these young DJs have can be quite surprising, Pearl Jam and Linkin Park for example, and seem quite mainstream compared to the absolutely chaotic sounds on display. The fact that DJ K has now been elevated to the position he now finds himself in only goes to show how unpredictable the national music scene can be, but the reality is that he is one of dozens of young kids out there making avant-funk on cracked FL studio and their cell phones.
---
Darlene – Don't Love You But Want To (Municipal K7)
A further interesting release from Municipal K7, who seem to specialise in digging through the hinterlands of Brazil for obscure regional releases that reflect their environment in original ways. This is the second music project from Brazilian transvestite artist Darlene, who is originally from Rio Verde – Goiás ( located in the center-west region of Brazil), but currently living in São Paulo, where she found a safer place to transition and create art at her own rhythm. She states: "To be travesti is to be somewhat amphibious, for me. The way I feel separation between my body and my habitat is a delicate thing. When outside, I both fear and expect violence, but also get to experience everything else that is good and loveable. I navigate like a weird, mutant creature." So she goes back to her room to make music which she views as "my own hyper-romantic expedition through the collective memories of unforeseen creatures." These bass-laden synthesised tracks have a hyper-romantic hypnagogic '80s feel, especially when the effects-laden drums come in. Darlene morphs her voice in "Cetacea Naufragata", mutating into the other, playing with her identity "… where the continuous genesis of the self never ceases…", as she herself says.
---
Other releases of interest:
Kontronatura – Ori (Mamba recs)
Accelerated futurist ghetto tech from super-inclusive party collective.
---
Discplicina – Smells like 2013 Spirit (self-released)
An EP of experimental avant funk, includes visual artist Itamar Alves and Alex Antunes from the excellent Death Disco Machine.
---
Dj RaMeMes (O destruidor do funk) – Sem Limites (QTV)
More abstract baile funk as DJ RaMeMes (the destroyer of funk) ramps up the BPMs.
---
Various – Construída 4 (scatterArchive)
Another collection of female-led glitchy sound art from South America.

Follow Sounds and Colours: Facebook / Twitter / Instagram / Mixcloud / Soundcloud / Bandcamp

Subscribe to the Sounds and Colours Newsletter for regular updates, news and competitions bringing the best of Latin American culture direct to your Inbox.
Share: