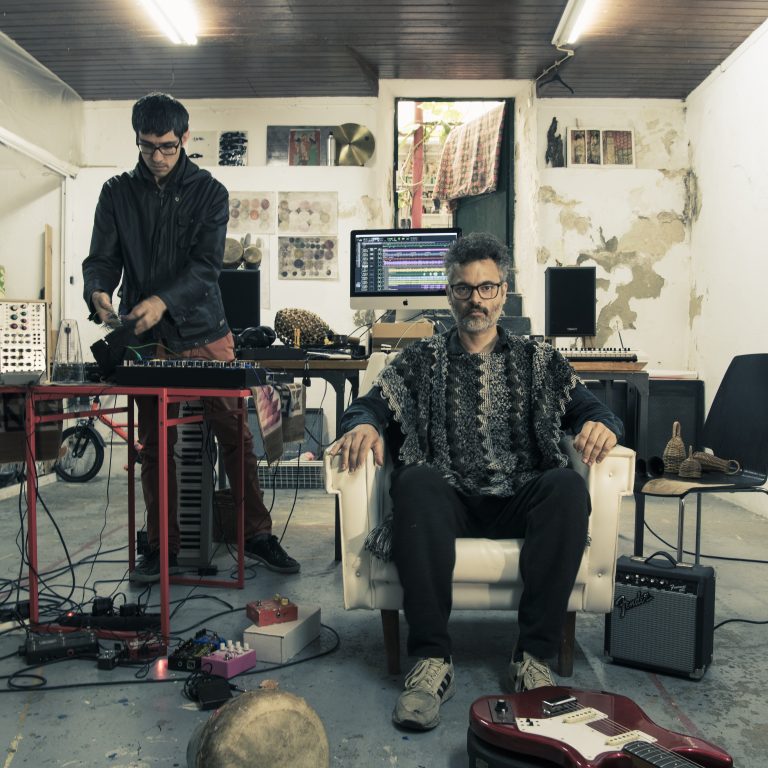 On The Margins
17 May, 2023
An action packed selection of releases this month, (almost) all highly recommended, lots of droney samba, Zappa-esque madness, Balearic ambient, and jazzy loops for your enjoyment.
Domenico Lancellotti – Sramba (Mais Um Disco)
Although samba is seen as a celebratory almost decadent genre, as a form of music it is quite conservative, its more traditional subgenres, such as samba canção and samba de roda, barely changing over the decades. It does, however, lend itself nicely to experimentation and can be delightfully subverted, and nowhere was this more fully explored than in the concrète sambas of Tom Zé's Estudando O Samba, a reference for this release.
This is actually the work of a duo, the relatively well known name here is Domenico Lancellotti, a member of the +2's, with Moreno Veloso and Kassin, who in the early noughties were already producing their own take on tropicalised funky sambas. But Ricardo Dias Gomes, who joins him, is no slouch: as you can hear in his solo release mentioned below. For this release Gomes brought in his Russian-designed synths and modular machines to the studio in Lisbon, where Domenico added guitar and percussion, and these strange sambas started to appear. Together they create an album that reaches back to the roots of samba, but does so whilst completely revamping its blueprint, adding machine squelches, clicks and whirrs. They look to the samba ostinato, a light bossa type of rhythm, almost geometric in its form. Take "Um Abraço No Faust": the title is lifted from a João Gilberto song, "Um Abraço no Bonfá", but whereas Gilberto was giving a hug (um abraço) to bossa nova guitarist Luiz Bonfá, Domenico and Ricardo are embracing those mischievous krautrockers, Faust. The album can veer from the sublime, with the charming, almost straightforward samba of "Aterrizar", to the otherworldly, with the atmospheric strangeness of "Descomunal".
---
Ricardo Dias Gomes – Muito Sol (Hive Mind Records)
Ricardo Dias Gomes has certainly kept himself busy with this sibling release to the album above, but this time offering an intriguing and laid back take on Musica Popular Brasileira coupled with a thoroughly 21st century sensibility.
Gomes played on the albums that Caetano Veloso released in the late noughties: Cê (2006), Zii and Zie (2009) and Abraçaço (2012). Albums that saw Veloso influenced by his sons and taking a different path with his musical style, adopting a more noisy indie sensibility.
Muito Sol was recorded between New York, Lisbon & Rio de Janeiro and, whereas with the aforementioned work with Domenico Lancellotti the focus is on samba, here the songs, led by Gomes'  closely-miked gentle voice, are often reminiscent of classic '70s MPB. Admittedly, while there's a LOT of this around at the moment, these compositions take unexpected flights into more experimental electronic territory. The single "Morrerei por Isso" has a light touch but then fades off into drone and glitch territory. The subtle touches of sound-design lift the songs beyond the level of an exercise in reverential songcraft and the element of drone underpinning the whole album comes to the surface like molten lava on "Fllux". The album is closed by what turns into a free jazz lo-fi distorted freak out with "Coração Sulamericano", an expression of pride in Latin American heritage, but maybe reflecting the turmoil the continent has undergone. Personally this has everything for me: finely balanced Brazilian songwriting with an edge of noise.
---
Badsista – Carnaval Clubber (self-released)
This is an EP of tracks that hard-working DJ Badsista made to play out at the carnival parties she DJ-ed earlier this year. The tracks worked the crowd pleasingly enough and so she's released for public consumption this quartet of Baile-inflected techno funk. The tracks are basically DJ tools: for example, "Ladeira da Santo (Vem Comer Meu B***tão)" takes a filthy Baile lyric and puts it with a frankly annoying oompah bassline, and "Belém Bresser" has a wiggly acid line. But writing this gives me a chance to reflect on watching Badsista DJ recently. I like the idea of a national DJ who ticks all the boxes and plays a style of global ghetto tech that is distinctly Brazilian. But if you compare the music she makes and her DJ-ing style with the current wave of baile funk that is coming out of places like Paraisopolis in São Paulo, DJs and producers like DJ GH7, and what is being produced in the subgenre of Bruxeria, or even in the sub-subgenre of Tuin, tunes that sound like Mego records mixed with Baile funk, then there's no comparison. I am talking about truly radical dance music, bowel-quaking distorted bass, bizarre what-the-fuck samples, all looped ad nauseam, accompanied by transgressive lyrics; this is the real underground. However, no one is asking these artists from the periferia to appear in the oh-so-cutting-edge festivals, so we get an acceptable approximation, which in this case is Badsista. I recommend digging further.
---
Vitor Marsula – Anjos Fósseis (Problemas dos Outros)
Vítor Marsula is a producer and multi-instrumentalist based in São Paulo, with a background in darkwave, prog and psychedelia. He's released an ambitious album with long tracks that wander through drone and ambient with hints of semi-song and folk touches from South America, while taking a detour around the Himalayas. It aspires to be a South American Coil, and is reminiscent of their more meditative moments, but maybe it sounds more like Current 93 mixed with Nurse with Wound – which, of course, is a good thing. The lead track, "O Xerpa e O Vazio", features Rakta's Carla Boregas playing taishogoto, a Nagoya harp, and adding voice. There are some tasty long drones: "O Vazio" for example, offers dark themes, folk instrumentation, spiritual noise and plenty of sound distortions to get lost in. 
---
Belagio – Nuvem 9 (Boston Medical Group)
I want to highlight a couple of releases from what is fast becoming my fave new Brazilian label. This is the first full length release from Belagio (AKA Pata, AKA Marcelo Altenfelder), who used to play with Holger, a dearly beloved indie band from about 12 years ago. They were an important band in that during this period Holger, together with Bonde do Rolê, Banda Uó, Dago, Drunk Disco, and André Paste, created Avalanche Tropical, a collective of artists, with the idea of mixing what was new in global music at that moment with Brazilian rhythms to create a completely individualized Brazilian sound that could compete with the indie festival circuit. Anyhoo… back to the present day and this is put together from extensive sessions recorded around the second half of 2022. 100% instrumental, it moves within the territory of post-rock, Balearic, acoustic guitar and chilled electronics, gently flowing along on Cloud Nine, just like the cover image. It also includes a hastily assembled version of "O Trem Azul", that eternal classic by Lô Borges.
---
Ōe – Da Mesma Matéria dos Sonhos/Nomadalgia (Boston Medical Group)
Here are two entrancing EPs from Boston Medical Group by Ōe, who is  Professor Marcus Salgado, an actual professor from the highly respected Federal University of Rio de Janeiro, and a stalwart of the Brazilian experimental scene. Nomadalgia just has two tracks, slowly paced, delicately soundtracked, with squelching synth pads that move around their acoustic space and finally relax near the end of the second track, "Schmutz".
Da Mesma Matéria dos Sonhos has four tracks that are equally relaxed; some sitar appears, trumpet also, and all of it adding nicely to this laid back affair: instrumental music that conjures images of a life well lived. Last track "Larry the Lamb" (was he big in Brazil?) throws everything into the mix with clarinet, trumpet, harp, cello and burbling electronics creating a delightful dream state where time seems to stretch.
---
VictoRama – "Afrorobot" (Hominis Canidae REC)
Victorama is a multi-instrumentalist, music producer, audiovisual director, anti-racist activist, and Capoeira practitioner. His work combines jazz, hiphop, berimbaus and synthesizers created on the fly. This single is a creative mix of Afro-funk, jumping loops and jazzy synthesizers in a one man band style. "…It was a track recorded in a single take in the studio and it is free improvisation, without a defined theme, everything brought on by my Ori", says Victor, referring to the concept of Yoruba, spiritual intuition and destiny. Well, it sounds like Herbie Hancock might if he grew up in the NorthEast of Brazil, and it's for fans of The Comet is Coming. I look forward to an album of this stuff.
---
Ida e os Voltas – Demo 1986 (Nada Nada Discos / Nausea Discos)
Taken from the demo cassette Samambaias Voadoras, originally released in 1986, this is yet another post-punk curiosity from the vaults. Formed at the end of 1985, Ida e Os Voltas emerged from the Belo Horizonte underground post-punk scene, which included  R. Mutt and Socialist Divergence. Ida Feldmen, whose father Aron Feldmen was a Gaucho fringe filmmaker famously censored by the military dictatorship, teamed up with among others Bruno Verner, who nowadays is half (third?) of Tetine, recently reviewed and revered in these pages. Renowned for their quirky live performances, direct and candid poetry, and lo-fi sounds, over the next two years Ida e Os Voltas would become a fixture on the local underground concert circuit. It could be the Cure with a Casiotone, strong bass lines accompanied by the guitar forming jangly and chiming arpeggios with lots of effects. For a demo cassette it has a distinctive sonic palette and is well worth investigating if, like me, you're a Brazilian post-punk completist.
---
Arrigo Barnabé – Clara Crocodilo (Nada Nada Discos)
If you look hard online this can be found in a highly desirable luxury box-set with all kinds of extras, but the core release is the pop-opera Clara Crocodilo, an 80s avant-garde masterpiece. Barnabé was an integral member of the Vanguard Paulista, alongside such luminaries as Itamar Assumpção, and even now, at 71, has remained a singular, idiosyncratic talent working in film soundtracks, opera, and modern classical. This is a much warranted re-release of his debut album and on first listen it sounds like a cacophonous mix of rock, jazz, samba, and classical music played out in a Zappa-esque landscape. However, Clara Crocodilo is characterized by the use of serialism, specifically twelve-tone music, as well as free atonalism. The lyrics look at the neurotic and degrading life in contemporary Brazilian metropolises, particularly focusing on São Paulo's marginal counterculture, all through a comic books lens. A very distinctive aspect of the album is Barnabé's unique vocal style. He employs a wide range of vocal techniques, including spoken word, falsetto and screams, all with dramatic inflections, accompanied by the ever-excellent Tetê Espíndola, another integral member of the vanguard Paulista, who adds an extra layer of theatricality. If it all sounds a bit mad, it is, but if you're in the right mood, you should delve into its chaotic worldview. This album was followed four years later by the equally bizarre Tubarões Voadores, which is well worth hunting down.
---
João Gilberto – Ao Vivo no Sesc 1998 (Selo Sesc)
For all my talk of avant garde and experimental sambas, respect and complete reverence must be given to the originator and innovator, the great João Gilberto. I mean, he not only invented bossa nova, but reinvented samba. The cultural powerhouse that is Sesc has unearthed and remastered the tapes for this rare show recorded at the then newly opened Sesc Vila Mariana in April 1998. At that time, aged 66, João Gilberto lived in isolation in his apartment in the Leblon district of Rio de Janeiro. A virtual recluse, he didn't answer his phone or open the door and rarely left the apartment. Therefore, when he went on this short tour to do a series of shows the atmosphere was tense, he was notoriously strict with his audience, demanding undivided attention and complete silence. And rightly so, Gilberto's voice is quiet and subdued, it demands to be listened to closely. Thus, this recording is crystal clear; just voice and guitar, you can even hear an audience member cough in one of its quieter moments. What you get is a history lesson, two hours of pure unadulterated songwriting: 36 tracks, 40 years of bossa and samba classics, one after another, from the master.

Follow Sounds and Colours: Facebook / Twitter / Instagram / Mixcloud / Soundcloud / Bandcamp

Subscribe to the Sounds and Colours Newsletter for regular updates, news and competitions bringing the best of Latin American culture direct to your Inbox.
Share: