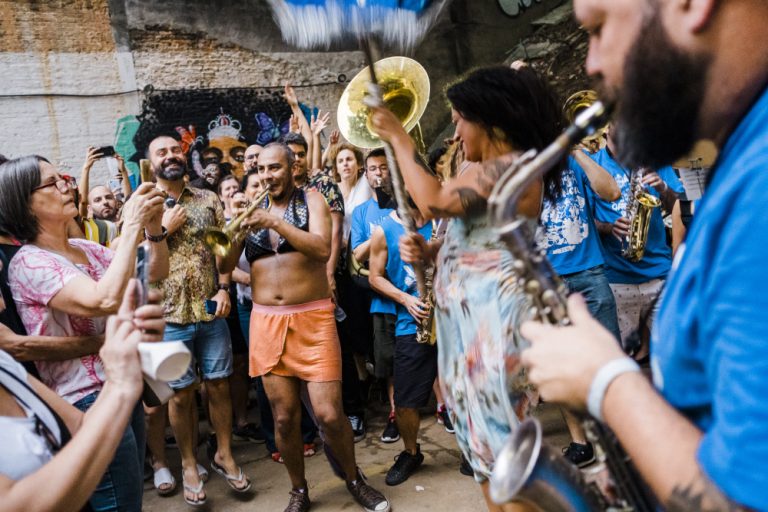 Renaud Philippe
On The Margins – Brazilian Music Round-Up (Cadu Tenorio, Thiago França, Chelpa Ferro, Kiko Dinucci, Psilosamples and more)
15 September, 2021
Oh, some pretty hilarious scenes these past few weeks, with the media building up to fever pitch the pro-Bolsonaro (and pro-military intervention) demonstrations on September the 7th, Independence Day here, and then the president absolutely losing his shit in front of the crowds and then having to sheepishly back down the next day with an official declaration written by, of all people, the prince of darkness himself, Michel Temer, Dilma's coup d'état replacement. You could not make this stuff up, it's like we are living in some fever dream or an ayahuascan hallucination. So, here's the skinny on some equally psychotropic recent releases.
---
Cadu Tenorio – Are You Okay? (Sinewave)
Hot on the heels of the release of the physical edition of Signal Eustacy VI (in a fancy pants CD format with tarot card from Japanese label Ultra Gash Records) by Rio's most proliferant post-internet noir jazzatronic pandemic artist (released, you know, way back in May this year) is another full length slab of sublime liquid electronics. "Dream" starts us off with Japanese ambient textures that soon become soundtrack dread and skittering beats. In fact, scuttling, scampering beats run through this album, underlying those cinematic gaming textures. "My soul is weighed down by gravity" has a Warp-like klanging beat, as if Autechre were soundtracking their own video game. "Not Alone" has an overwhelming full-on cluttered vibe, but in an almost psychedelic way, "Ardjet" sounds like a galloping asthmatic Seefeel, but played at 45rpm. And then the album does an about-face, with the last third slowing everything down and becoming less claustrophobic and manic; "54D" while still tied to a marching beat, takes us down a notch with its musicality and spaciousness. Closing track, the water-themed "Aquário" harks back to opener "Dream" and is a deeply atmospheric piece of orchestral ambience and ringing tones, quite stunning. It is, in many respects, equal to the high quality of his previous releases over the last year.
---
Thiago França – The Importance of Being Espetacular (Mais Um)
The Espetacular Charanga do França is Thiago França's São Paulo-based collective brass band, a street celebration of carnivalesque proportions playing cumbia, baile funk and samba jazz, and this vinyl release is a compilation of their digital releases. Thiago França is best known as a founding member of Afro-punk explorers Metá Metá, and one of São Paulo's most in-demand horn players, with credits on albums by Criolo, Elza Soares, Céu and Lucas Santtana. But his bonhomie with the Brazilian music scene can also be experienced in his podcast (in Portuguese) Sabe Som?, an integral discussion on dissecting the various music scenes in Brazil whether it's talking about periferia sounds with the fascinating academic G G Albuquerque or looking at samba with Rodrigo Campos.
França formed A Espetacular Charanga do França in 2013 as a political act (charanga is the word used for brass/percussion bands at football matches), part of a recent development that has seen the reclaim the streets movement in São Paulo taking over the centre of the city and turning it into a revelation of Brazilian carnival. In 2020 they made their way to carnival with over 60 brass players and 30 percussionists, declaring their bloco an anti-fascist zone, responding to the current political climate. 
França states: "I like to think that Charanga is an oasis in the middle of all the shit that we live, where you don't have to be worried about who you are, what your preferences are, whether you can be comfortable. If you want to parade with us wearing a tea towel you can, you won't be harassed. And it's also about music, it's about listening to music. We do this thing the whole year, we rehearse all year, we do too much so that people can just get crazy and not care about the music." 
All musical forms are present, mapping França's musical life, the cumbias he heard in Columbia in "Hasta la Cumbia", the baile funk of Rio is brassed up in "Cadê Renan?" and carnival marchinhas are present in "O Capitão do Sax", sung by Juçara Marçal, França's bandmate in Metá Metá. The Espetacular Charanga is all that França says it is, a celebration amidst all the shit.
---
Chelpa Ferro – Hip Hop (QTV)
First of two fascinating releases from the QTV label. Hip Hop is the sixth album by Chelpa Ferro, a multimedia trio from Rio de Janeiro formed by the artists Sergio Mekler, Barrão and Luiz Zerbini. 
Don't let the title deceive you, this is abstract electronics and collage grooviness (something which QTV seem to specialize in), and could even come under the entirely random genre of "canção torta" (twisted song), where you would also locate people like Tantão e Os Fita and Negro Leo.
This excellent album is collaged from a huge sounds database collected by the group from over 26 years on the road, containing excerpts from the trio's installations, films and documentaries, radio ads, hospital recordings, low and high quality audios, among other sounds that are freely interpreted, edited, twisted, chopped and filtered, forming a universe that communicates the heat from Rio de Janeiro's streets. With its metallic drumming, saturated electronics and digital noise it's a cousin to QTV's other carioca collage artist, Mbé.
There's some alternative Rio royalty present, Tantão bellows the introduction and Fausto Fawcett appears with lyric and voice contributions. Fawcett is a fascinating figure from the 80s Rio music scene, performing some of the first rap rock tunes and releasing a carioca cyberpunk concept album (in 1987!) called Fausto Fawcett e os Robôs Efêmeros, a landmark release of national punk-funk worth tracking down.
---
Kiko Dinucci – VHS (QTV)
After releasing the record of the year last year with Rastilho, Metá Metá guitarist Kiko Dinucci releases this long 20 minute piece of fingers, wood, strings, delay and analog tape coming together in (dis)harmony. These are homemade recordings that come from the Contraseña performance by Kiko Dinucci and Fernando Velasquez for the Strange Music Festival in São Paulo, 2021. They were transferred onto VHS tape and then digitalized for public consumption. It's an experiment with the sounds that Dinucci can get from his guitar, exploring the more frenetic parts of Rastilho, but going further. There's no need to stick to a song here, so he takes the guitar into the furthest extremes of what it means to play the guitar, using it as a percussion instrument, or bashing out unsettling noises, hitting, sawing, producing almost flamenco flourishes and then going off into aggressive beyond tuneful vibrational guitar improv. Imagine if Baden Powell had decided to have lessons from Derek Bailey or even Bill Orcutt and you might get halfway there. Another fantastic QTV release who are really on a roll this year.
---
OYO – Força Maior (Proposito Recs)
A precise little project of Amazonian sampledia, OYO is a solo digital music project created in 2020 for musical experimentation and Força Maior is the first release. It's a brief EP with just 4 tracks, but the idea is that it's inspired by the traditional northern indigenous rhythms discovered and circulated by the researcher Ygor Saunier, from the work of Celdo Braga in the Amazonas with the music of the native peoples using the perspective of contemporary electronic music. Overall, the EP proposes to re-imagine the region's scenario in a post-modern time. "Chamando o Vento/Xekyvy'i" sounds like a Guarani Hassell/Eno collaboration from their fourth world possibilities project, and "Carimbó" uses the eponymous rhythm for a rousing electronic stomp-along.
---
Psilosamples – Jornada Selvagem (Voodoohop)
This new release by Psilosamples comes out on the Voodoohop label. Voodoohop are a wildly visual collective of artists who take over urban as well as rural spaces with a focus on playing Brazilian music from an original and modern perspective. Check their Saturday night radio show, "Isso é muito", at veneno.live. The "Aphex twin of the roça" is Zé Rolê aka Psilosamples from Pousa Alegre, Minas Gerais, who makes what has been described as electronic bush music. It's music that is sharply edited and cut using regional sounds and rhythms. His first album, Mental Surf was clearly rural music fragmented, sampled and edited from a tiny bedroom studio. Listen to an early track like "Estrada de Terra" and you can hear the viola caipira being reconfigured and played around with. Although a clear product of the internet, in an interview with the site musicnonstop, Psilosamples talks of channelling the countryside in his music, though it's not an overriding concept for him, being isolated in the country or in São Paulo city is creatively stimulating either way. 
This new release is quite something, it's like Pantha du Prince moved to the backwoods of Minas Gerais to make rural Brazilian music, with lots of gentle, chiming samples, crafted and woven together to make delightful sounding bucolic techno music.
---
Brandão feat Sun Ra Arkestra – Outros Espaço (Groovie Records)
I'm old enough to remember a young Rodrigo Brandão on MTV presenting black music videos from a very limited repertoire, you know, when MTV actually played music. I also was a huge fan of the first Mamelo Sound System album, where Brandão realised that São Paulo was a massive musical collective and combined the key players from the rap, jungle and electronica scenes to make an eclectic debut. The later Mamelo releases, however, didn't impress so much. This continues the path opened up by 2018's Outros Barato, where Brandão pulls in key players from São Paulo's improv scene and manages the coup de grace of getting contributions from some of the Arkestra. There's some of the usual suspects here (from this column anyway), but admittedly who else am I going to call for my beat poetry experimental opus? So, we have Tulipa Ruiz and Juçara Marçal adding voice, Thiago França on flute and alto & tenor saxophones (who himself recorded a homage to Sun Ra with his Space Charanga: R.A.N. album), Guilherme Granado and Marcos Gerez from Hurtmold, Thomas Rohrer on rabeca (fiddle), and Paulo Santos adding percussion. And then there's the members of Sun Ra's Arkestra: Danny Thompson (RIP) on baritone and bongo, Elson Nascimento on surdo (tom drum), Knoel Scott on tenor and soprano, with 97 year-old Marshall Allen leading the collective while playing the alto sax and synthesizer. That's some line up, you may think. And mostly it works, you get Sun Ra synth noodling, candomblé percussion, enigmatic poetry in Portuguese, and some first rate skronk, especially in "Salute the Sun". But hats off to the person who stitched all these players together into something coherent, Scotty Hard being responsible for the mix from his studio in Brooklyn, NY.
---
Objeto Amarelo – Topografia (Mamba Rec)
Am I the only person writing (in English anyway) about Carlos Issa and his idiosyncratic art/music project Objeto Amarelo? I really am quite in thrall to everything he releases, from his long drone pieces to his wonky techno and everything in between. These are cassette tape recordings from the period between 2000 and 2002, when he released Panzertunel on Bizarre Music, which was a minor classic of Brazilian experimental noise/indie. These tracks come from a basic bedroom set-up of drum machine, guitar, Casio keyboard and mic all put through a poor overworked Tascam recorder, the ground zero of homemade indie.
Frankly this is quite a brave release from Mamba Negra as this contains some mindblowing levels of overdriven distortion and hiss, I mean, opening track "Topo" just absolutely pummels the shit out of the listener. This is not a subtle listen, to the untrained ear (ha!) there may be some patience testing on here, "Bairro" I'm looking at you, but a track like "Andar" is an absolutely ferocious piece of distorted everything to the max punk rock and when it goes into big muff overdrive it sounds quite sublime. "Trem" follows a similar line, sounding like a low-rent Pussy Galore, who were, admittedly, pretty low rent anyway.
---
Big Jesi – Kroutons (Hominis Canidae REC)
Daniel Jesi is a producer and musician from João Pessoa, Paraíba, working with various bands in the region, playing everything from digital dub to frevo, the traditional carnival music from the north-east. These fifteen tracks are an amalgamation of the 30 beats in 30 days project, mainly created on the MPC 1000 but other instruments were brought in when needed. It's a collage of sounds and weird samples jumping from lo-fi trip-hop, digital dub, distorted world music, and funk basslines often within the same track. It's a pretty hyperactive and attention defying production but Jesi is obviously full of ideas and knows how to get them down on tape.
---
 fIRULA – Penta For a Day​.​.​. 7×1 For a Lifetime (Proposito Recs)
An interesting release conceived by the Portugal-based producer Guilherme Augusto and collaborators in Goiânia, the state of Goiás. There's a lot of distinctive influences, Firula mixes electronic elements, percussions, loops, improvisations, samples and soundscapes, incorporating different Brazilian musical genres with worldwide electronic music. So you get downbeat electronics in the style of a samba Thievery Corporation, lo-fi ambient interludes and loads of Brazilian percussion veering off into very danceable territory at times. The 7 x 1 in the title of course refers to Brazil's crushing defeat to Germany in the 2014 world cup, a humiliation that is constantly referred to even now and is still used as a reference to our state of mind as we are continuously isolated and exasperated by our ongoing situation.

Follow Sounds and Colours: Facebook / Twitter / Instagram / Mixcloud / Soundcloud / Bandcamp

Subscribe to the Sounds and Colours Newsletter for regular updates, news and competitions bringing the best of Latin American culture direct to your Inbox.
Share: