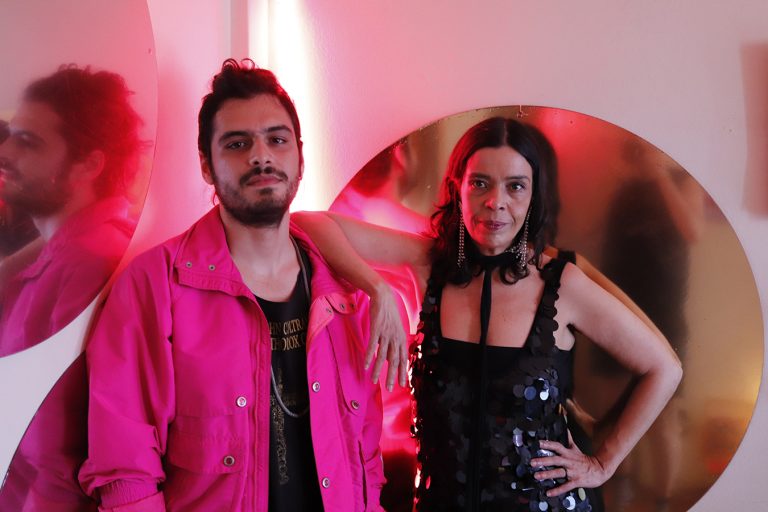 On The Margins – Brazilian Music Round-Up (MNTH, Noporn, Radio Diaspora, Metanol FM, Walter Smetak and more)
30 April, 2021
Unimaginable a year ago, but now very clear, there will be no live music this year. Culture will trudge on but it will be a struggle. Key bars and venues are closing, the iconic indie stalwart Casa de Mancha in São Paulo is one that has gone under, the beautifully restored Casa de Francisca in the old centre of São Paulo has been struggling and had to close down indefinitely, and Millos Kaiser's Caracol Bar is raising funds to try and stay open. That they've managed this long is admirable enough. What will come from the ashes next year, we shall have to wait and see. This year has only just begun and it already feels exhausting. Enough with the gloom, onto the fringe music, so I offer you this mix of sleazoid electro, ghettotech funk and angry free jazz.
---
MNTH – MNTH (Mais Um)
I wrote about this last year and it's just been expanded and released as a spiffy looking yellow cassette by Mais Um. Reading the release it's pronounced manteiga (butter in Portuguese), which is news to me as I was pronouncing it "month", living and learning. MNTH is Luciano Valério, one of the founders of the Desmonta label, which I've got a lot of time for due to their sheer relentless enthusiasm for continually releasing recent Brazilian experimental gems (and seemingly anything that features the ubiquitous Mauricio Takara), certainly some of my favourite releases from last year (st/Linha d'água). This continues to be a great listen and features, surprise, Takara, who, and I reiterate what I wrote before, lays down some chunkily hypnotic grooves, providing strong foundations for the crunchily distorted electronics with a multiplicity of textures. Hunt down the cassette as there's three bonus tracks and two remixes, one by the consistently fine Psilosamples.
PREMIÈRE: Plus, we have an exclusive premiere of the video for "Trapaceiro", designed and animated by painter Renan Cruz, which is a fine thing to behold:
---
Noporn – Sim (Noporn)
The journey of Liana Padilha and Lucas Freire could be linked to the beginnings of the artistic regeneration of the old centre of São Paulo. Noporn started as a pair of DJs invited to take over the Friday nights at the Xingu nightclub in São Paulo; they made it their own, a celebratory electroclash multisexual night of decadent delights. Looking to expand the format, they started to put together live shows with Lucas's music and Liana reading her texts over the top and Noporn were born, the name coming from Liana wanting to talk about sex but in a non-pornographic manner. Their unorthodox first album came out on Segundo Mundo, the sadly defunct forward looking electronic label run by producer to the stars and house head Dudu Marote; it stood out as there was nothing else quite like it in Brazil at the time.
Sim is their third album, so how do this duo who have made a career out of pairing tales of nightlife and its idiosyncratic characters with electronic beats write an album during a year of pandemic and lockdown? Well you can go this route, writing intimate tales of erotic sensualness to Lucas's relaxed house and electro grooves.
"Festa no meu Quarto" opens with a smooth funkiness, nodding to the slow(ish) Chicago house music of Mr Fingers with lush synth stabs and shimmering melodies, inviting us to an intimate party of "just you and me and no one else", actually written before the pandemic but now with loaded meaning as gathering is nigh on impossible in virus-ridden negationist Brazil.
"Praia de Artista" is punctuated by bass slaps as it tells the true tale of a party of artistic types on the beach, the lyrics playing with real personalities: "Curadora gringa, curador sarado". Single "Geleia de Morango" is a Pet Shop Boys (and girl) for the 2020s, but with saucier lyrics, and in "Slow Sex" they turn up the distortion to return to their trashy, electro-clashy roots. Liana's vocals are more spoken word than singing, a bit of sleaze and a lot of seduction, a post-modern Maria Bethânia or a tropic of capricorn Laurie Anderson. Her voice is introspective, a little melancholic and romantic as she narrates her tales of dance floors and desire. The duo are an integral part of São Paulo's nightlife, the true nightlife, not the superclubs for the playboys, the clubs for people from all points of the sexual spectrum, dancing together on small intimate dance floors, having sex in dark corners, celebrating with music that was made just for them.
---
Various Artists – Movimento Paralelo Vol. 1 (Metanol FM/Lobster Theremin)
This is the first instalment of an ongoing compilation by the collective, multidisciplinary label Metanol FM. Metanol were influential in presenting new bass music genres to the São Paulo club-going public, renowned for setting up great open-air parties right on the piss-stained streets of the old centre on blazing Sunday afternoons. Herein, you'll find a variety of electronic-based genres made through remote collaborations: jazz, acid, breakbeat, and ghettotech meeting Brazilian funk, electro, and techno, all following an experimental narrative of course. On offer there's Guillerrrmo with a tribal techno hybrid that uses an enchanting baile funk vocal. Ramenzoni is down 'n' dirty electro with steely balls, the twisted riff is pretty relentless. Letricia serves up really hard acid which sounds like she's melting the circuits down in her equipment; if you like your dance music taut and as tough as old pizza, then you'll get off on this. There's short experimental skits between the tracks acting as breathers, sculpted around solo sax by Dharma Jhaz, and remotely produced by the artists involved. These work really well, punctuating the tensile strength electronics with soundscapes and drones. Label head, Akin Deckard, scratches his ghettotech itch with "Pelatão Terror (Ratata inna di Caveirão)" a manic taste of breakbeat proibidão. There's a further volume to come and these will be released on cassette later in the year, meanwhile there's a code to crack to access samples, outtakes, videos and subversive literature! Mischievous.
---
Radio Diaspora – Negro Humor (Brava)
The fight goes on with Radio Diaspora's 10th album. The double meaning of the title means humour as a facet of sadness, the hearty laugh as symbolic oppression. In other words these dudes are pissed at the meaningless deaths of young black men and are taking it out on their instruments with tough abrasive improv. Wagner Ramos features on percussion and electronics and Romulo Alexis on trumpet along with an array of traditional instruments like the agogô and caxixi.
In "Despacho", they explore society's illogical incongruity with a speech by Hédio Silva Júnior, a lawyer for Afro-Brazilian religions. He questions the rule under discussion in Congress aimed at banning the use of chicken sacrifices in candomblé and umbanda ceremonies. He points out that everyone is willing to protect the rights of animals, but not to defend the lives of young blacks and peripheral people. In an effort to describe, you'll find intangible Braziloid percussion and irregular jazzistic drumming dogfighting with free-flowing horn work intermixed with spoken word samples; English can be heard as Muhammad Ali questions why there's only white angels, no black ones, to a laughing crowd. It's fire music with a message that is, unfortunately, as current as it is timeless.
---
Reissues
Walter Smetak – Smetak/Interregno (Buh Records)
Avant-gardists in Brazil hold these two albums by Walter Smetak dearly. Smetak, born in Switzerland in 1913, moved to Brazil in 1937, but it was when he relocated to Salvador, Bahia in 1957 that he started creating his own instruments, making over 150 surreal-looking instruments from materials such as PVC tubes, pumpkins and polystyrene, which he called plásticas sonoras. A believer in the superiority of microtonal music, in the late sixties his studio was visited by the burgeoning tropicalistas Gilberto Gil and Rogério Duarte, while Tom Zé and super underr-ated percussionist Djalma Correa became his students, making him an emblematic figure of the Bahian avant-garde and a key part of the cultural climate that enabled the rise of tropicália. Caetano Veloso referenced him in the track "Épico" from his classic concrète LP Araçá Azul (1973), while his tropicália partner Gilberto Gil also paid homage to him with the composition "Língua do P", recorded by Gal Costa on 1970's LeGal, referencing his instrumental sounds with concrètist lyrics: "Smetak tak tak tak (tak tak tak tak tak) / Mariá bababa baba baba / Catuaba / Cachoeira".
These two new reissues come from Luis Alvarado's impeccable Lima-based Buh Records. The first album Smetak in 1975 was produced by Veloso and opens with the sublime "Tijolinhos, Material de Construção Audição Espontânea do Silêncio", which starts with a disconcerting synthesiser tone, as if played by a child, but then develops into a buzzing droning number incorporating what seems to be a spinning plastic tube (i.e., the construction material referenced in the title). "Sarabanda, Projeção improvisada" is a track where Smetak and his conjunto perform the dissonant intervals of Johann Sebastian Bach with a cello solo performed by Smetak. "Mantram" has a saturated, unique atmosphere, performed on instruments such as the vina and the arvore (tree), resembling the drone of the north-eastern rabeca resonating through the body.
Interregno (1980) is the second album where Smetak gets even more radical. Produced by Carlos Pita, and performed with the group Microtons playing microtonal guitars, it continues the explorations of his unconventional tunings. Improvisation reigns with scratching, searching sounds combined with the howls and drones of Smetak's homemade instruments. There's the roots of Brazilian music deep down in the recordings, snatches of chorinho in "Espelhos" with a Yamaha electric organ sending out Sun Ra like bursts of clustered tones over the top. Both are well worth your time, if you're into the idea of improv converging with the musical universe that is particular to Smetak and his own philosophies.
---
Singles
GOATFACE! – Câmara 2: as doze vidas de Paco/Câmara 3:NUM3R05 (selo sesc)
This band of free improvisers includes three members of post-rockers Hurtmold: Ricardo Pereira, aka Black Snake 808, and São Paulo based Swiss saxophonist Thomas Rohrer, whose CD Tradição Improvisada with rabeca player Nelson de Rabeca is a fine piece of experimental Brazilian music well-worth hunting down. However, in Câmara 2 an ancient Egyptian vibe is going down here as the ghost of Sun Ra (again!) and the Arkestra is summoned through a wandering bass line, sleigh bells, and Rohrer's breathy saxophone playing drones mixed with sheets of interstellar keyboard chords. "Câmara 3" continues the afro jazz aesthetic as the ensemble get down to a bongo driven groove with spiritual horns blowing like the real gone cats they are!
---
Floresthá – O Que Não Cabe (Cena Cerrado)
Local art lady makes a record that is deserving of support! Cena Cerrado specialise in releasing music by musicians from the often ignored interior of the country, the biome Cerrado being the vast tropical savannah ecoregion taking in the Brazilian highlands. Thais Foresto is an independent artist and "cultural producer" from Ribeirão Preto, interior of São Paulo, who works with electronics and performance using striking imagery, a kind of mix of Midsommar and Dengue Dengue Dengue. I like the beginning of this piece, the voice and samples setting up an intriguing premise, it then moves into electro-pop territory until finishing with a full on rave riff, you go girl!

Follow Sounds and Colours: Facebook / Twitter / Instagram / Mixcloud / Soundcloud / Bandcamp

Subscribe to the Sounds and Colours Newsletter for regular updates, news and competitions bringing the best of Latin American culture direct to your Inbox.
Share: