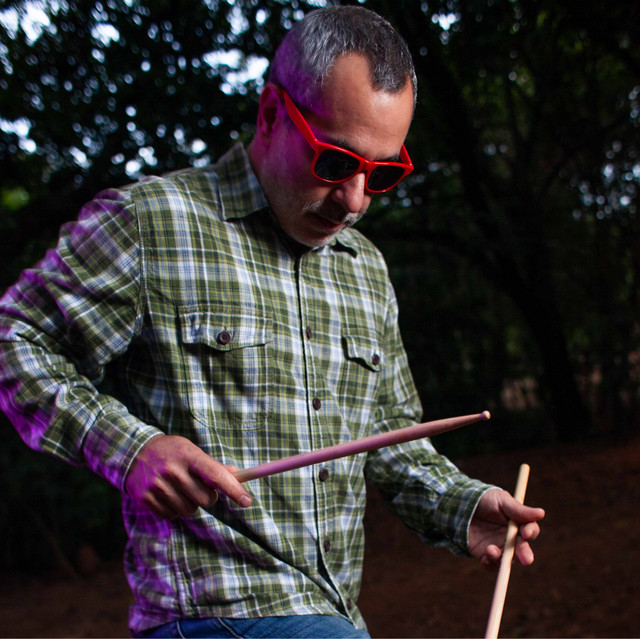 Percussion and psychedelia: Meet Fred Valle and his Electronic Paradox
18 April, 2023
"Three-dimensional" drummer Fred Valle uses more than his two hands on his new album…
In his latest self-produced studio album, Fred's music ranges from fusion jazz to cosmic samba such as "Always Delayed" and minimalist psychedelia like "Mondays At Feio". The Electronic Paradox (2021) mixes hybrid analogue and digital sonic experiments that form an intense universe of mind-blowing melodies.
The album came about during the recording of his previous album, Fagulha, when Fred found that he had material for two whole albums. Building on the intensity and creativity evident in previous works like Decolagens, Do Café a Cachaça and others, he created the album's nine tracks on electronic drums like the TB-3, a classic Roland drum machine and other devices in his studio.
Fred Valle gave us an exclusive interview in which he talked about the creative process involved in making The Electronic Paradox.
Q: What was it like producing an entire album by yourself?
A. It was an amazing process and experience. I needed to find out what a song conceived entirely by me would sound like . I was always produced by someone else, or the few things I produced were in partnership. Producing a record alone and, in the case of The Electronic Paradox, playing all the instruments was inspiring and thought-provoking. I already have the second volume in progress.
Q. What was your biggest inspiration in arriving at the final result?
A. Definitely the flukes of the production! My music starts with improvisation and from there I construct the whole. This process is what inspires me.
Q. You used a lot of electronics in the production. What is the line that separates electronic from analog in music production for you?
A: This job was only possible because I have my electronic stuff here with me. I used Yamaha's DTX multi 12 and CP Reface, SPD 1, Roland's V-drum and TB-3, the Korg Wavedrum, some amazing apps on the iPhone and my acoustic drums and percussion. There was a harmonica in one song, too! [He laughs.] For me, music production works very well with both languages complementing each other.
Q. As an organic musician with a solid body of work, what is your opinion about the union of the electronic musician (who only operates DAW and synths) and the traditional instrumentalist?
A. I believe this merger is beneficial for both sides! There are things that only happen in a certain environment… the accuracy of computer-generated music is an aesthetic I love; as I also love the elastic time created by an imperfect human being playing an instrument! Bringing humanity to the machine, that is the paradox.
Q. Your career has had some memorable phases, such as the formation of the current band Carne
Doce. How do you see your career going at this particular moment?
A: I feel like I'm starting a new cycle in my musical life. Carne Doce has been wonderful, a real learning experience! I love the people and the way we're making music. From there came Jamgodub, which is also very cool! I've always had a band, in parallel to the professional "guiguero" musician. Right now I feel like I'm in kindergarten in the universe of music production and my career as an artist and even as a drummer! I'm 46 years old and the desire to do it only increases.
Q: For you, is a musician a band in himself (or herself) or does he always need a band to complete the journey?
A: Both ways are possible! I made this album alone but not yet completely! Braz recorded and mixed it and this is a very essential part of the process. Working in a band is always a learning process – musically and socially – and that is a great challenge. But I'm a drummer at heart; I'll always want to play in a band.
Q: What is your biggest musical goal right now?
A: Play for those who want to listen, travel the world, earn honest money and open up new paths and partnerships.
Q: How do you analyse the difference between Do Café a Cachaça, Fagulha and The Electronic Paradox?
A: The journey has no shortcut; all processes are valid! With Café I shared production with Henrique Reis and it was great…. I love the result. But with Fagulha and Paradox, producing them alone, everything I recorded is really my vision and this has been very revealing and important to me right now.
Q. So what's next for Fred Valle?
A: I already have Paradox 2 in my head; Spark 2 is almost ready, but won't have that name… just a few parts are missing! There is also an EP by Carne Doce in preparation. I want to make a totally acoustic record next year and I'm also working on a partnership with Adriel Vinícius and Zezão, who sang and wrote together with me on Fagulha. And there are a few more ideas reverberating in my head.
---
You can't read and absorb all that Fred wanted to convey without hearing this work in full. You can listen to the full album on YouTube, Spotify, Deezer, Apple Music or Amazon Music. Find out more about Fred Valle here.

Follow Sounds and Colours: Facebook / Twitter / Instagram / Mixcloud / Soundcloud / Bandcamp

Subscribe to the Sounds and Colours Newsletter for regular updates, news and competitions bringing the best of Latin American culture direct to your Inbox.
Share: