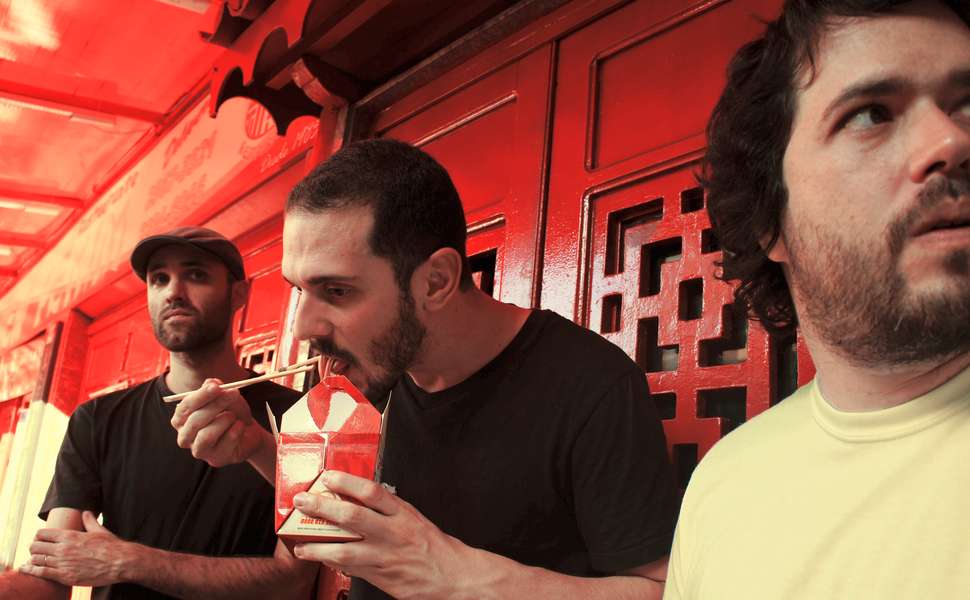 Thiago Fusco
Playing Weird Music in Rio: An Interview with Chinese Cookie Poets
02 April, 2015
Back in 2013 when we were putting together our book about Brazil – see Sounds and Colours Brazil – the experimental music scene in Rio de Janeiro (which had been simmering for some time) had begun to get noticed around the rest of Brazil. Artists like Cadu Tenório, Bemônio, Sobre A Máquina, Negro Leo and Chinese Cookie Poets were getting featured on blogs and in newspapers all over Brazil, and the work of Chico Dub – with his Hy Brazil releases and Novas Frequências music festival – were helping to spread the music globally. Since then the scene has grown and grown, with features in The Wire – who featured the Rio scene in their April 2014 edition – and much more interest from abroad.
In April, the UK will get its chance to see this music scene first hand when Negro Leo and Chinese Cookie Poets play in Glasgow and London as part of a roaming Novas Frequências festival – see our News article for info on the concerts – so we thought we'd pull out the previously-unpublished interview we made with Felipe and Marcos from Chinese Cookie Poets to talk about the music scene in Rio. What transpires is a great guide for anyone interested in finding out about the scene and its main protagonists, as well as why Rio unexpectedly became Brazil's centre for experimental forward-thinking music.
Can you tell me a bit about what's currently happening with the experimental music scene in Rio?
Felipe: The experimental music production in Rio is very prolific and diverse nowadays, and I would relate this to the fact that, more than a set of bands, what we have is a collective of improvisers. I'm not saying that the carioca experimental music is only improvised music, but surely improvisation plays an essential part of it, and that's why I would put the focus on the performer, the musician. Although you can put labels like harsh noise, free jazz, avant pop, IDM, noise rock and no wave to most of what's being produced in Rio in terms of experimental music, I see more and more musicians bonding, trading and mixing their own musical singularity together during improvisation sessions, which tends to dissolve those aesthetic crystallizations. Something similar to what happens in the European free jazz scene for instance. Those musicians seem to care less about developing one specific career path than creating new stuff with new people everyday.
By that you could say that those are very unattached people, after all they are improvisers, but no, otherwise they wouldn't release so many records every year. Cadu Tenório by himself released more than four records in 2013. Some common names of bands and improvisers that play regularly here are Sobre a Máquina, Negro Leo, Bemônio, Rabotnik, Chelpa Ferro, J-P Caron, Tantão, Duplexx, CCP, Fernando S Torres, Thomas Harres, Eduardo Manso, Gustavo Jobim, Alex Zhemchuzhnikov, Jahir Soares, Lois Lancaster, Digital Ameríndio, The Bosch, God Pussy, Insone, etc.
When did this scene begin to develop and how has it developed in the past few years?
Felipe: During the 80s you could already hear names like Zumbi do Mato, Can do Garfo and Black Future playing weird music in Rio during our Brazilian new wave fever (some of those guys are still active today: Lois, Fernando and Tantão, respectively). Just a few groups, even fewer venues to play, and almost nobody wanted to hear that at all. Well, not much different than today, really… But a few things did change. Around 2004, Fernando S Torres and some friends started to run a record store in Lapa Called Plano B, a five square meter hot oven that opened on Friday nights for improvisation sessions. By that time I had been playing for four years with the same four guys, that with the exception of one or two other freaks, were the only ones I knew that were interested in free music, avant garde music or whatever. So just by being there and seeing other people sharing the same musical interest was like discovering the lost island. Whether I liked the sound or not, those people were really interested into working something new there, musically speaking, and that was great.
During the following years in Plano B (now run by Fernando and his wife Fátima Lopes), I had the chance to meet most of the people listed above, so that became not only a place to hear music but also the home for an artists network that began to grow, where performers would connect and trade thoughts, knowledge and experiences in the new music field. And of course with that more people got interested in hearing what those people wanted to play. Also a lot of performers from different parts of the world started to stop by to do gigs there, names like Zbigniew Karkowski, Tetuzi Akiyama, Gunter Muller…
By the end of 2011, a group of performers together with Pedro Azevedo, owner of a club called Audio Rebel, started a project there called Quintavant, a second spot for experimental music concerts. And now in a bigger place, with the possibility of doing concerts with drums, that couldn't happen in Plano B because of the space limitation and neighbourhoods. Now with two venues and more flexibility the network grew fast, and after some months of existence, Quintavant was receiving more than 200 people in another venue called Comuna, next to Audio Rebel. Today, back to Audio Rebel, Quintavant also hosts gigs from great musicians from outside Brazil like Paal Nilssen Love, Frode Gjerstad, Kevin Drumm, Arto Lindsay, etc. So yes, in some extent things have changed in the last years, more venues to play (besides those three there are some others that now are opening doors to avant garde music), more people interested in hearing it beside the musicians themselves, and personally I would say that the sound itself has also improved.
What are Chinese Cookie Poets' main influences?
Felipe: We started the trio in 2010 without much clue about what kind of music we were going to produce. But as us three were coming from playing in abstract music bands, and I guess that when we got together we were unconsciously looking for a contrast to that whole abstracionism, staticism, that turned out to be the addition of melodic themes, regular grooves and some amount of intensity, all of those mixed in a free music environment. Some tags that have become associated to us are: free jazz, noise rock, no wave, etc.
A big characteristic of a lot of Brazilian music is that it searches for some kind of "Brazilian identity" while also being influenced by many other things. Do you think that CCP have a "Brazilian identity" and do you think this is something that's important for this experimental scene?
Marcos: CCP sure does have a Brazilian identity, but it's mixed with a bunch of different things all at the same time. I think it's a matter of embracing our cultural background with the necessary degree of freedom. I don't know if this is something important for the experimental scene, maybe it's more of a characteristic of it.
What is the network for these bands in Rio? Are there certain venues where you play? What kind of media coverage have the bands been getting?
Marcos: The thing works in the basis of a social network. We get bands to play here and they get us to play outside. Or local bands share concerts. We have a couple of regular venues which support our music, so we can easily manage to book concerts. Now we are getting some mainstream media coverage, but the people who want to listen to this music know where to find it – or can easily find it by asking around. There's also some websites and blogs which regularly promote experimental albums releases and concerts.
Have Chinese Cookie Poets had many opportunities to play outside of Rio? Is this something you're aiming for?
Marcos: We've had a Chile tour in 2011 and we often play in other Brazilian cities. Now we're giving more concerts, and it will probably get better. We plan to go outside Brazil, to Europe, US, we are now working on it.
I also want to ask you about your Negro Leo [playing with Chinese Cookie Poets in the UK in April 2015]. What is your opinion of his music and do you think he's an important new artist in Brazil?
Marcos: I really like his lyrics and music. And his playing is amazing. He gives his band so much freedom that it can sound like a pop/free/improv band. I'm sure he's an important rising artist in Rio and probably in Brazil.
Felipe: If you ask Negro Leo his role in the carioca experimental music scene he will probably say he doesn't sees himself as part of it, for he is a songwriter. The thing is that he's a very peculiar one. Besides being a songwriter, he is also a vocal improviser and has the ability of mixing greatly a more "traditional" song structure with totally open structures, in a way it's hard to define the limits between the song and the improvisation, probably because in the end it doesn't exists. His background comes from great Brazilian musical inventors like Gilberto Gil, Caetano and Jards Macalé, mixed with some great free jazz influence. But I'm doing a very poor comparison here, you should listen and see for yourself.
What's your opinion of the music scene in general in Rio? Is it a good city to be making music?
Marcos: It's a very interesting scene, with a lot of diversity, but without segregation between the musicians, regardless of the different styles and aesthetics. I think the good thing about Rio is that we don't have a big "experimental music" history, so we are very free to do whatever we like. And the people who like can go to all of the concerts, since we don't have more than a couple of venues for this kind of music.
Chinese Cookie Poets – along with Negro Leo – will be playing in Glasgow on Thursday 2nd April and London on Saturday 4th April. More information on both shows here.
Listen to Chinese Cookie Poets' music at chinesecookiepoets.bandcamp.com
An extended piece on the current music scenes in Rio de Janeiro can be found in Sounds and Colours Brazil.
Watch the video for "Viva La Raza" (a track which featured on our Brazil compilation) here:


Follow Sounds and Colours: Facebook / Twitter / Instagram / Mixcloud / Soundcloud / Bandcamp

Subscribe to the Sounds and Colours Newsletter for regular updates, news and competitions bringing the best of Latin American culture direct to your Inbox.
Share: