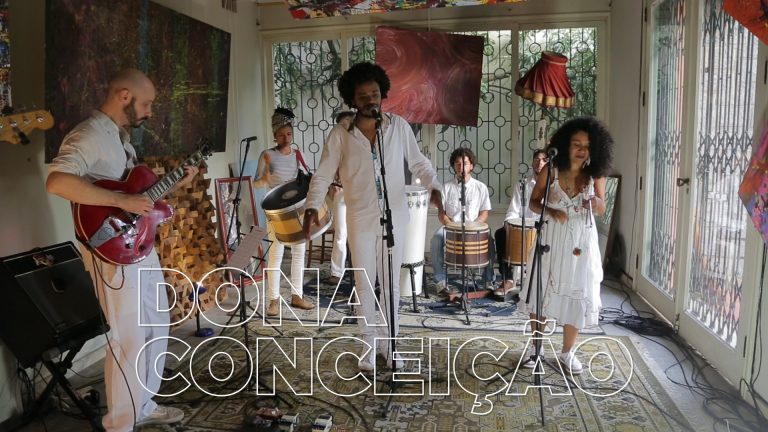 PREMIÈRE: Dona Conceição Pays Tribute to Black Female Deities in Live Session
02 December, 2019
An energy is being summoned on this latest instalment from Sessões Tronco, an audiovisual project based in Porto Alegre that aims to shine a light on upcoming and established Brazilian acts who are passing through their city, with the aim of giving Porto Alegre a little attention too.
Their latest live session – we previously featured a session with Kassin – focuses on the unique talents of Dona Conceição, a group based in Rio Grande do Sul and led by John Conceição. With one album to their name, Asé de Fala, they are a group with a strong Afro-Brazilian identity, reflected in both their lyrics and music, with religious deities a frequent subject. This is undoubtedly the case with "Deus É Uma Mulher Negra" (God Is A Black Woman), the song they perform at their Tronco session.
Taken from their debut album, you can watch the performance of this song below, and continue reading to find out the story on how the song came to be:
Here's John Conceição to discuss the genesis of the song:
"I saw Mãe Beata de Iemanjá (1931 – 2017), when she was still alive, talking. And she has a great gift for oratory. She was talking about the Yabás [Yabás, sometimes written Iyagbas or Iabás are, in Brazil, female Afro-Brazilian deities] and how these Yabás are important to black men in Brazil. She was saying that when they worshiped the Yabás inside the senzalas [slave houses] or when, on a happier note, they could flee to a quilombo [runaway slave community], it was "after a day of painful work, and they always had a Yabá's lap to lay their head on at night". And that touched me very deeply, because my family base comes from my mother, Vera Regina Oliveira da Silva Conceição.

And then I thought about how much the movements, the elements around us, the rain, the wind, the stone, the fire, the lightning, the storms, how closely these are linked to the Yabás and the female deities and how this reflects on each of these black women who surround me and who, in some way, have passed through my life. I finished "Deus É Uma Mulher Negra" after I met Makota Valdina. She did a beautiful speech on AfroT [Afro Transcendence] [which led me to start] trying to understand the texture of my song. That meeting was something very special. So the music came out at different times.

And I brought Pedro Dom, a great friend, great composer, and great instrumentalist, and he created a universe for this song. [It's] a very important song, a tribute to the Yabás and the black female deities who are feared, worshiped and revered."
Expect plenty more videos from Sessões Tronco, and find out what Tronco (who are also a record label) are up to on their Facebook.

Follow Sounds and Colours: Facebook / Twitter / Instagram / Mixcloud / Soundcloud / Bandcamp

Subscribe to the Sounds and Colours Newsletter for regular updates, news and competitions bringing the best of Latin American culture direct to your Inbox.
Share: