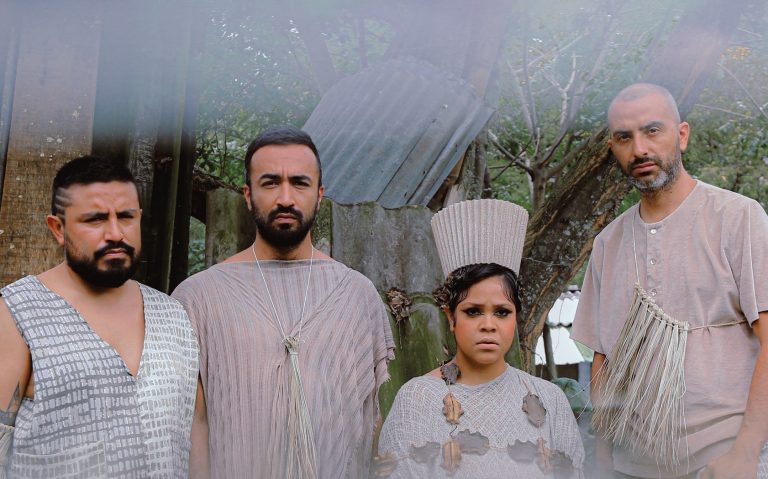 Prezident Markon's New Singles Round-Up (Jorge Drexler, Nidia Góngora, Quantic, Lagartijeando, Combo Chimbita, Islandman, Vana Liya and more)
15 July, 2021
While the English version of football may not be 'coming home' after all the hype, I'll go home to my birthplace and start this latest round-up with a London connection.
Vasconcelos Sentimento "Movimento"
And we'll kick off, so to speak, with something very weird and more than a little disconcerting from Far Out Recordings' stable. Vasconcelos Sentimento is the assumed name of one Guilherme Esteves, who helped label-boss Joe Davis track down José Mauro, the enigmatic singer-songwriter previously assumed dead. With no formal music training, Sentimento calls himself an "amateur euphoric sound researcher", and certainly the drumming that ushers in this track seems very ham-fisted. And yet, play on and it starts to work its insidious spell. It's all disconcerting time signatures and resonant fragments of sound. But, after all, didn't the likes of Thelonious Monk like to unsettle listeners in his day? Not that I'm comparing, you understand, but "Movimento" has got a distinct je ne sais quoi and encapsulates the coming album, Furto, which is by turns both infuriating and rather magical.
The Fontanas "Love Be The Weapon"
While on the subject of London de Janeiro, the latest single by the capital's multi-national Fontanas has a palpable Banda Black Rio feel. And if there are also shades of Incognito in their pomp, it's not so surprising given that some of the musicians involved in this horny, brassy slice of retro funk have played with the likes of "Bluey" Maunick's crew. Produced by Jon Moon of Back To Black fame, a super-sized vintage backing track and Kay Elizabeth's incisive vocals put the oomph into this first single from the band's second album, The Luxury of Time, due at the beginning of September. It promises a rhythmic time for one and all.
Bruna Mendez "A Vida Segue, Né?"
Meanwhile, back in Brazil… Bruna Mendez, from the inland city of Goiânia, garnered critical acclaim for her debut album of 2016, O Mesmo Mar Que Nega a Terra Cede à Sua Calma. Featuring someone by the name of June, this is taken from the new deluxe version of her 2019 follow-up, Corpo Possível, which features this song and two other additional tracks. It's an ethereal piece of electronica with sensual lyrics and the kind of seductive, melodious feel that Erykah Badu once specialised in. Dee-licious!
Carlos Gayotto "Territórios"
It comes as a bit of a shock to the system to discover that the most popular musical genre in Brazil over the last 20 years or so is sertanejo, or basically country music from the agrarian interior. Carlos Gayotto, however, is anything but your stereotypical man in a lumberjack shirt, jeans and cowboy boots. He is a film-maker and songwriter, whose compositions have been influenced by 11 years of Kriya Yoga meditation. At the tender age of 39, Gayotto has already written and directed more than 2,000 films. One trusts that they are short. Somehow he found time to record and release his debut album in 2013, and his follow-up from which this is taken, Realize, was produced by Neymar Dias, who has worked with artists as diverse as Ivan Lins and Nana Vasconcellos. Featuring some dreamy pedal guitar and a sweeping cinematic feel, it has certainly won over someone whose blood has always been C&W-negative.
Lagartijeando "Sideral Cumbia"
A little further south, in Argentina, cowboys known as gauchos ride around the Pampas, lassoing cattle destined to be turned into corned beef. Well, that's what I learnt at primary school. Whatever… I imagine that said gauchos might connect more easily with "Territórios" than with this piece of stripped-back, electronically-reprocessed "celestial cumbia" (not to mention its batty and bizarre accompanying video). Lagartijeando is the alias of producer, musician and DJ, Mati Zundel. This is what he does: fusing traditional influences from Latin America with contemporary electronic beats – and it's all right with me. I shall certainly look forward to more of this, come the album due in October.
Los Supersónicos "Introducción"
Up north in Venezuela and back in the early '60s, they tended to reprocess assorted musical influences from abroad: specifically, surf rock. El Palmas Music of Barcelona has assembled a new compilation and this is the lead single. While the Beatles were wowing the teenage throngs in the Cavern, Los Supersónicos were wowing 'em in Caracas. Yes, it's the same irresistible mashed potato riff immortalised by Nat Kendrick & The Swans (better known as James Brown and band), but dressed up in the surf style of Dick Dale et al. Gloriously improbable! Look out for the compilation.
Jorge Drexler "La Guerrilla de La Concordia"
At this point in the proceedings, it's surely time for some Uruguayan gospel music – courtesy of Jorge Drexler, whose new single previews his first album in four years. It's a call for empathy against a backdrop of hate, I'm told, and a call to snap out of our global self-absorption. Amen to that. Accompanied and energised by the Spanish Gospel Factory choir, the song also anticipates an era of long-awaited reunions. As Drexler puts it, "We open ourselves up, we are in groups, we share space and we miss such simple pleasures as singing in a room with others." Sounds good: song and sentiments. No wonder everyone's smiling so hard.
Combo Chimbita "Mujer Jaguar"
Here's one, however, to wipe that smile off your face. It's a fierce, unsettling slice of expatriate Colombian rock with a jagged edge, made glorious by the extraordinary contralto vocals of Carolina Oliveros. Prince of Queens, the bass and synth player of this New York-based outfit, suggests that "the more we've played music together, the more we began to discover things within ourselves that we were previously unaware of, almost like an energy." Certainly there's a raw, almost primeval force to this number, channelled through the visceral howling of the quartet's vocalist. Errr, quite remarkable!
Vana Liya feat. Pepper "Round n Round"
And now for something a little more calming… Vana Liya is the daughter of immigrants from Guyana to the U.S.A., whose covers of popular reggae songs apparently went viral and led to a record deal with LAW Records of L.A. as their first female solo artist. This is her second single and it's a flighty and succulent amalgam of dub and reggae sprinkled with Hawaiian flavours. It features Pepper, an American reggae rock artist, whose voice (I must confess) made me think of a Flight of the Conchords' pastiche.
Islandman feat. Bongo Entp. & Huaira "Amarnos Ahora"
A little more ephemeral "music for dreams" now, courtesy of the trippy Turkish trio's collaboration with Ecuadorian singer, Huaira. It's the third single taken from Islandman's forthcoming new album, Godless Ceremony, and it treads territory familiar to fans of the band's cosmic, electronic dancefloor vibe. It's a spacey, hypnotic groove redolent of some digitised tropical rainforest. The band has become known for their live performances, so watch out for both the album and a UK tour scheduled for this November.
Gabriele Poso "La Bola"
There seems to be quite an emphasis this month on electronically reprocessed and digitally enhanced Latin music. Here's another one, courtesy of the hip New York label, Wonderwheel Recordings. Gabriele Poso is an Italian percussionist and multi-instrumentalist who is steeped in the Afro-Cuban musical traditions he studied in Rome, San Juan and Havana. He has recorded several albums for a range of European labels, and Tamburo Infinito follows at the beginning of October. "La Bola" is an exultant, funky foretaste and the single is backed by label chief Nickodemus' remix.
Quantic & Nidia Góngora "Balada Borracha"
One of the most renowned expatriate digital-reprocessors is Will Holland, or Quantic to his friends and admirers. He has been working of late with the Colombian singer-songwriter, Nidia Góngora. Almas Conectadas, their second album together, is also due out in October. Judging by this lead single, it will appear on my shopping list. Even with my very limited Spanish, the title and the lurching stop-motion cumbia beat hinted strongly at a drunken ballad. It's an ode to "all the drinkers and drunkards" in Góngora's hometown of Timbiqui. The marriage of the indigenous music of Colombia's Pacific coast and Quantic's sophisticated Brooklyn-based studio production is just great. Make mine a double, please.
Jimena Angel "Plátano Maduro"
Just before we all go off on a summer holiday, let's linger awhile on Colombia's coast. This time, the Caribbean one. Here's the only single of the month inspired by a bicycle ride in the Tayrona National Park. Jimena Angel got lost in a gigantic banana plantation and ended up writing and recording in her home studio a song denouncing clear-cutting virgin forest for banana (plantain) monoculture. After two decades pursuing a more commercial musical career, the bike-loving vocalist decamped from the big city to the wild coast, where she celebrates in her songs the beauty of nature – or in this case laments its despoliation and exploitation. The single follows last year's EP, Aire, for the French label, Elis Records. Expect more.
Yes, we really should have no bananas.

Follow Sounds and Colours: Facebook / Twitter / Instagram / Mixcloud / Soundcloud / Bandcamp

Subscribe to the Sounds and Colours Newsletter for regular updates, news and competitions bringing the best of Latin American culture direct to your Inbox.
Share: