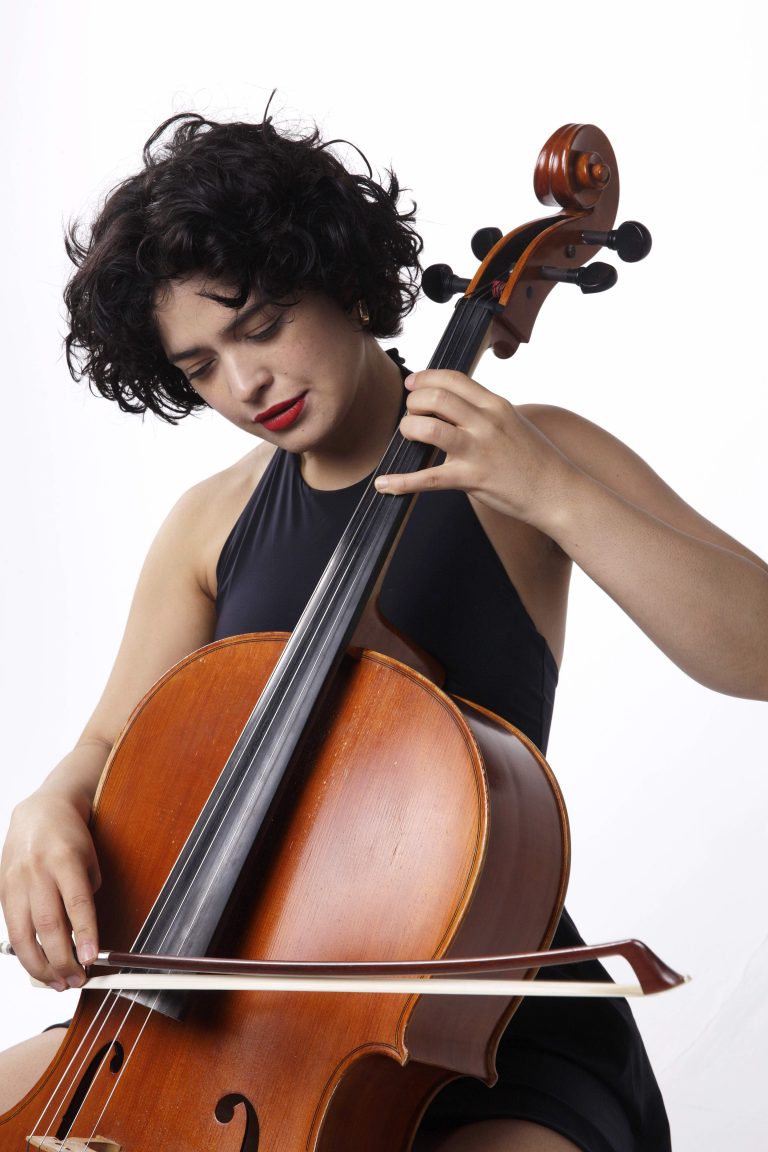 Prezident Markon's Singles Round-Up (Ana Carla Maza, Luzmila Carpio, Calle Mambo, Rizomagic, Ane Diaz, Sonoras Mil and more)
14 July, 2023
Things are hotting-up, weather-wise and singles-wise. Here's the customary mixed goodie-bag of music for pleasure from around the Latin world.
Luiza Lian: "Eu Estoa Aqui"
"My music is a landscape for you to enter your own journey," the acclaimed Brazilian musician, visual artist and performer reveals on the track "Minha Música" from the coming album, 7 Estrelas/quem arrancou o céu? It's crafted to take the listener on a kind of Ayahuasca journey. In which case, the current single, "Eu Estou Aqui", plunges you straight into the hallucinatory stage of the cleansing voyage of self-discovery. The album will be the third on which the artist joins forces with the Franco-Brazilian producer, Charles Tixier, and features a guest appearance from her fellow Paulista, Céu.
---
Ana Carla Maza: "Las Primaveras"
Here's another striking Latina voice, in a very different musical context. The Cuban cellist, who – in the elegant description of The Times' reviewer – "combines Latin dance rhythms with the elfin spirit of Parisian chanson," delivers a really intoxicating performance on this single taken from Caribe, her album due out in the middle of October. A daughter of musical parents, the cellist first fell for the instrument as an 8-year old in Havana, then honed her craft at the French Conservatoire of Music in Paris. Ana Carla Maza is due to appear solo at WOMAD at the end of July as part of her current European tour, and I would strongly suggest that she's not to be missed.
---
Luzmila Carpio: "Inti Watana/Retorno del Sol"
It's not often I get to feature a Bolivian artist in this column, but Luzmila Carpio is one of the best: singing in Spanish and her native Quechua language, she has released more than 25 albums during a long and distinguished career. A tireless champion for indigenous rights and female empowerment, she devotes much of her new album, Inti Watana/El Retorno del Sol, scheduled for release on the September equinox, to conversations with Mother Earth and Father Sun. Single and album are produced by Leonardo Martinelli (or Tremor to his friends and fans), who has spent much of his own career marrying electronics and Latin American folk rhythms.
---
Calle Mambo: " Cumbia De La Buena "
"Next level party!!!" indeed, to borrow an excited/excitable comment. And frankly, why not? This is wonderful, high-energy cumbia from the Chilean outfit that deserves to be riding high in the pan-Latin hit parade. If my Spanish is up to it, it's taken from their third album, Retumba La Tierra. If not, perhaps the band would put me right – and rush me the full album while they're at it.
---
Novalima: "La Danza"
Perhaps the only way to follow that is with another shot of Novalima. Last time around, I featured the single "El Tiempo" from an EP-leading-to-an-album, La Danza. Here's the title track from the Afro-Peruvian sound system prior to the kick-off next month of their tour of the US of A. It features the lead voice of Milagros Guerrero, with the able assistance of the Colombian singer, Pablo Watusi. The dancers are pretty damn good, too. Stirring stuff.
---
Raquel Bitton: "Tout S'éfface"
If the idea of Edith Piaf accompanied by a crack Latin band sounds a little far-fetched, try this one on for size. Born in Morocco at a time when the French influence was prevalent, before moving to San Francisco, Raquel Bitton has been singing professionally since age 11 and created the hit show, Piaf: Her Story, Her Songs. There's the same guttural timbre in her voice and she rolls her "r"s just like "The Little Sparrow". It's a bit of a shock to hear this and other songs from her childhood arranged and orchestrated by Jorge Escobar and played by such Latin luminaries as Alex Acuña of Weather Report fame. But, as the new album's title suggests, C'est Magnifique.
---
Lika Nova: "Dame Una Señal"
Time now surely for a little bit of funky Colombian indie guitar-rock. It's the second single from what will be their third studio album, and it's rather tasty. Other than that they're based in Bogotá, they've been together for six years and they've appeared at high-profile events in Colombia, Mexico and Peru, I can't tell you much. The music will have to speak for itself.
---
Rizomagic: "Ñeño"
While still in Bogotá, here's a fantastic single taken from the electronic duo's forthcoming album inspired by the marimba music of the Pacific coast, Marimbitiaos. Our very own Russ Slater, late of this site, described how they "juxtapose cumbia rhythms with deconstructed highlife, Ngoni scales and indigenous instruments." It's an intoxicating brew that leaves me itching to hear the album. It'll make a change from itching from mosquito bites. You wouldn't believe…
---
André Ubilla featuring Felicia Morales: "No Te Sueltes"
I like this, but my only information about it comes in Spanish. This much I can glean from my long lost schoolboy Latin: André Ubilla is a Chilean singer and I think he recorded his forthcoming (second) album in Buenos Aires. He recorded the single in collaboration with the Chilean singer, songwriter and multi-instrumentalist, Felicia Morales. As you might guess from the tenor of the song, it is about love… and its various torments. It's an invitation to reconciliation, possibly – and there I gave up. Nice song, though.
---
Ane Diaz: "Clavelito Colorado"
Ane Diaz is a Venezuelan singer, songwriter and multi-instrumentalist [Aren't they all, these days? Ed.]. The single is one of three so far taken from her recent album of re-imagined Venezuelan folk songs, Despechada. Apparently, she numbers Michael Stipe, Devendra Banhart, Rufus Wainwright and other big-hitters among her fans, and having listened to the album – albeit cursorily – I can understand why. Her voice and her music are mesmerising.
---
Nicola Conte: "Into The Light of Love"
The honorary Latino – Italian musician, producer, DJ and general jazzmeister, Nicola Conte – and Far Out Recordings go back a long way. His latest work for the label is the album Umoja, and the single is fairly representative of what you'll find on it. Listening to it induces a hint of cringe-worthiness along with lashings of nostalgia for a time when your correspondent was devoted to Lonnie Liston Smith, Roy Ayers, Ronnie Laws and others of that kidney. Time marches on!
---
Sonoras Mil: "Dicen Que la Muerte Murió"
The Colombian band's guitarist and vocalist, Felipe Gómez Ossa, describes their music as "tropical experimental pop with a lot of groove" – and a certain amount of attitude, perhaps. The new EP is a foretaste of their third studio album to come. It's a real mash-up of styles and genres and you'd have to pick the right moment to play it – I wouldn't necessarily suggest breakfast time – but there's something about it that reminds me of the Korean band Leenalchi's brilliant "Tiger Is Coming". To quote the band once more, "Sonoras Mil is a musical trip to places that do not exist but that are still familiar." Check them out, ladies and gentlemen.
---
The Braided Janes: "Por Una Mujer"
Currently in the middle of their first US tour, the award-winning alt-Latin trio have just released their third single from their second album, Renacer, recorded in Colombia and set for a September release. The song is dedicated to the LGBT+ community and was inspired by the love between singer-songwriter Jessica Rodriguez and her wife, drummer Juny Alvarez. They were married in July 2017, a mere two weeks after the legalisation of same-sex marriage back in the good ole liberal USA.
---
Harmless: "What U Want"
Generally speaking, I run a mile from titles that substitute "U" for "You", but this is rather sweet. As sweet as the video he made for his girlfriend in high school, though I'm tempted to suggest that Harmless, or Nacho Cano to give him his real name, should stick to singing. He was born in Mexico City and moved to Los Angeles to study film, only to realise that music was his true passion. His last single, "As I Lay Chillin'", was all about the immigrant's experience as an outsider in America, and what it's like to have faced death after being hit by a drunken car driver – so Harmless needs some love and appreciation.
---
Toni Stuart: "Playa"
Finally, something soothing and "downtempo" to send you quietly on your way. Influenced by the likes of Kaleema and Four Tet, Toni Stuart is an Argentinean artist whose "organic electronic music" is inspired by nature and emotions. "Playa" is the second of Fértil Discos' Brisas series that summons "different artists to join the experience of flying like a soft wind blowing from the sea to the land during the day."
---
You'll pardon me then if I'm blown from my desk to the land of my nocturnal bed, where I shall let "a palette of electronic colors" carry me gently off to the Land of Nod. When I tackle the next batch of singles in August, I should be sufficiently re-energised. Until then, then.

Follow Sounds and Colours: Facebook / Twitter / Instagram / Mixcloud / Soundcloud / Bandcamp

Subscribe to the Sounds and Colours Newsletter for regular updates, news and competitions bringing the best of Latin American culture direct to your Inbox.
Share: