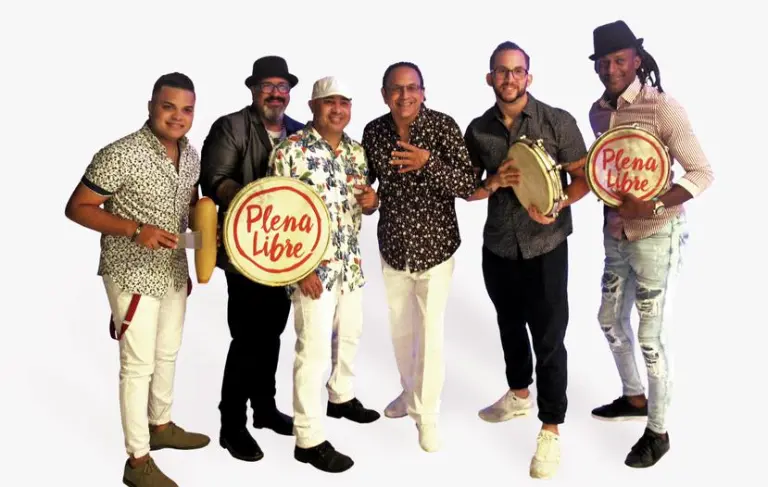 Prezident Markon's Singles Round-Up (Daniel Haaksman, Sessa, Y La Bamba, Plena Libre, Humuzapas, Dowdelin and many, many more)
10 March, 2023
I was going to wait a week or two longer for the latest round-up, but the new singles are piling in from all around the Latin world. So prick up your ears, ladies and gentlemen, and sample the following. I won't attempt to link them, but simply treat them roughly chronologically in order of urgency.
---
Léon Larregui: "Su Majestad La Eternidad"
Here's a very cool video to kick things off. Zoé frontman, Léon Larregui, broke a two-year silence last month with two singles, this one and "Amantes". "Su Majestad…" is a relentless dance-oriented track reaffirming that this artist must be one of Mexico's most creative in his particular field.
---
Klik & Frik: "Chapaleufú"
A new name for me, but not one I'm liable to forget. This Argentine duo would appear to specialise in rather nice hypnotic electronic music. They are currently working on their next album, Regenerar, for Nacional Records.
---
Daniel Haaksman ft. Malagüera + Los Bulldozer: "Bruja"
Daniel Haaksman is a Berlin-based musician who also happens to be the CEO of Man Recordings, specialists in Tropical Bass. As a DJ, he has travelled the world and appeared at Womad, Glastonbury and other major festivals. Singer and "multi-disciplinary artist" Malagüera hails from Santiago, Chile and is currently also based in Berlin. The additional guitars on the single are provided by Los Bulldozer (founded in Bogotá by Colombian guitar player and producer, Fabián Morales), with whom Haaksman collaborated on his 2016 album, African Fabrics. The song, Malagüera explains, is about Nicaragua's volcano, Masaya, and it's the third single from "the global bass pioneer's" album, Sonido Lava, due out on his own label in mid April.
---
Zuco 103: "Aruenda"
Some Brazilectro now from Amsterdam, in the shape of a trio who have been making music together for 24 years. February's single comes from their ninth studio album, Telenova, also due in mid April. As before, it's a slinky, funky mix of drum 'n' bass, Afro-Cuban rhythms and electronic beats with a distinct Brazilian flavour. "The Aruenda beat, as interpreted by… Zuco 103… [is] a reminder that the beat of the past can still resonate with the beat of the present, creating a powerful rhythm that is both timeless and full of life." My sentiments exactly. Dance yourselves dizzy.
---
Jackie Mendoza: "Mousetrap"
This bizarre piece of surrealism-meets-Alice-in-Mouse-Land was filmed in the singer's neighbourhood park in San Diego. The third single from Jackie Mendoza's album Galaxia de Emociones came out around the middle of last month, but the basic instrumentation was laid down during the pandemic when she still lived in Brooklyn. "I named the demo 'Mousetrap' because I thought it was a fun play on words relating to the trap beats, but it painted an image in my head about how some relationships are like mazes and the breakup is a mousetrap." It was the breakup of a relationship prompted her trans-continental exodus to San Diego.
---
Adanowsky with Karen O: "When The Angel Comes"
Warning: this video also contains surreal images that certain viewers might find… bizarre. Adanowsky is the alter ego of actor, performer and producer Adán Jodorowsky, who was brought up in Paris before spending time in Argentina, Madrid and L.A., absorbing assorted indigenous and other musical influences. Now settled in Mexico City, he can boast that George Harrison gave him his first guitar lesson at age 7. Accompanied here on vocals by Karen O, the single comes from his 10th album, The Fool, due this spring on Universal Music Mexico. It's a whole lot lovelier than the video's take on surgery.
---
Ästra: "Easy Ride"
The L.A.-based band led by producer and drummer Guillermo Morales Vittola are back with their first single since their group of four EPs that focused on the four elements of earth, air, fire and water. Later this month, the band will be performing at the Vive Latino festival in Mexico City, but here they – and especially vocalist Zach Adams – sound more like the Cars or some such other AOR group of yore.
---
Sessa: "Vento a Favor"
From Mexican spring to Mexican Summer, the label that has just released a new single from Sessa, one of my main men of the moment. It's Sergio Sayeg's (to use the Paulisto's birth name) first single since the release of his marvellous second album, Estrela Acesa. Anyone familiar with the album may miss the singer's breathy vocal, but will not be surprised to hear the ethereal choir, the upfront electric bass, the gentle acoustic guitar and heart-stopping chords and key changes. The very electric guitar towards the end of this typically concise, under-three-minute song is, however, rather more of a surprise.
---
Y La Bamba: "Collapse"
The Cocteau Twins flashed into mind while listening to this rather gorgeous single from the Oregon-based indie band Y La Bamba's forthcoming album, Lucha, which hits the shelves at the end of April. The beguiling Mexican-American singer-songwriter, Luz Elena Mendoza, now lives in Guadalajara I'm told. I await Lucha's arrival with keen interest.
---
Plena Libre: "Tu Cintura con la Mía"
The Boston Herald's description of Puerto Rica's finest would equally serve for this single: "A mad weave of polyrhythms that simply sizzle." The group are celebrating 30 years in the business of knocking out audiences with a new album, Cuatro Esquina (Four Corners), earmarked for the end of March. If the lead single's anything to go by, it should really be a sizzler.
---
Humuzapas: "Chichu Burru"
It's not every day we receive new singles from Ecuador. The music and the video are further reasons to be cheerful. The song is dedicated to the Kichwa Cotacachi communities in the northern Andean region of the country who request permission from the worlds of humans, deities and nature whenever any activity is to be carried out. "Chichu Burru" is a ritual song to wake them up and talk to them. Directed by the Peruvian Víctor Manuel Checa, the video shows the Kichwa marriage ritual of Ñawi Maillay. This delightful single is the first from Humazapas' album Sara Mama, to be released on June 9th by AYA Records.
---
Caixa Cubo: "Dreams"
One of my favourite tracks now from an album due at the end of the month on the Jazz & Milk label. It's a moody, atmospheric slow-burner that features the vocal talents of guest singers Xênia França and Zé Leônidas. Redolent of Jill Scott, Erykah Badu and Roy Ayers, it suggests the brand of fusion to be found in this expatriate Brazilian trio's imminent ninth album, Agôra.
---
Banana Leaf Boy: "Malo Para Mí"/"I Want 2"
Now there's a name to conjure with! Where and how did he get a handle such as this? Anyway, "Platanito's" double single is out now on Normandie Records and this side is a rather nice slice of sultry Chicano soul from the Acapulco-born singer. With its Latin percussion, festive coda and frantic, breathy flute, one can't help but think of mid-period Santana. Both songs were recorded in Los Angeles, where the Boy now lives.
---
Tokyo Ska Paradise Orchestra feat. Haruko Nagaya: "Etude of Adolescence"
It's been an age since I heard from this dynamic outfit. Not being an expert in Japanese calligraphy, I'm guessing that this is the song I've billed it as, their current single from the forthcoming album on Nacional Records, Junk Or Gem. Like Ästra, they too will be appearing at Mexico City's Vive Latino festival, Mexico being the group's second largest market after Japan. Tangentially ska it may be, but it's brassy and boisterous.
---
Él Mató a un Policía Motorizado: "Medalla de Ora"
I confess that I know little about this Argentine five-piece, nor the single that will be the title track of a forthcoming album, also on Nacional Records. They're from La Plata, they got it together in 2003 and they like the Velvet Underground. That's good enough for me. Besides, this is a nice melodic slice of soft rock and they've got a sense of humour: vocalist Santiago "Motorizado" revealed that they picked the name to "make fun of the typical band or artists' name." It means "that boy just killed a motorcycle cop" in English. You have to hand it to them!
---
Ritmo Machine: "Malibu"
This much I know: Ritmo Machine is a collaboration between Cypress Hill's percussionist, Eric Bobo, and mix-master Latin Bitman – and this is one seriously groovy single.
---
Pahua: "Caña Brava"
Another beguiling release from Nacional Records. Pahua, as I'm sure we all know by now, is Paulina Sotomayor, the Mexican singer, composer, producer and DJ who likes to blend electronica with some of the more indigenous music of her country. This one features someone who goes by the moniker of NIKOLA, either on vocals or (very tasty) flute.
---
Yasser Tejeda: "Tu Ere' Bonita"
This delightful, infectious piece of froth praising the "natural beauty of women" was inspired by a traditional Afro-Dominican music style. Let the artist himself explain: It's "a traditional chant of a style called Salve from San Cristóbal, Dominican Republic." He goes on: "The song is an affirmation of the beauty of women as lovers, care-givers and caretakers." A splendid sentiment and a sweet song.
---
Hannah Lee: Transiciones
We'll wind up for this month with a couple of new EPs. The first is the third from the L.A.-based producer, DJ and "sound artist", who specialises in white noise and musical happenstance: "sounds made by mistake or on purpose throughout the clumsy, messy process of creation." "Feedback" is one of five tracks and it features Alejandro Pinejas from Ecuador on congas and djembe, continuing the sound artist's interest in South America. She has collaborated with Colombian gaita player, El León Pardo and produced a previous EP, Cosas Finas, for the Brazilian label Voodoohop.
---
Dowdelin: "Péké Viré"
We'll finish nearer (my) home. Dowdelin are a Franco-Caribbean quartet that record for Lyon's Underdog Records. I loved the single "Simé Love" (Creole for "spread love") from their last album, Lanmou Lanmou, and I'm rather partial to this, too. The group call themselves "Creole Afro-Futurists" and the chant "Nou ké alé, péké viré" translates as "we're on our way; we won't look back" – appropriate, I guess, for futurists. Vocalist Olivya, from Martinique and raised in France, has a terrific voice.
---
Phew! I'm quite worn out after that little lot. Plenty there to keep you groovin' till next time.

Follow Sounds and Colours: Facebook / Twitter / Instagram / Mixcloud / Soundcloud / Bandcamp

Subscribe to the Sounds and Colours Newsletter for regular updates, news and competitions bringing the best of Latin American culture direct to your Inbox.
Share: