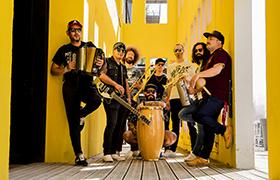 Prezident Markon's Singles Round-Up (Diana Burco, Arícia Mess, Ramon Chicharron, Jessica Medina, Bratty, Kumbia Boruka, Lou Piensa and Mental Abstrato, Arturo O'Farrill and more)
04 April, 2023
To avert the imminent risk of inundation, here's a round-up – earlier than planned – of just some of the many new singles out there in the Latin world. We'll treat them in rough chronological order, beginning with one or two that I missed last time in early March. Bonne écoute, as they say in France. Happy listening!
---
Manic Focus & Balkan Bump: "Brassive Attack"
At first glance, I read this as "Brassic Attack" – one by cabbages, cauliflowers and broccoli. It's actually the kind of brassy, electronic and verbal assault (featuring Chika Di on vocals) that might not go down well with a yoga group, but would certainly animate all but the most sluggish clubber.
---
Diana Burco: "Mal Amores"
By contrast… the young Colombian singer and accomplished accordionist serves up a tasty dish that fuses traditional and contemporary elements in an ode to cumbia. Taken from her forthcoming third album, it's as charming as the heartfelt love she expresses for "Colombia, the accordion and the queen: La Cumbia."
---
Lika Nova: "Desprevenido"
Quite a different facet of Colombian music now. This one is much more influenced by American funk than indigenous music. The first single from the band's upcoming album, it apparently describes the games two people play on meeting and sensing an instant connection. It sure strikes a chord with the crowd.
---
Aricia Mess: "Maria Bethânia"
I've a lot of time for Miss Mess. She has featured on vocals with Far Out's Friends From Rio studio group and her 2021 album Versos Do Mundo had some fine moments. Here she interprets with style and sensitivity a song that Caetano Veloso wrote while in exile in London during the military dictatorship to his sister, expressing his hope that things were getting better. "The song," the singer explains, "relates to our time where everything was destroyed and rebuilt, and our country is now being reborn after four years of devastation. So I send this letter in the form of a song, to all the places where it can reach, as a symbol of rebirth."
---
Ramon Chicharron: "Tú, tú, tú"
Here's a very catchy little number from the Colombian multi-instrumentalist who has been based in Montreal for the last 15 years and garnering awards for his albums in the process. His 2022 album Destello de Estrellas won a Latin "Album of the Year" prize in Canada and the single coincided with his appearance at the SXSW 2023 festival in mid March.
---
Baby City Club: "Watersport"
I won't go too deeply into the nature of the water sport in question, but the video suggests it's harmless enough. Baby City Club are a Puerto Rican duo, brothers June Summer and Augie Pink. It's the second single from their album scheduled to drop this summer and it's not half bad.
---
Jessica Medina: "Morir Soñando"
This month sees the release of Jessica Medina's EP, Rosa. The first single, "Locura", was composed by the estimable Alex Cuba. This one, though, is a bachata-ballad that takes its title from a Dominican drink that blends milk and orange juice ["Rather not, thanks." Ed.]. Born in New York of a Dominican mother and Puerto Rican father, the singer actually studied jazz, but on the EP she zips up her boots and goes back to her roots, and explores the multi-faceted nature of love from a woman's perspective.
---
Nfx: "Nirvana"
This "Chilean storytelling" comes courtesy of a rapper by the handle of Nfx. It's taken from his forthcoming EP, Stop: A Chilean Storytelling. Although I've got barely a word of Spanish, I can tell that he tells the tale of a kid who grew up in the barrio with winning conviction. Sleep well, little rapper.
---
Bratty: "Radio"
Just for a few bars, I thought Bratty might be treating us to some early Talking Heads or Clap Your Hands Say Yeah. No, this is a Mexican "bedroom pop" artist, about whom Billboard cited "an alluring, whimsical quality." Quite so. Bratty is Jenny Juárez of Culiacán, Sinaloa, by any other name and she's pretty damn good. She says of her song that it "talks about intrusive thoughts I feel as an artist and the frustrated feeling of wanting to hear new things." If you want to hear old things with a new slant, assuming that your YouTube algorithm is the same as mine, there's a seriously mellow version by Orgõne of William DeVaughn's almighty "Be Thankful For What You Got" if you let the video run on to the next one.
---
Andres y Sus Estrellas: "Linda Caraqueña"
The Barcelona-based label, El Palmas Music, is a comparative newcomer among the crate-digging fraternity, but they seem to be mining a rich vein of gold in Venezuela. This is the third single from the label's reissue of a rare salsa record dating back to 1976, Andrés y Sus Estrellas. An ode to the women of Caracas, it seems, composed by Andrés Moro and sung by Nano Grant (who were both feted during their '60s and '70s heydays in the music scenes of Caracas and La Guiara), it's a first-class bit of classic salsa that transports you right back to the genre's golden age.
---
Leee John feat. Jorge Vercillo: "Solitude"
Now for a little guilty pleasure of mine. I confess to having always had a soft spot for Imagination, despite the redundant extra 'e' affected by their lead singer, he with the falsetto to rival The Stylistics' Russell Tompkins jr. This finds Leee with the extra 'e' in the company of Brazilian Latin Grammy award-winner, Jorge Vercillo. It's as soft and downy as a luxury pillow and as lovely as a late summer's evening – even if the spoken interlude sounds like a Flight of the Conchords' pastiche.
---
Kumbia Boruka: "Fiesta en las Calles"
Here's something to wake you up in case you were mesmerised into a soporific state by Leee and Jorge. This glorious chunk of reggae-fied cumbia comes from the Mexican band's new album, scheduled for later in the year. Last year's tour of Europe obviously didn't put them off, as they're coming back for more this year. If they come anywhere near my neck of France, I shall be there bobbing and weaving among the crowd of revellers.
---
Ramona: "Bonita"
Spanish speakers among you will be able to read the lyrics of a song written in Cuernavaca when the Tijuana band were stranded there during their "Sobre Una Nube" tour, and appreciate how it was inspired by relationships that endure by living in the present moment. There's not much about it I can tell you in English, but it all sounds very romantic.
---
Barzo & Sandra Nankoma: "Langi"
This is the title track of an EP whose title translates as "Colours" in the language of Sandra Nankoma, an award-winning Ugandan artist and activist, who has hooked up with the Costa Rican DJ and producer, Barzo. As the label on the tin says, it's "a refreshing combination of Funk, Afro and House grooves." Lead me to the nearest dance floor, I prithee.
---
Lou Piensa & Mental Abstrato: "Mountain Top"
We'll ride the groove and enjoy the tea or coffee in the company of French-born multi-lingual MC, Lou Piensa, and São Paulo's Mental Abstrato – or one of them, anyway. Their Still in Transit came out towards the end of March, the product of a friendship cemented during a brief tour to Cuba during 2019. The sounds they heard there rubbed off on the new album – though not particularly on this single, which is very much in the hip-hop jazz vein that the Brazilian band is known for. Love the "non-video" by the way, the moving medium's equivalent of a still life perhaps.
---
Arturo O'Farrill: "Un Poco Loco"
While on a jazz theme, here's a single taken from pianist and band leader Arturo O'Farrill's second album for the legendary Blue Note label, Legacies, which arrives towards the end of April. As the son of the great arranger and band leader, Chico O'Farrill, and father of the trio's tasteful drummer, Zack, the notion of musical legacies has always been of paramount importance to this Grammy-award-winner. Here he pays tribute to one of the founding fathers of Bebop, pianist Bud Powell.
---
Ani Cordero: "No Me de la Fokin' Gana"
Lest you can't guess from the title what this slice of righteous musical anger is all about, let the Puerto Rican singer explain… It's a song "about walking away from things that are energy draining and non-productive to preserve your own peace. This can apply to politics, relationships, obligations, and pressures put upon you by society." The video focuses on some of the contemporary urban pressures, such as being forced out of your neighbourhood for the commercial gain of anyone but the current residents. It's the first single from an album earmarked for June and it's fokin' great, if you'll pardon my French.
---
Orti, Mayorga y Chiriboga: "Muñequita Blanca"
Last up for now is the third single to be taken from Analog Africa's latest dive into the wacky world of Andean cumbia and tropical psychedelia. Ecuatoriana is out on the 7th April and represents the German label's 37th compilation. How time flies when you're having fun. The sub-title tells as much as you need to know for now, El Universo Paraielo de Polibio Mayorga 1969-1981. Here he is in the company of Francisco Orti and Pepe Chiriboga putting a space-age twist on some otherwise standard traditional fare. That ominous, resonant Moog strongly suggests that it came from outer space.
---
That's it for another month. All things being equal – and the affairs of state not being too taxing – I'll be back in early May with some more goodies from the Pick 'n' Mix counter.

Follow Sounds and Colours: Facebook / Twitter / Instagram / Mixcloud / Soundcloud / Bandcamp

Subscribe to the Sounds and Colours Newsletter for regular updates, news and competitions bringing the best of Latin American culture direct to your Inbox.
Share: