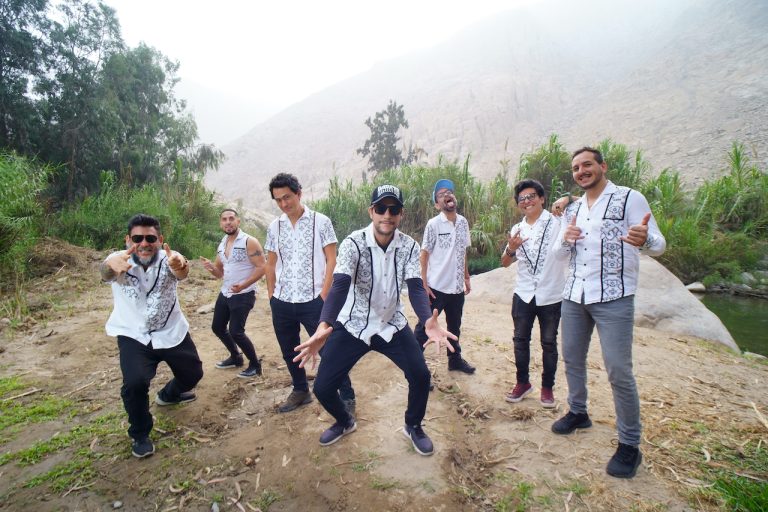 Prezident Markon's Singles Round-Up (Orquestra Afro-Brasiliera, Alex Malheiros, Bareto, Silvana Estrada, Cumbia Chicharra and more)
07 October, 2021
It's still only the beginning of October, but we're already "slipping into darkness". Winter's on its way, but here are some combustible singles to keep the home fires burning.
---
Orquestra Afro-Brasileira "Damurixá"
We'll turn to the senior citizens this time to get things rolling. 80 Anos is the first album in 50 years by this venerable orquestra, whose 30 years of existence was marked by a mere pair of albums. Vocalist and percussionist Carlos Negreiros is the sole survivor and his spiritual tones add a distinctive touch to this mix of emphatic big band horns and poly-rhythmic Afro-Brazilian percussion. The lead single has been out since the end of August and the London-based Day Dreamer label is releasing the new album about now, along with the orquestra's first album from way back when, Obaluayê. A combined review of the two is on the to-do list.
---
Alex Malheiros "Alto Verao"
Meanwhile, in another part of London, Far Out Recordings have put out this single from Alex Malheiros' first solo album in over a decade, Tempos Futuros. Maybe it's the collaborations with his daughter, Sabrina, that keeps the Azymuth bass player so young. Treading the same infectious territory as modern-day Marcos Valle, "Alto Verao" displays the familiar touch of Daniel Maunick's production techniques: it's a sunny slice of neo-jazz/samba-funk propelled by Malheiros senior's snappy bass and Marcos Valle's drummer Massa, washed liberally by synths and graced by Malheiros junior's mellifluous vocals. The album is slated for the end of November.
---
Cristina Clara "Real e Abstrato"
There's a strong flavour of Brazil, but from quite another tradition, in this delightful single from a young Portuguese singer, who takes time-off from her daytime nursing duties to mix with immigrant musicians in the Tejo Bar in the Alfama district of Lisbon. This is a song composed by Clara's Brazilian friend, inspiration and fellow performer, Tatiana Cobbett, which features the distinctive ring of the Portuguese acoustic guitar and which blends effortlessly and seamlessly the two traditions of fado and choro. I often find pure fado too tragic even for my melancholic taste, but Cristina Clara's compound is a joy and I shall look forward to the album, Lua Adversa, a little later this year.
---
Bareto "Tu Recuerdo"
Equally joyful and taken from an album also scheduled for early November, here's a new single from a group that has made a career from mixing their genres. Peru's Bareto blend the traditional with the contemporary in a concoction that is labelled sometimes "psychedelic cumbia". This singing, ringing single resonates with elements of cumbia, Andean huayno and the easy skanking of Jamaican mento. The voice of new vocalist Javier Arias works beautifully in tandem with what sounds like a a melodica and a big brassy climax brings it all to a rousing conclusion. The band's fifth album will be their first since their Latin Grammy-nominated Impredecible six years ago and, while the personnel may have changed somewhat, it sounds like the quality of the product hasn't dropped in the slightest.
---
Cumbia Chicharra "Chikilin"
This eight-piece from Marseille take a rather different approach to cumbia, but the result is equally infectious. They've taken their high-energy, rambunctious music around the world, from France to Chile via Russia and Morocco, and earned their spurs as one of Europe's top Latin acts. fRoots magazine dubbed their previous album, the splendid Hijo del Tigre, "a musical adrenalin rush". Judging by this single, the new album, El Grito, will undoubtedly supercharge the endorphins when it comes out in the middle of this month.
---
Paco Zambrano y Su Combo "Meshkalina"
Here's a monster from Munster, Vampisoul's sister label. It's a reissue of a popular record from 1969 that became a veritable anthem in Peru. Still very much in demand on the psych/garage scene, I'm told (and can understand why), this cover by the percussionist band leader is as crazy as its "ya ya ya ya ya, ya ya ya ya" chorus and its wigged-out arrangement. All I can say is Give me more of that mesh-ka-lina…
---
Traffic Sound "Meshkalina"
Munster has duly obliged by releasing the Traffic Sound original as the B-side, thereby collecting these two retro gems on the two sides of a 7″ single. If anything, it's even fuzzier, even crazier than Paco Zambrano's cover. Both outfits sing in English of the intoxicating power of some mind-blowing narcotic, and Traffic Sound in the process recall something psychedelic cooked up by the likes of Strawberry Alarm Clock. Briefly, it must have been a swinging scene in late '60s Lima.
---
Harvey Averne and Group Therapy "The Think Drink 'Spiked'"
In a similar vein and from the same era comes the latest single from Craft Latino's monumental boxed set It's A Good, Good Feeling, which plunges us deep into the wonderful world of Latin soul and boogaloo from the Fania vaults of the '65-'75 golden decade. Producer, leader of the Harvey Averne Dozen and founder of CoCo records, the Latin impresario had about as many permutations of his band as Sun Ra did. The lesser known Group Therapy released "The Micro Mini" in 1967 and this glorious slice of boogaloo was its B-side. It just goes to show that things may come and things may go, but a great dance record will always rise to the surface.
---
Josi Dias & The Kevin Fingier Collective "Rua Nova Barão"/"Um Brilho Novo"
Another B-side now that could have arguably swapped places with the A-lister. It's a close run thing and purely a matter of taste, but the rawness of "Rua Nova Barão" seems to bring out the best in Josi Dias, a Brazilian chanteuse based in Buenos Aires who has hooked up with Argentinean producer, Kevin Fingier. Both sides are guaranteed to stir up the punters in a jazz dance club and there's an evocative retro feel to them that conjures up the London smart set at the tail-end of the last century. Mmmm, nice.
---
Walpataca "Caliente" / Vienna Art Orchestra "Un Poco Loco"
DJ Paul Murphy was and is an integral part of that London jazz-dance scene. His Jazz Room Records label has put together The Electric Jazz Room EP with two cuts to leave Latin jazz lovers begging for more. "Caliente" is a scorching percussion work-out under the aegis of the great Cuban bass player, Israel "Cachao" López, whose Grupo Walpataca features Walfredo De Los Reyes of Santana fame. On the flip side, pianist Bud Powell's "Un Poco Loco" has been covered by more jazz luminaries than you can shake a soprano sax at, but never surely with such big-band bombast as this version by the Vienna Art Orchestra, a kind of Austrian jazz super-group co-founded by Carla Bley alumnus, saxophonist Wolfgang Puschnig. A double dose of deliciousness.
---
Gabriele Poso "Futurista"
Since we've got our dancing shoes laced up… Gabriele Poso is an Italian producer, drummer and multi-instrumentalist, who chose an apt title for his seventh album from which this second single is taken: Tamburo Infinito translates as infinite drumming, and there's something about his spacey approach to Latin-American percussion that recalls some of Ivan "Mamao" Conti's recent solo recordings for the Far Out label. The single and the other nine album tracks were recorded in southern Italy, but transport you to the other side of the Atlantic: to the French Antilles, in fact, from where he derived his current inspiration.
---
J.Ele "Will You Be Mine"
Anyone familiar with the Californian Bay Area band, Los Mocosos, will be interested to know that their vocalist, Juan Perez, aka J.Ele, is shortly releasing a second single on the gloriously-named HipSpanic label. He's helped out by a couple of band mates and produced by Happy Sanchez, who worked on the band's 2020 album, All Grown Up. "Will You Be Mine" is quite a different dish from the raw funk of "Cadillac Dreams'", which came out in August. A solo album is presumably steaming into view on the western horizon.
---
Frederico7 "Missing My Children"
Time for a little reggae-infused music from a soulful Brazilian musician based in Austin, Texas – particularly as the proceeds of any downloads from his Bandcamp page will be donated to the SIMS Foundation, a charity aimed at musicians, music-industry professionals and their dependants. It's a nice lilting and poignant song sung in a gentle manner pitched somewhere between Curtis Mayfield and Finlay Quaye. It's coupled with "Truth Is Power", which exemplifies the description of the singer as a "soul rocker", a little in the vein of someone like Garland Jeffreys.
---
Dos Santos "City of Mirrors"
I'm not sure how I managed to miss this last time, but since the album of the same name is out later this month and since I feel so wretched for having failed to flag up such a gem as the title track, here it is… a little late in the year. Just love that clarinet refrain, too. According to vocalist and bandleader, Alex Chavez, the song is a love song to disaster-torn Puerto Rico, "a place of beauty and trauma, of struggle and triumph." For all its legacy of colonial trouble and strife, and as the video kind of suggests, it's got to be better than living in wind-whipped Chicago, where the band is currently based. Check out the first single from the album while you're at it. "A Shot in the Dark" is a stunning piece of music. (Nice visuals, too.)
---
Silvana Estrada "Marchita"
This 24-year old Mexican singer invests this passionate sample of her forthcoming debut album on Glassnote Records with all the furious, heart-rending emotion churned by falling in love and then breaking up with her lover. It's a show-stopping performance that suggests she might be just the ticket to open for Rodrigo y Gabriela on their US tour this autumn. The intriguing video is filmed by the way in the Dominican Republic.
---
Chancha Vïa Circuito & Luvi Torres "Sano"
Last but by no means least comes this meditative Wonderwheel release to bring things to a calm, contemplative conclusion. "Sano" is one of four tracks from Ceremonia, a collaboration between the singer-songwriter, Luvi Torres, and the Argentinean DJ and producer, Pedro Canale, better known as Chancha Vïa Circuito. If the music is redolent of, say, aromatherapy massage, that's because there's an element here of what the Neville Brothers once entitled "Healing Chant": Luvi Torres' lyrics include mantras used in therapeutic exercises to immerse us in a "healing musical world".
And why not indeed? We could probably all do with a little bit of that. Until next time; adios amigos.

Follow Sounds and Colours: Facebook / Twitter / Instagram / Mixcloud / Soundcloud / Bandcamp

Subscribe to the Sounds and Colours Newsletter for regular updates, news and competitions bringing the best of Latin American culture direct to your Inbox.
Share: