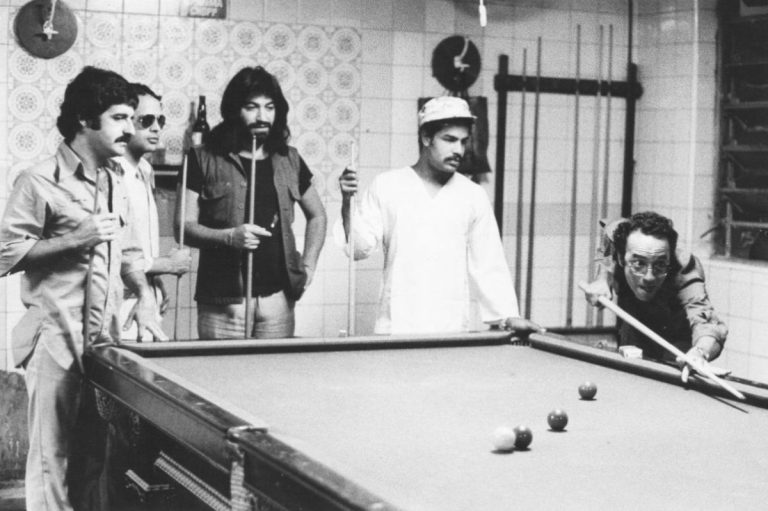 Prezident Markon's Singles Round-Up (Som Imaginário, Telmary, Novalima, Santafaria, Ana Tijoux, Roberto Fonseca and more)
21 May, 2023
There's a ton of new stuff backing up on my computer, so before I go down with a case of the heebie-jeebies, let's get right down to the real nitty-gritty and cut to the chase…
Tagua Tagua: "Colors"
Here's a colourful way to get things rolling. "Colors" is one of my favourite – and certainly one of the squelchiest – tracks from Tanto, the album that just keeps on giving. If you haven't yet checked it out, do so forthwith I prithee.
---
Som Imaginário: "Os Cafezais sem Fím"
That was now and this is then. 1976, in fact – the year of the long hot summer in the UK. Back in Brazil, Milton Nascimento's backing band – including the celebrated Wagner Tiso on keyboards – were performing a concert on Nature Day [What happened to that one? Ed.] in Brasilia. The performance was recorded, but the results have lain dormant ever since, until that is good old Far Out Recordings chose to release it (on 2nd June) as Banda Da Capital. Judging by the multi-layered single, it's the closest thing you can get to a Brazilian Hatfield & The North or some such other jazzy-prog outfit.
---
Telmary featuring El Ruzzo: "Cógela Como Arde"
Forgive me, I'm hopping around like a grasshopper on mescaline this month; as the mood takes me. Well, it takes me to Cuba via Canada, where this young singer and rapper spent seven years. Toronto's Unfit Records (established by those dynamic Cuban expatriates, Battle of Santiago) have released this first single from the forthcoming album, Fuerza Arara. It's a re-working of a song that featured in an Italian Cuban film called Malabana and, I'm told, it's a sarcastic dig at Cuba's public transport system and a homage to those renowned '50s cars which often serve as taxis. Here's a live version that gives you an idea of how good this artist is. She and her band will be appearing at Glastonbury this summer.
---
Cumbias En Moog: "Cumbia de Sal"
Now this one I remember well from Vampisoul's The Afrosound of Colombia collections. The Madrid label is now offering it as a 7″ single coupled with "Cumbia Sobre el Mar". Both are deliciously bonkers and both, I believe, have something to do with Fruko y sus Tesos, the house band with Discos Fuentes. More than that, I cannot… so just enjoy this daft delight.
---
Novalima featuring Dom La Nena: "El Tiempo"
Village Voice pithily described how this splendid outfit "refracts Afro-Peruvian music through the prism of club grooves." It's groovy stuff and it's taken from La Danza, which – as far as I can gather – is conceived as an EP leading to an album of the same name, to come out later on Six Degrees Records. They're touring internationally and a glimpse at their live act on YouTube suggests they are not to be missed. Life is a dance, they believe, and the lyrics of their songs are "inspired by the limited time we have on earth as human beings and awareness of how we should spend it before time's up." You can't say fairer than that.
---
Hermanos Gutiérrez: "Thunderbird"
I've featured these marvellous Zurich-based, gee-tar-slinging brothers before in this column, and the new video confirms just how marvellous they are and just how many Sam Peckinpah and Sergio Leone westerns they've probably watched over the years. It's a track taken from last year's critically acclaimed El Bueno y El Malo album, which has thus far garnered 23.5 million streams globally to date [That's a helluva lot of carbon. Ed.]. Obviously, there are still people out there with impeccable taste.
---
Dip In The Dub: "La Cumbia Del Sufi Que No Sabia Baila"
While lingering among the mountains of Switzerland… The left-field label Bongo Joe is soon to release the second of Coco Maria's Club Coco compilations, ¡Ahora! The Latin Sound of Now. If this deranged slice of sonic lunacy is anything to go by, it should be a cracker. It's out in early July and I can't wait.
---
Cyril Cyril & Meridian Brothers: "Diablos De Chuao"
We'll stick with Bongo Joe, because the label has also just released this single by the Swiss duo Cyril Cyril (one of whom is Cyril Yeterian, the label's founder), who travelled to Bogotá during their South American tour and spent a day with our favourite minister of sound, the inimitable Eblis Alvarez. Together with some special guests in the Mambo Negro studio, they came up with this spontaneous, futurist bit of… what exactly? Captain Beefheart might have described it as "like two flamingos in a fruit fight".
---
Santaferia featuring Sara Hebe: "Piola"
This one has been out for a "wee while", as they say in Northern Ireland. But it's brassy, brash and infectious, and well worth a tardy view. The Chilean group has been described as a "dancing hurricane", while Sara Hebe is an Argentine purveyor of what might be labelled cumbia-punk. The band have a new album in the can, while Ms. Hebe is touring Europe in the coming months ahead.
---
Ana Tijoux: "Niñx"
Since we're on the subject of Chile, here's a rather extraordinary video to mark a rather extraordinary new single from the Chilean hip hop queen. But then she is more than a little remarkable: she's just published a memoir, Sacar La Voz, which might explain why the imminent new album, Vida, is her first in nine years. She's booked to appear at this summer's WOMAD, which should reveal more about this intriguing artist.
---
Tabaco: "El Tren de Porky"
Barcelona's El Palmas label has been busy expanding its repertoire, digging deep in the crates of South America. "Tabaco" Quintana, nicknamed for his tall, skinny physique, was one of Venezuela's undisputed stars of salsa, who learnt his trade in nocturnal Caracas and the Sexteto Juventud outfit. He formed his own sextet in 1973 and died in 1995. The single previews the album Tabaco, which will surely be one to look out for based on this quirky nugget.
---
León Larregui: "Incendio de Amor/Carmelita"
Time, I feel, for some Mexican rock [Really? Ed.]. Zoé's front man offers us this sample of his third solo album, Prismarama. The award-winning singer, composer and producer has this time done it almost entirely alone, but "not without the help" of his partner, Marga – which is an endearing admission. "I see myself as just like a prism and emotions are the colours that emerge from me," he reveals. Enjoy this prismatic sample of the new album.
---
Roberto Fonseca: "Mani Mambo"
Over the years, the virtuoso Cuban pianist has regularly displayed his love for his country's mambo glories of the past. The dear old Daily Telegraph, bless its cufflinks and starched collars, proclaimed him "sensuous, fresh, modern… [bringing] the piano dazzlingly to life." As so often in the past, he manages to meld the sounds of modern Cuba with its illustrious traditional sounds. "Let's go mambo, everybody!"
---
Cienfue: "Seven Cities of Gold"
Here's the title track and new single from the soft-rock group's follow-up to 2020's Life In The Tropics. The Panamanian artist formerly known as Camilo Navarro Quelquejeu has won a considerable fan base for his fusion of Latin roots and modern-day rock. It's a fusion and spirit that puts me in mind a little of bygone groups like Sea Level and Maze. Cienfue himself has coined the term "psicodelia tropical", which will do quite nicely for now. The bilingual album apparently "captures the diverse musical influences that Cienfue was exposed to while growing up."
---
Fernando TRZ: "Tower of Love"
Just time for a little retrograde dancefloor action from Fernando TRZ, acclaimed Paulistano producer, composer and keyboard artist who is part of the Caramelows band (among other musical projects). "Tower of Love" is the first single from his Prayer EP and it certainly strikes all the right notes to someone who misspent too much of his youth grooving to the disco, funk and jazz-funk of the era. São Paulo never seems to fail to deliver the musical goods.
---
Well, that's quite enough for now; I have a meadow to mow before the next rain arrives. But I shall be back in the fullness of time with more colourful sounds for your edification.

Follow Sounds and Colours: Facebook / Twitter / Instagram / Mixcloud / Soundcloud / Bandcamp

Subscribe to the Sounds and Colours Newsletter for regular updates, news and competitions bringing the best of Latin American culture direct to your Inbox.
Share: