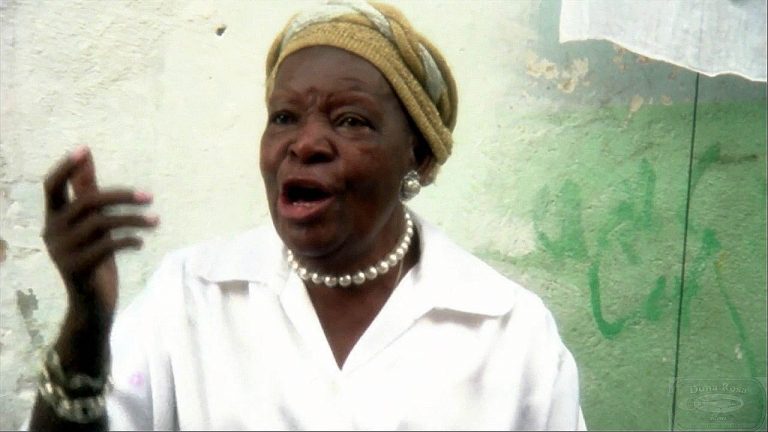 Queen Quelé – The Queen of Samba; Interview with Clementina de Jesus Documentary Makers
15 October, 2019
Legendary voice and a symbol of Brazil's African heritage, cultural diversity, and musical richness, Clementina de Jesus or Quelé as she is lovingly known is the focus of the biopic Clementina, part of the WOMEX 19 Film Programme (WOMEX 19 will be taking place in Tampere, Finland, Oct 23-27). Samba would not be Samba without Queen Quelé.
The granddaughter of slaves who worked as a maid for almost her entire life, her songs give voice to life as a black, poor woman in Brazil, weaving its joys and sorrows into the fabric of Brazilian music. Recognised by Hermínio Bello de Carvalho at the late age of 63, the unstoppable Clementina went on to record 13 LPs plus additional albums alongside popular Brazilian musicians, such as João Bosco, Clara Nunes and Milton Nascimento.
WOMEX Film's Sana Rizvi caught up with the films' producers Mariana Marinho and Marco Abujamra, who run Dona Rosa Filmes, a Rio de Janeiro based cultural production company. As Mariana so aptly put it while speaking to us: "Clementina's life trajectory is an act of resistance itself, teaching us life lessons of going after our desires, believing in our talent and living life without bitterness."
When and how were the seeds of making this film sown?
Mariana Marinho: I have a connection with African culture and also approached the richness of our African origins through our production company Dona Rosa Filmes, screening 70 contemporary African documentaries in Brazil at an exhibition called Africa Today. In addition to this passion and closeness to our African roots, music forms a large part of both Marco Abujamra's and my work. The challenge of telling the extraordinary story of Clementina was at the invitation of a friend, Luis Moraes and the family of Quelé. We embraced the opportunity with all our dedication and passion for bringing poetic visibility to a powerful woman, one of the most significant references of Brazilian popular music.
You have some fabulous archival footage in the film. Could you take us through the research process for the film?
Mariana Marinho: The research was long and intense. We set up a team, and Pedro Paulo Malta, a great connoisseur of Brazilian popular music, researcher and samba singer, led the research team. As for the images, in addition to the traditional collections, archives of cultural institutions and TV channels, we also searched in unusual ways, asking friends, movie lovers, sambistas and musicians. Through this "informal" research, we were able to find unpublished materials such as the passage in which Clementina is cooking with her grandchildren in her home, a stunning image that reflects the simplicity and joy that permeated her daily life. The internet was also an essential tool in the process of allowing us to get in touch with images filmed here in Brazil. The process required a lot of commitment and determination from the whole team. Six months of searching, but it's been totally worth it!
Clementina's mother would often sing everyday life songs that ended up stored in her daughter's memory. And her songs are an ode to not only traditional sounds and rhythms but also her slave heritage. Could you talk a bit more about Clementina's music for those who don't know about her?
Marco Abujamra: Clementina's repertoire was based mainly on the oral tradition, which incorporated African chants and the subsequent Brazilian / Portuguese influences on black culture, many of those linked to religious rituals. We would have missed many jewels in her repertoire had it not been for her recordings. Also interestingly, influences on her behaviour, the body and dance were forged firstly in her African roots and secondly in the captivity of slaves in Brazil.
In the 1960s, when Clementina and other influential samba musicians were discovered, there was a military dictatorship in Brazil. Were there references in Clementina's music to the political climate of that time?
Marco Abujamra: No. Clementina always sang the same repertoire, and only came to be recognised, or discovered, in her sixties. What happened, was a greater interest in resistance to the military coup through symbolic elements of popular culture. There were contradictory ideas at that time on what was considered popular culture – a domesticated and repetitive "for the people" culture or a culture whose originality had not yet been fully recognised in intellectual and artistic circles as quality art. There were exceptions, like popular musicians from the favelas that were successful on the radio, but still strongly influenced by white culture.
There was also the rediscovery of samba roots in the 1960s, following post the 50s when bossa nova and sambalanço were more popular. Was this going back to the origins of samba also a result of the dictatorship of that time?
Marco Abujamra: Interestingly, samba never ceased to be produced. At that time it was recognised by the middle class, artistically and intellectually. It started to be incorporated by the left, as a necessary movement of Brazilian cultural affirmation. Bossa nova, in particular, paved the way for samba as it is an extremely sophisticated music style that has appropriated elements of samba as well as classical music from Chopin to Debussy. There was also a worldwide explosion of popular music in the 1960s through rock music. After this period, we began to hear samba with less prejudice. It began to be heard more carefully, along with ideas from the counter-culture. The "samba guys", however, were not part of this movement. They just continued to do what they were already doing.
Clementina reflects the beauty, diversity and richness of Brazil in her songs and life. Was it necessary for you to make a film about her, especially today looking at the current climate of Brazil?
Mariana Marinho: It was very important for us to give voice to the trajectory of a woman who was poor, black and who despite the lack of opportunities that exist in a country like Brazil, was able to be recognised as one of the most important Brazilian spokespeople. I want to point out that the current political period we are living in Brazil, is a huge social setback plus extremely cruel to human rights achieved after many years of struggle. It is a government where art, culture, and education are not valued, and there is an attempt to "silence" minorities. Therefore, yes, it is vital to give visibility to films like Clementina and encourage people not to give up their achievements and talents.
In one of your interviews Mariana, you said that in Brazil independent cinema is not commercially viable but more a tool of artistic value and the preservation of the country's cultural memory. Could you elaborate on this?
Mariana Marinho: In my opinion, Brazil still does not invest enough in documentaries, authorial films. There is a mistaken impression here that the general public doesn't absorb the more sophisticated culture, only generic entertainment. I do not believe in this. The documentary Clementina had screenings packed with people who like samba, who seek to know a little more about its origins. I think it is fundamental for any country to invest in its cultural memory. Cinema is an essential tool for the preservation of culture as it provides knowledge through sensitivity, the experience of watching a good movie, absorbing the thrill of music, the scenes and images presented. What better way for kids and adults to learn about their culture?
Marco, being a musician yourself and having directed a documentary about Latin Grammy 2019 nominee Jards Macalé, how different was it when researching Clementina, her life and historical background?
Marco Abujamra: The history of Brazilian music and its different ramifications after the 1950s is quite mixed, either by affirmation or opposition. There was the talk of rock, samba, bossa nova, tropicalismo, and Macalé that came in this wave, where many frontiers were opened to the creation of a vibrant and diverse original Brazilian music. But it is hard to deny that samba is the main root of Brazilian music, especially during this period.
What are you both currently listening to right now in terms of music and what new projects can we look forward to from your side?
Marco Abujamra: We are filming a documentary about Luiz Melodia, one of the greatest Brazilian musicians. It is a project of a few years, which came to a halt after Melodia fell ill and eventually passed away, which caused us all great sadness. Now when the grief is slowly fading, we can return to work with passion and surrender. So to answer what we are listening to at the moment: Melodia, Melodia, and more of Melodia!
Why should WOMEXicans watch the film and what you do you hope they can take away from it?
Mariana Marinho: We are delighted to screen the movie Clementina for the WOMEX audience. A character like Clementina, a strong and sweet woman, with a unique vocal timbre and peculiar life story sensitively presented in the movie, will promote a rich experience for the audience. And those who watch the film will learn not only about this powerful representation of Brazilian culture but also about the wonderful repertoire of the Queen Quelé.
Clementina is part of the WOMEX 19 Film Programme and will be screened at the market on Saturday, October 26th, at 11 am in the Small Auditorium, Tampere Hall. WOMEX 19 is taking place in Tampere, Finland (October 23-27).

Follow Sounds and Colours: Facebook / Twitter / Instagram / Mixcloud / Soundcloud / Bandcamp

Subscribe to the Sounds and Colours Newsletter for regular updates, news and competitions bringing the best of Latin American culture direct to your Inbox.
Share: