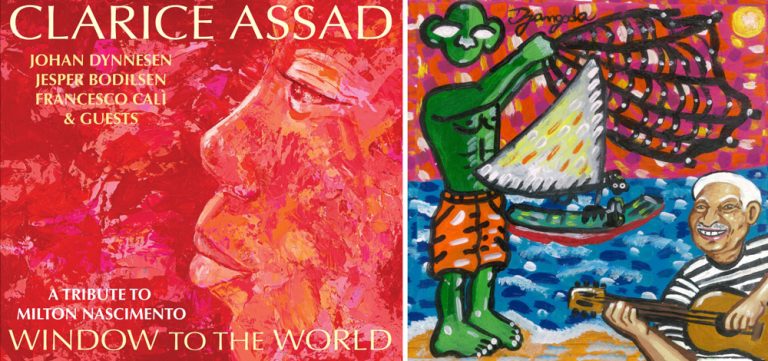 Reinterpreting Two Brazilian Giants with Clarice Assad and Djangada
14 October, 2022
Two noteworthy releases from a little out of left-field merit our attention lest they get lost among this autumn's higher profile releases. In chronological order of release, we'll start with a very fine album that arrived last month via Denmark.
---
Clarice Assad – Window To The World (A Tribute to Milton Nascimento)
****
Clarice Assad is a Grammy-nominated singer and pianist blessed with a lovely voice and a nimble touch on the ivories. Steeped as she was from an early age in a compatriot she describes as an "iconic singer-songwriter", this seems to be the album she was destined to make. It took a time to happen – she has been touring for years and Nascimento's songs have come to form a significant part of her concert repertoire – but when it did happen, it came about quite quickly: in partnership with a European trio of Johan Dynnesen on drums, Jesper Bodilsen on bass and Francesco Calì on accordion. "During a Denmark tour in 2018," the artist writes in her liner notes, "my good friend Johan [Dynnesen] suggested we recorded it. He rented a space, called some friends in common, and in one swift afternoon, we registered most of the songs included here. Such a joy to spend an intense few hours with incredibly talented musicians."
Perhaps it's that palpable sense of joy that makes this album of nine "re-imagined interpretations of [Nascimento's] timeless songs" stand out from the crowd. The result is remarkably polished given the time restrictions, but the overall sense is one of immediacy, as if we are privy to the creative process at work. Of course, you can't go far wrong in view of the source material. The opening "Medley" sets the scene beautifully with a snippet of the familiar "Caxangá", which morphs into a jaunty "Fé Cega, Faca Amolada" and thence into "Paula e Bebeto" via a terrific percussion break. The following "Canção do Sal" starts off in the classic piano-jazz style before the accordion enters to add an extra dimension to the beautiful melody. The two "Clube da Esquina"s, numbers one and two, both feature the striking voice of Clarice Assad's brother, Rodrigo, one of three additions to the basic quartet (heard, incidentally, to particularly fine effect on "Saudades dos Aviões da Panair"). The others are Keita Ogawa, whose percussion enhances "Medley" and the spare but haunting "Janela para o Mundo", and Muato, whose voice features on "Medley", again, as well as "Nada Será Como Antes" (which Sarah Vaughan recorded as "Nothing Will Be As It Was" on her Brazilian Romance album of 1987).
Presumably, these guests were added later in Rio after the main event. I'd guess, too, that the final track, "Morro Velho", which is just piano and voice probably in the manner of Clarice Assad's concert performances, was also recorded at a later date. Anyway, it's academic. What's important here is the overall impression of a delicate, tasteful and rather exquisite album of which the great songwriter himself would undoubtedly be proud.
---
Djangada – Vol.1: Caymmi
***
Sarah Vaughan's love affair with Brazil embraced not just Milton Nascimento, but also Dorival Caymmi. This jazz-piano trio of Sam Watts, ably backed by Matheus Nova on bass and Marcinho Pereira on drums, takes its name from the word jangada, a type of fishing boat found in the north-east of Brazil. Bahia, of course, is the home of Afro-Brazilian music and one of its most famous sons was Dorival Caymmi, who wrote many of his best loved songs about the fishermen and women of the region. Released in the middle of October, the trio's album, as the title suggests, is a homage to the singer-songwriter (and, one might add, actor, painter and sire of three musical offspring, Nana, Dori and Danilo).
Sam Watts, as his name suggests, is not a native of Brazil, rather an Englishman fluent in Portuguese who has spent a long time across the Atlantic assimilating the country's music and its culture. He and his cohorts have between them worked with artists of the calibre of Elza Soares, Alcione and jazzmen Jean Toussaint and Jason Marsalis. Together, they're as tight as the proverbial gnat's chuff and play with an infectiously funky swing. Apart from the quieter, more introspective "O Bem Do Mar", the repertoire is mainly and suitably upbeat, opening with Caymmi's ode to his native "São Salvador" and ending with an alternative version of the rollicking "Pescaria".
The exuberance of the playing throughout makes for a very likeable feel-good album. My only beef is that the running time of 27 minutes – which includes two alternative versions that don't really add much to the originals – seems parsimonious. Given the composer's considerable legacy, one hopes that Volume 2 will focus on more of the same, only in spades.

Follow Sounds and Colours: Facebook / Twitter / Instagram / Mixcloud / Soundcloud / Bandcamp

Subscribe to the Sounds and Colours Newsletter for regular updates, news and competitions bringing the best of Latin American culture direct to your Inbox.
Share: