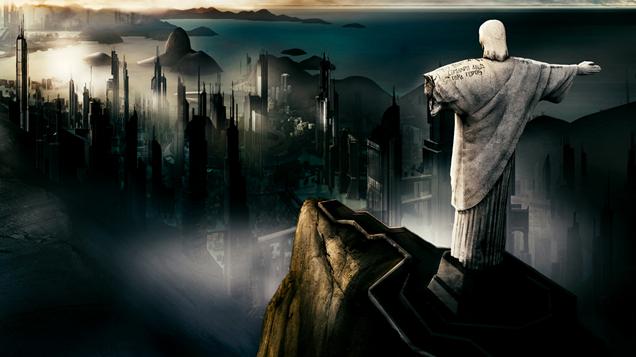 Uma História de Amor e Fúria (Rio 2096: a Story of Love and Fury)
09 October, 2013
The historical lineage of Brazil gets a revamp in the award-winning animation Uma História de Amor e Fúria (Rio 2096: a Story of Love and Fury), a raucous shot of Brazilian anime which hurtles across centuries of social struggle and stylised hyper violence. It follows the humbly-named Immortal Warrior as he shags and slaughters his way through the ages, reincarnating at distinct points in order to find Janaina, his eternal love, and mash up bad guys, his eternal hobby. Visually dazzling, it is epic in concept, injecting the proceedings with a political slant that is somewhat overshadowed by the lashings of blood and mayhem which course throughout, all delivered with extreme relish. The film is aimed at those who found Django Unchained overly refined, or feel that Begbie from Trainspotting is a little on the timid side.
The action is divided into four stages of Brazilian history, each set against a backdrop of oppression and resistance. The first of these stars two indigenous tribes of warring cannibals, whose battles are set to thrash metal and plentiful bloodshed. Their internal squabbles are put into perspective when Portuguese conquistadors, making no distinction between tribal enemies, turn up and massacre the lot. There is a dubious implication that the Indians bring this upon themselves by attacking the foreigners first, but there's little time to dwell as carnage is unleashed and our hero turns into a bird and flies 200 years into the future.
He touches down in the slavery era, where uprisings against vile rulers are being met with savage reprisal. Immortal has been living the simple life with the reborn Janaina and their two daughters, when events beyond his control cause him to take up arms against tyranny. Heroic rebellion ensues, the gore is lovingly-applied, and before long Immortal grows feathers again and takes off. He finds Janaina in 1960s Rio, where the authorities are gassing students, dissidents are being disappeared, and, worst of all, Janaina has a new boyfriend. Things go wrong and Immortal Warrior is arrested, tortured, and faced with making a stark decision between getting his comrades killed and getting himself (hopefully) laid. It's a tough one.
The film's final act leaps forward into the year 2096. The multilayered, gleaming Rio of the future is a beautifully-realised landscape of immense skyscrapers and neon sleaze, which claims to be the safest city on earth thanks to a security force that makes the 1960s goons look like loved-up beatniks. The planet is beset by water wars, while society is a disciplinarian iron fist where crimes such as fishing without a permit are met with extreme summary justice. Immortal and Janaina seek to overthrow this totalitarian system, probably so they can change the music as squealing metal guitar is still the norm approaching the 22nd century, just as it was 600 years earlier in the depths of the Amazon.
The animation in Rio 2096 is exquisite, both in the handsomely-rendered characters and the stunning environments through which their voyage unfurls, whether virgin rainforest or dystopian sci-fi megacity. Channelling Disney aesthetic with the finest excesses of Japanese anime, it leaves you wide-eyed and gobsmacked, en thrall to the audacity of director Luiz Bolognezi's realisation. The film's visual dimensions won the Best Feature prize at this year's Annecy International Animated Film Festival, and if ever anything was screaming out for a 3D adaptation, it's this baby.
Where Rio 2096 falls down, however, is in the political aspect of the film's content. Like a revised chronology of Brazil, it purportedly tells the history of the oppressed and the abused, through a shameful legacy of genocide, slavery and dictatorship that continues to have implications into the yonder. The anti-imperialistic, pro-social justice themes are of modern relevance, yet here they often sit uneasily with the graphic, almost exploitative, nature of their onscreen depiction. Grisly prominence is afforded to scenes of human limbs on the grill or naked political detainees being tortured, and it's hard not to believe that, for all its noble posturing, this is the cinematic equivalent of those people who go on demonstrations not through any rooted political ideology, but because they want to throw rocks at the police.
The film could potentially raise important issues with regards to examining the past, but these are largely drowned in the din. What is impressive is the sheer spectacle of Rio 2096: a Story of Love and Fury, which will have you transfixed in lurid fascination at its magnitude and scope. The broken and vandalised Christ the Redeemer provides a brutal symbol of the coming social apocalypse, but the film's revisionist pretensions come up short against the exceptional imagery. It is an enthralling and beautiful work, but one which ultimately lacks the courage of its convictions, offering bombast over balance, and extravagance over analysis.

Follow Sounds and Colours: Facebook / Twitter / Instagram / Mixcloud / Soundcloud / Bandcamp

Subscribe to the Sounds and Colours Newsletter for regular updates, news and competitions bringing the best of Latin American culture direct to your Inbox.
Share: