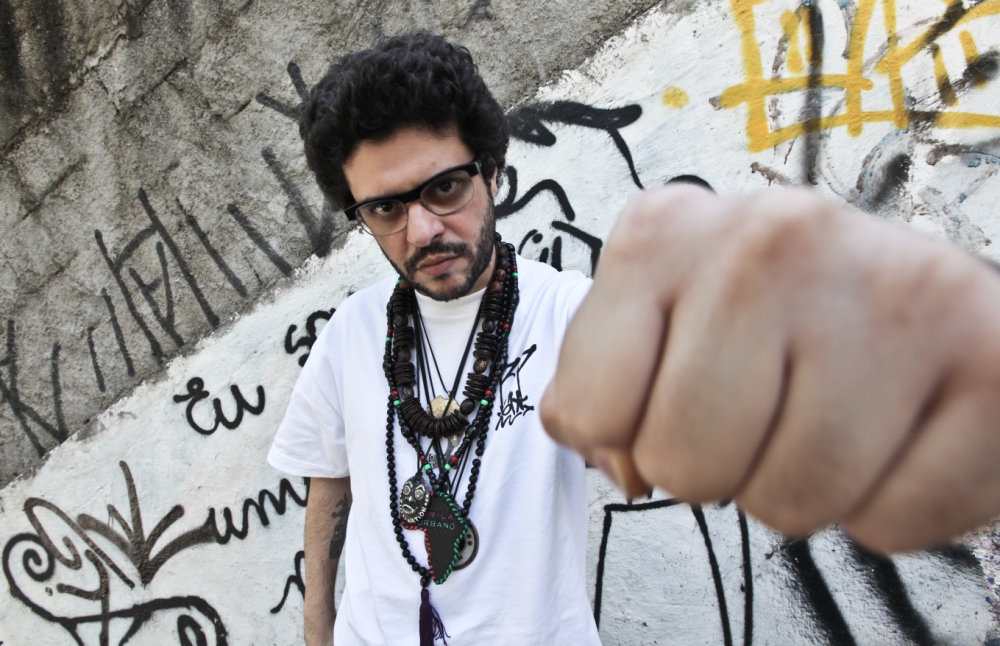 Rodrigo Brandão's Brazilian Rap Seleção
11 June, 2014
Rodrigo Brandão is a Brazilian rapper, music promoter and much-loved representative of ours for everything happening in the world of Brazilian hip-hop. He was there at São Bento station when rap kicked off in São Paulo and he's still there now, creating and curating some of the best hip-hop coming out of the country of green and yellow.
You can find out about those early days at São Bento and how Brazilian hip-hop developed in the article he wrote for our Sounds and Colours Brazil book; you can check out his selection of contemporary rap, dub and bass via the excellent Daora record he compiled; you can hear his flow on his latest Zulumbi project (working with Nação Zumbi's Lúcio Maia); and you can check out his selection of classic and new, ground-breaking Brazilian hip-hop, put together exclusively for Sounds and Colours, right here:
Zulumbi "Essa É Pra Você"
In order to rep as a selector, one gotta show and prove your worth. So we open the ways with the debut visuals from Zulumbi, a group consisted of mangue beat masters' Nação Zumbi guitar hero Lúcio Maia, DJ and beatmaker PG and yours truly on the M-I-C. This project's goal is to blend the essence of boom bap with the dynamics of live instrumentation to add some original funky flavours from Brazil and praise the orishas in a spiritual party mode. First album just came out and people has been shown a lotta love for this Zulu Nation affair so far. I hope y'all feel it too!

Ogi "Insomnia (feat. Emicida)"
Keepin' it fresh for 2014, here comes one of the finest lyricists from the new school. A natural born storyteller, in the Slick Rick tradition, catch Ogi trading battle rhymes with the most famous dude from the post-internet generation of Brazilian rappers in his latest offering. Even though Emicida, who was raised in freestyle cyphers, is way more in his comfie zone, this is a hard-ass competition where the listener is the real winner.

Tássia Reis "Bêbada De Feriado"
Straight up, this lady is the dopest rookie to rise up in the rap game this year so far. Her voice, melody and flow shine naturally, period. That's why this video was the best choice possible to showcase her skills: since she's only backed by an acoustic guitar, it's easier for one to fully enjoy Tássia's talent. There's no album out yet, not even a mixtape, just a couple videos here and there, but I'm pretty sure there's lots to come for the girl with some royalty in her last name (the word Reis means "kings" in Portuguese).

Sombra "O Homem Sem Face"
This cat is one of the most original felas in the local hip hop scene. He's got styles for miles and has been around for years as a member of SNJ, an already historical crew, but Sombra's first solo effort only came up in 2013. Produced by Marcelo Cabral & Daniel Bozzio, a powerhouse team whose studio credits include works for Criolo and Zulumbi among other alumnies, this track is an instant classic from a cohesive album with large doses of real ancient music from Brazil in its DNA.

Racionais MC's "Mil Faces De Um Homem Leal"
Nothing less than the latest bomb from the greatest green & yellow rap icon of all times. Powerful rhymer Mano Brown and his partners KL Jay, Ice Blue and Edy Rock, collectivelly known as Racionais MC's are trully legendary highlanders who have been on top of their game for 25 years non-stop. That tune was originally written as the theme song for Marighella, a doc feature about the revolutionary of the same name, who fought against and was killed by the military dictatorship that shadowed the country from 1964 to 1985. Masters at work, no doubt.

Elo Da Corrente "Um Filme"
This backpack trio make some of the best stuff I've heard when it comes to beats and rhymes in true Brazilian style. That's why their upcoming full-length album features a few Música Popular Brasileira legends such as Arthur Verocai, Celia and Danilo Caymmi. Raw and rugged, it's music from real crate-diggers, so that's no surprise that the plot for this video is a hunt for some super hard to find piece of vinyl.

Xis "Sonho Meu (feat. Cibelle)"
Any Brazilian rap list that wants to be taken seriously just can't miss one of the most gifted cats to ever grab the mic in this country. Xis is a real OG who's down since the early days of hip-hop culture in Brasil and still keeps going on and on. "Sonho Meu" is my pick from his vast catalogue not only for its timeless jazzy feel but also because of Cibelle's chorus. They recorded this track before she moved to London and became one of the strongest artists from São Paulo in the European indie circuit as far as I know.

Thaide & DJ Hum "Sr. Tempo Bom"
Now that we reached that Throwback Zone, one gotta pay dues to the originators. Even though this isn't one of their early bangers (like "Corpo Fechado", the undisputable number one classic rap record around here), this Jean Knight's "Mr. Big Stuff"-sampling, feel-good beat is a winner. The very first act to rep hip hop in SP and the whole nacional territory by consequence, Thaíde & Dj Hum are mad under-rated if you check how deep their impact has been. Simply put, there wouldn't be anybody else if it wasn't for the duo. Let's have a toast for the pioneers!

Sabotage "Um Bom Lugar"
The late great Mauro Mateus was like a supernova in the scene from 2001, when the street buzz about this very charismatic toothless rapper who was rising from one of the deepest favelas in the hardest ghetto area in town started goin' on, to his premature death, in the early days of 2003. More than a decade after his tragic murder, Sabotage's legend has achieved mythic proportions. A biography book released last year, plus upcoming exibhition, posthumous album and an in the making full-length doc movie about the so-called Canão Maestro are some signs of the longevity of his larger than life persona.

Black Alien & Speed "Follow Me Follow Me (Quem Que Cagüetou?)"
Since this Fatboy Slim remix was kind of a hit in the UK thru a Nissan-add a few years ago, and also made it to the Fast Five OST more recently, there's no better way to end our video selection. Besides being probably the best blend of true hip hop and baile bass ever made around here, this tune, originally produced by my man Tejo, showcases Speed, another late great microphone fiend shot dead in 2011, along with his soul brother Black Alien in their heyday. Despite never having an album released as a duo, both are among the most influential MCs in this game, be that by way of a handful of internet-only subterranean hits or through each one's only solo album: the former's Expresso and the latter Babylon By Gus, Vol. 1. Legendary, mate.


Follow Sounds and Colours: Facebook / Twitter / Instagram / Mixcloud / Soundcloud / Bandcamp

Subscribe to the Sounds and Colours Newsletter for regular updates, news and competitions bringing the best of Latin American culture direct to your Inbox.
Share: