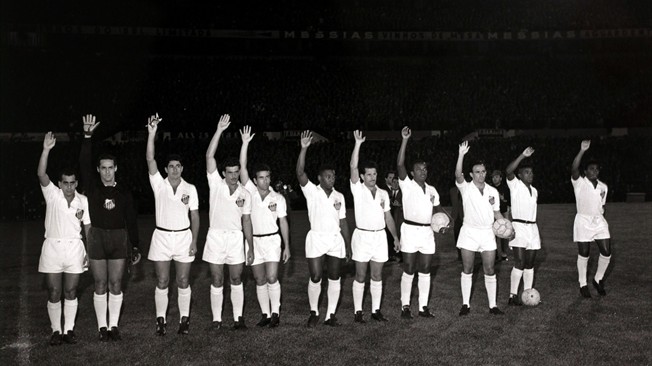 Santos: 100 Years of Football Art
08 April, 2014
Most films at BAFICI have played to a full house, but when I went to see Santos: 100 Years of Football Art, I found myself to be one of only a handful of people in the auditorium. Whoever whould have thought that a film about Brazil's most popular football club wouldn't appeal to Argentinean audiences? When you consider that Santos is most famous for being the club of Pele, the direct rival to Buenos Aires' beloved Diego Maradona for the crown of 'greatest of all time,' it is even more baffling.
The fifteen or so of us in attendance saw a film celebrating the 100th anniversary of the club. It is an utterly partizan view of Santos, drawing only on their glorious victories over the last century, a totalitarian sporting documentary which whitewashes any failure from history. Speaking to fans and ex-players, the film paints the football club as the apex not just of sport, or even life, but of simply being. Put simply, there is Santos and there is nothing. It's fair to say that director Lina Chamie is probably a fan.
Alongside the many talking heads, there is archive footage going right back to the early days of oiled hair and pencil moustaches. But it is only really once Pele is on the scene that there seems to be a relative bounty of surviving video. It's fun to watch the circus around his 1000th career goal as the great man keeps his cool  to tidily slot a penalty into the corner after several minutes of palava. 
It moves on through the ages, right up to the 2011 Copa Libertadores, as Santos won South America's most important football tournament the year before their centenary. During those 100 years, countless twinkly-toed footballers have dazzled the various fan factions, who for their part seem to have been reliably bonkers throughout this illustrious history. The remarkable scene prior to the 2011 final against Uruguay's Peñarol sees thousands of flares lit in the stands, shrouding the pitch in thick smoke against a cacophonous wall of sheer din. The Emirates Stadium this is not.
We learn as well that it is not only observers who find Neymar annoying, as scores of opposition players regularly tried to maim him on the pitch in his time at Santos. As a piece of nostalgic romance, this film has merit, but as a piece of cinema it will probably only appeal to a select group. And it's unlikely to be those who think Maradona was the greatest.

Follow Sounds and Colours: Facebook / Twitter / Instagram / Mixcloud / Soundcloud / Bandcamp

Subscribe to the Sounds and Colours Newsletter for regular updates, news and competitions bringing the best of Latin American culture direct to your Inbox.
Share: