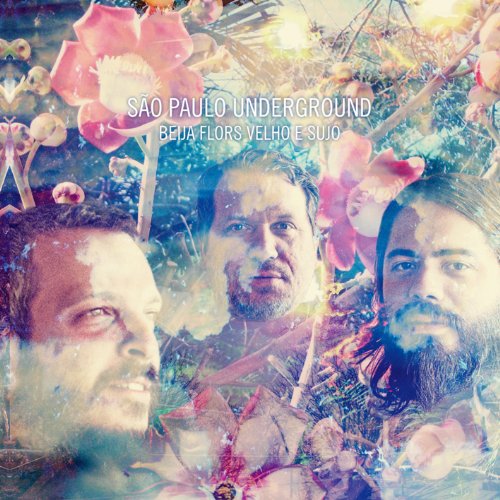 Bill Dixon, one of Rob Mazurek's most-beloved artists, said about music: "anything that is abstracted from something is the essence of that thing. It is taking those things that shape and define it, stripping away the filigree and going to the center".
This concept is central to São Paulo Underground, the direction they've undertaken, the nitty-gritty of their art. Because, whether you like them or not, whether you feel comfortable listening to their music or not, they represent what art is about.
The group's unceasing ability to extemporise and their endless improvising skills are the characteristics of an ensemble that have found their own original sound and have become an important reference point. Despite this, Beija Flors Velho e Sujo (a title which reflects the unpredictable nature of the trio and is roughly translated as 'Old and Dirty Hummingbirds') is less experimental than their earlier masterpiece Três Cabeças Loucuras, while still representing a milestone in their career.
Songs have become more and more rounded, topped and tailed as it were. More than Pindaric flights, São Paulo Underground aim, on this occasion, for a more redolent environment, an evocative soundscape reviving feelings and images. It's undoubtedly the most accessible work by the band so far. Not simply because of the intense rational work behind it, but also, as Mazurek has underlined in his declaration of intent: "Sound has such potential, and needs to be split, cracked, slammed, caressed, kissed, sunk, buried, catapulted into new dimensions in order to begin a dialogue of the universes. What is hidden is more powerful, sometimes, than what is actually heard."
The irrepressible avant-jazz, the extroverted Tropicalia and the omnipresent lo-fi spirit which are trademarks of their past albums, seem to make way for a new style, more concise and dramatic. The time they've spent side by side, such as on their American tour last year, has led to a more homogeneous creative process and more organic arrangements. The cohesive feeling of the group is obvious: the band's members alternate between roles throughout the album, finally allowing the album to work, harmonically and melodically, as a whole.
The Brazilian nature of the ensemble is still their distinctive character, no doubt about it, as well as the peculiar anarchy of the free-jazz form. But there's more research, more influences are taken into consideration. Despite having carte blanche, every member has a more integral commitment within the project, having also the chance to illustrate their own roots and mentors.
For example, the title-track, with its roller-coaster evolution, is a tribute to Ol' Dirty Bastard, reflecting the personality of the former Wu-Tang Clan member in a bipolar piece alternating the mighty Mazurek's cornet with the mellifluous synth of Takara. "Arnus Nusar" goes beyond this, revitalizing the genius of Sun Ra. To honour such an innovative musician, it requires great imagination and musicianship. That's why the tune is the most unpredictable of the album; psychedelia mixes with ambience and experimentation, climaxing with a reinterpretation of "Over the Rainbow".
The album continues with a Brazilian feel. "Into The Rising Sun" recovers the typical Tropicalia mood and develops it into a sunny and bright climate in which there's no room for improvisation or coup de théâtre. One of the albums highlights is the honest and ethnic tone of "Evetch", which explodes in a festive mood thanks to the introduction of Mauricio Takara's cavaquinho.
[soundcloud url="http://api.soundcloud.com/tracks/91310002″ params="" width=" 100%" height="166″ iframe="true" /]
"The Love I Feel For You Is More Real Than Ever" discloses the romantic soul of Rob Mazurek. A serenade dedicated to his wife, which is also, possibly, the nearest thing to a São Paulo Underground ballad. It's followed by "Basilio's Crazy Wedding Song", a song of pure joy, getting back to a party atmosphere. Last track, "Taking Back The Sea Is No Easy Task", is there to explain what has happened to the band over the last few years, what São Paulo Underground have become and where they are heading.
As Mazurek recently explained in an interview, when talking about his musical vision: "It's the constant idea of beauty and de-composition in the most beautiful of ways". Melodies and improvisation go side by side, neither greater than the other, no winners or losers.
After seven years and four albums, the Brazilian trio still have the joy to create, destroy and recompose. Their growth, rather than head down rough and anarchic paths, has instead begun to embrace the motto of the Brazilian flag: 'ordem e progresso' (order and progress).
Beija Flors Velho e Sujo is available from iTunes, Amazon, Wayside Music and Bandcamp.

Follow Sounds and Colours: Facebook / Twitter / Instagram / Mixcloud / Soundcloud / Bandcamp

Subscribe to the Sounds and Colours Newsletter for regular updates, news and competitions bringing the best of Latin American culture direct to your Inbox.
Share: