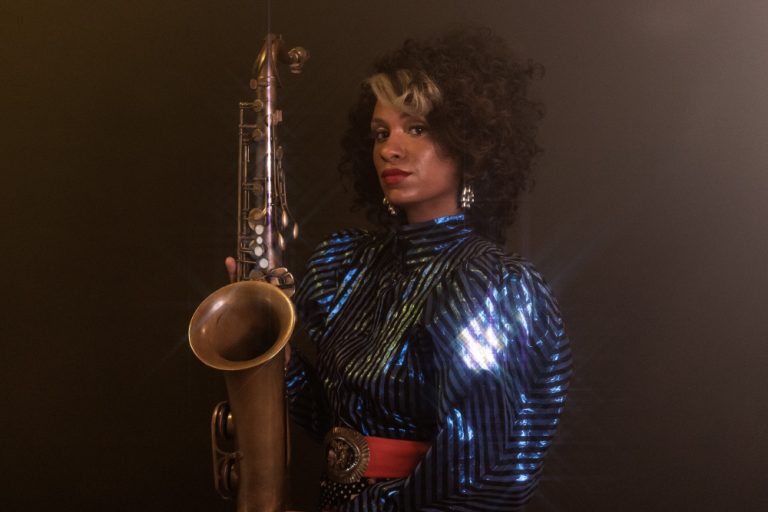 Rafael Penna
Saxophonist Suka Figueiredo Wants More Space for Female Horn Players in Brazilian Jazz and Instrumental Music
28 September, 2022
Despite a jazz upbringing, Suka Figueiredo claims that she doesn't play jazz. At 32 years old, the saxophonist born in Rio de Janeiro believes that she is yet to reach the high degree of knowledge and technical mastery in her art, which would make her a virtuoso. Therefore, she prefers to say that she performs instrumental music.
"I didn't have time to get close to jazz, choro and Pixinguinha's work because life is too crazy", she says. "I don't characterize my sound as jazz because my sound is not virtuoso, it's complex".
Unlike the majority of people who play horns or wind instruments, Suka had her first contact with the saxophone at the age of 25. Her interest in the instrument came about by chance after she saw a performance on the street of the neighbourhood where she lived in São Paulo, in 2016, by the saxophonist Vinícius Chagas, who played in the project Jazz na Kombi which took jazz to various places in a Volkswagen Kombi. The love was so strong that the following day she enrolled at music school.
"At the time, [Chagas] had a black power platinum blonde hair do… I saw that black man with that beautiful hair with the saxophone in his hand and I said: 'manos [bros], what's that sound!? That's what I want to do with my life.' The truth is that I started studying as a hobby, so I could escape the madness of my public sector job".
This new passion, added to the desire to leave a job harmful to her mental health, motivated Suka to dedicate herself fully to music. What was supposed to be just a way out became her goal in life. To improve the talent that she didn't know she had, she immersed herself in her studies. In 2018, she won first place at Escola Municipal de Música, in São Paulo, and two years later she made her official debut with the single "Caminho de Mármore".
During this formative period, she had to look for alternative ways to earn money, because making a living from music was still just a dream. She gave up an unstable job and began to devote all her time to sax. To keep to the basics, she worked different informal jobs, from waitress to receptionist.
"I needed to change my life. It is obvious that I speak from a place of great privilege. Changing my life was getting out of a guaranteed job, but it was killing me. So I clung to the music as if it were the buoy on the high seas, as if it was what would save me. I dedicated myself tirelessly. I studied 5-6 hours a day… and I had a lot of problems with neighbours".
For her dedication, Suka Figueiredo was, and has been, rewarded. Her short trajectory has generated great results and, in a way, served as an incentive for other black women to gain prominence in jazz and Brazilian instrumental music. Not by chance, on the International Day of Black Latin American and Caribbean Women (July 25, 2022), she debuted the EP AFROLATINA.
The five-track repertoire has several jazz influences, mainly from Latin America (Cuba and Mexico), and brings some elements of afrobeat, cumbia, R&B and MPB. One of her inspirations for the construction of the album was the work of Moacir Santos, of which she is an unconditional admirer, having performed his music in shows she has done in several Brazilian cities with a band formed entirely by women.
"I understood very quickly that the spaces for female horn players are very restricted", she says. "Women, in music in general, work more in voice, or on the piano… I was very uncomfortable leaving the house to see an orchestra and there were only men in it – mostly white. Sometimes there is one woman or another on the flute, or on the violin, but then I asked myself: where are the saxophonists, the trumpeters? This bothered me because I felt that if I didn't create the my own workspace, I wouldn't be able to play the repertoire I wanted."
It is thinking about the female role within a genre still very restricted to women – unless they are playing a supporting role in a band – that Suka started her journey. Much more than being recognized, her goal is to open doors – within her possibilities – for other black women to conquer the space they long for. Her path serves as a stimulus for black girls who do not see themselves represented in the classicist and academic musical environment of Brazilian jazz.
"My intention is to deconstruct that, because jazz is mine, jazz is ours. Rock is mine, it's yours. It's not the sound of those guys".
Listen to AFROLATINA at tratore.ffm.to/afrolatina

Follow Sounds and Colours: Facebook / Twitter / Instagram / Mixcloud / Soundcloud / Bandcamp

Subscribe to the Sounds and Colours Newsletter for regular updates, news and competitions bringing the best of Latin American culture direct to your Inbox.
Share: