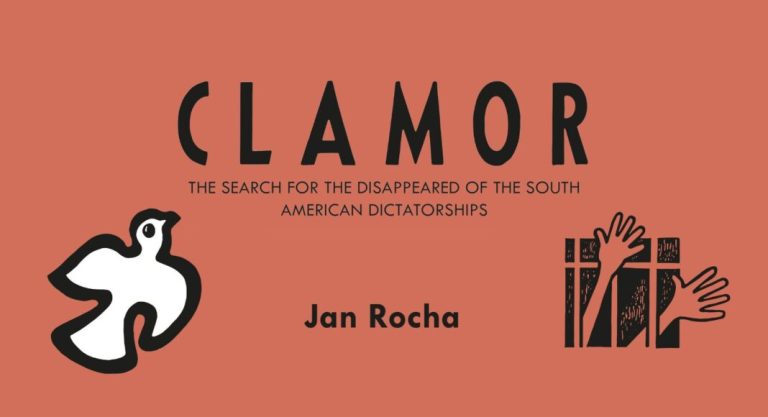 Searching for the disappeared of the Southern Cone dictatorships
05 May, 2023
---
Jan Rocha, who was the BBC World Service's first correspondent in Brazil and, from 1984, the Brazil correspondent for the Guardian newspaper, has written a lively and engrossing book about Clamor, the human rights NGO she co-founded, which was dedicated to defending human rights in the countries of the Southern Cone. Within these pages, Jan charts the organization's eventful history from 1977 until its dissolution in 1991.
After the Cuban Revolution, the US government became ever more determined to prevent the spread of Soviet-inspired ideology and activism on its doorstep, and to that end it encouraged, enabled, or tolerated a series of coups against democratic governments in South America. With their anti-communist rhetoric, military governments in South America aligned themselves with the Cold War priorities of their powerful northern neighbour.
Apart from generous funding, via the CIA and the State Department, of right-wing elites, the US government also provided intensive training for the region's military and intelligence services. This had dire consequences, as one by one democratic governments were ousted, freedom of expression was suppressed, and thousands of opponents of the regimes were imprisoned, tortured, and killed. By 1976, all but two countries in South America were ruled by dictatorships. It was against this backdrop that Clamor came into being.
Clamor had the distinction of being one of the earliest regional human rights NGOs in South America. Among its unique features was the fact that its founders had first-hand experience of state repression: Jaime Wright was a Presbyterian minister whose brother, Paulo, a political activist, had 'disappeared' three years before, while Luiz Eduardo Greenhalgh was one of the few lawyers willing to defend political prisoners. As a journalist, Jan had filed numerous reports about life under Brazil's military dictatorships and had interviewed many victims of the repression and their families (in 2021, a selection of her reports was published in Portuguese). In 1975, Jan's friend and former BBC colleague, Vladimir Herzog, died as a result of torture in DOI-CODI, the headquarters of military intelligence in São Paulo, a few hours after presenting himself voluntarily for questioning about his alleged links with the banned Communist Party. Herzog's death, which triggered a wave of protests in Brazil, overshadowed President Geisel's state visit to the UK in
May 1976.
Jan, despite the risk of working under the shadow of the dictatorship's repressive legislation, was in regular contact with Amnesty International, providing crucial information about political prisoners to the International Secretariat in London. I first got to know her when I was the researcher responsible for Amnesty's work on Southern Cone countries, including Brazil and Argentina. I valued her initially as a reliable source, and later as a personal friend. Brazil's military government, infuriated by Amnesty's 1972 Report on Allegations of Torture in Brazil, had refused to allow the organization to conduct in-country investigations. But because most flights from London to the Southern Cone were routed via Rio de Janeiro or São Paulo (their airports were regional hubs), these stopovers provided the perfect cover for meetings, and so I had the opportunity to get to know Jan, her family, and the Clamor team. I was immediately struck by Jan's warmth, generosity, and sense of humour, as well as her commitment to human rights.
A factor that contributed to Clamor's effectiveness was its location. Based in São Paulo, it was well placed to gather testimonies from hundreds of refugees arriving mainly from Argentina, who passed through en route to exile in Europe or North America, or made Brazil their temporary home. As Jan explains, 'The military were still in charge in Brazil and democracy was but a distant dream there, yet for the thousands of Argentines fleeing the reign of terror unleashed in Brazil's southern neighbour, it had become a haven.'
Clamor's founding members, through their professional work, had extensive national and international contacts, including with the Catholic Agency for Overseas Development and the highly influential World Council of Churches, which provided funding to Clamor. In the uncertain political climate in Brazil, Clamor benefited greatly from having the endorsement of Cardinal Paulo Evaristo Arns, the archbishop of São Paulo. The archbishop's offices became an unofficial centre for Latin American refugees. As Jan acknowledges, 'None of our achievements would have been possible without the uncompromising support at all times of Dom Paulo, Cardinal Arns, the archbishop of São Paulo.'
At the end of 1978, Sister Michael Mary Nolan, an indomitable American nun, and Father Roberto Grandmaison, a Canadian priest from Quebec, joined Clamor. The two missionaries, who worked in poor neighbourhoods in São Paulo's sprawling perifería, used their Church contacts to provide shelter and other assistance to the families of undocumented political refugees remaining illegally in Brazil. At a swanky lunch in honour of Canadian prime minister Pierre Trudeau, the self-effacing Roberto, out of place at the lavish event, even managed to dodge past Trudeau's protection officers and hand over a letter from Clamor asking Canada to accept more refugees.
Clamor's small, flexible structure, unburdened by bureaucratic policies and procedures, enabled it to work in an unorthodox way. Its freewheeling methodology had grown out of the founding members' experience of repression in Brazil – their guiding principle, articulated by Jaime Wright, was to use any opportunity, however unconventional, that could benefit the people they were fighting for. Clamor's modus operandi could at times entail risks for some of its collaborators, however: in 1979, Ricardo Carvalho, a well-meaning journalist, somewhat blithely agreed to travel to Montevideo to make contact with the paternal grandmother of two children who had been discovered living in Chile under false identities, and it was only after completing his tasks that the perilous nature of the enterprise dawned on him.
With the help of volunteers, Clamor built an impressive documentation centre using the testimonies of political refugees, many of whom had been held in secret detention camps and tortured. This archive later proved an invaluable resource for Argentine NGOs and in particular for the Abuelas de Plaza de Mayo, the organization of grandmothers searching for children who had disappeared after being abducted with their parents or who were born in captivity during Argentina's 'Dirty War'.
Unlike Amnesty and other organizations based in the northern hemisphere, Clamor could react rapidly to human rights emergencies on Brazil's borders or in neighbouring countries. One chapter describes in vivid detail the abduction in 1978 of Lilián Celiberti, a Uruguayan exile living legally in Porto Alegre with her family. Clamor, after getting a tip-off, contacted an intrepid local lawyer, Omar Ferri, to check on their well-being. His timely intervention and persistence not only saved her life and prevented her children from being stolen, but also exposed to the Brazilian public, and the world, the clandestine collaboration between Brazilian and Uruguayan security forces. The following year, Sigifredo Arostegui, a Uruguayan human rights defender, disappeared after taking a bus from Foz do Iguaçu to Buenos Aires. Plauto Rocha, a lawyer, travelled with the missing man's father to find out what had happened. On making inquiries about Sigifredo's whereabouts, they were immediately arrested by Argentine border guards. Plauto, armed with a letter authorizing him to act on behalf of Cardinal Arns, faced down this hostile reception and forced the authorities to acknowledge Arostegui's detention. Without Clamor's intervention he would have entered the ranks of the disappeared.

Other chapters relate how, with its increasingly high profile, Clamor became a magnet for defectors from the Uruguayan army and navy who made their way to São Paulo. They provided sensitive information that corroborated the joint operations of the region's security forces against subversivos (dissidents), and the grisly fate that awaited them.
The existence of a coordinated, cross-border system of repression was a subject of speculation for many years in the specialist press, such as the usually well-informed Latin America Newsletter. In 1975 the intelligence chiefs of Argentina, Bolivia, Chile, Paraguay, and Uruguay agreed to establish Operation Condor, the code name for the collection, exchange, and storage of intelligence data concerning 'leftists, communists, and Marxists'.
Brazil joined Condor a year later. This secret alliance between South American dictatorships set up a rendition and repression programme to track down and eliminate perceived enemies of the military regimes. Condor involved the formation of special teams from member countries prepared to travel anywhere in the world to carry out assassinations. According to declassified US State Department files, Amnesty leaders in London were also potential targets.
Displaying amazing courage and resourcefulness, Clamor –with support from lawyers, journalists, churches, political activists, and trade unions– not only exposed the egregious crimes of the military governments' war against subversion but also, through its mixture of quick reaction and painstaking investigation, helped to save many lives and reunite families torn apart by state-sponsored terror.
While none of us were aware of the full extent of Operation Condor, both Amnesty and Clamor were trying to deal with its devastating impact. Buenos Aires, traditionally a safe haven for the region's political exiles, had become a hunting ground: opponents of the regimes in Chile, Uruguay, Bolivia, and Paraguay were kidnapped, tortured, and killed. Many of the refugees were seized in broad daylight from centres supposedly under the protection of the Office of the United Nations High Commissioner for Refugees (UNHCR). In May 1976, the prominent Uruguayan politicians Zelmar Michelini and Héctor Gutiérrez Ruiz were abducted from their homes in central Buenos Aires. Their bodies were later found in a car, handcuffed and riddled with bullets. Wilson Ferreira Aldunarte, the leader of the Uruguayan Blanco Party, with help from Amnesty International and UNHCR, narrowly escaped the same fate. In late 1976, as a member of an official Amnesty delegation investigating human rights violations in Argentina, I had several frightening encounters with plain-clothes security patrols. On a visit to a UNHCR refugee centre in Buenos Aires, I noticed with alarm that the car we were travelling in was being tailed by a posse of armed men in unmarked Ford Falcons, the abduction squads' trademark vehicle – a gesture obviously intended to intimidate the delegation.
According to Oxford University's Database on South America's Transnational Human Rights Violations, at the height of Operation Condor's criminal activities, between 1976 and 1978, there were 382 cases of illegal detention and torture, 367 instances of murder and enforced disappearance, and 25 cases of kidnapped children. Argentina and Uruguay experienced the greatest number of atrocities attributed to the Condor programme.
Without a doubt, Clamor's most significant contribution to human rights in the Southern Cone was its long-lasting collaboration with the Abuelas de Plaza de Mayo, in their efforts to track down stolen children. Some of the most compelling parts of this book relate how Clamor, often on the basis of leads provided by whistle-blowers, helped trace some of these children. The discovery in 1979 of Anatole and Victoria Julien Grissonas in Chile was the first indication that children who had disappeared or been born in captivity in Argentina's secret camps could still be alive. This vindicated the claims of the grandparents, and from that moment the search for the missing children became Clamor's top priority.
Displaying amazing courage and resourcefulness, Clamor –with support from lawyers, journalists, churches, political activists, and trade unions– not only exposed the egregious crimes of the military governments' war against subversion but also, through its mixture of quick reaction and painstaking investigation, helped to save many lives and reunite families torn apart by state-sponsored terror.
Clamor closed down in 1990. As Jan writes, in that year, the last of the Southern Cone dictatorships, Chile, inaugurated a civilian president, and the years of military rule that had blighted the region, killing, torturing, and disappearing thousands, sending hundreds of thousands into exile, ruining economies, and mutilating societies, came to an end. Democracy, however limited and imperfect, had been restored, and therefore the raison d'être for Clamor's existence had disappeared.
Even though Clamor no longer exists, its mission remains relevant. President Bolsonaro's troubling support for dictatorship, his attacks on the Supreme Court and other civil institutions, and his questioning of the country's electronic voting system make many Brazilians fearful of a return to the horrors of the past. This book is a timely reminder of what may be at stake, the importance of taking a stand, and the need for international solidarity.
In its pages, Jan convincingly captures the mood of the period of abertura (opening up) in Brazil – its tensions and setbacks amid growing pressure for a restoration of the rule of law. Her invigorating chronicle of Clamor's often-hair-raising exploits across the countries of the Southern Cone is a testament to the major contribution that this small organization was able to make to human rights in South America.
---
This article was kindly republished courtesy of Latin American Bureau and the original can be found here. CLAMOR: The search for the disappeared of the South American dictatorships' by Jan Rocha will be published in English by LAB.
Tricia Feeney worked for Amnesty International, Oxfam, and UNESCO before setting up an NGO, Rights and Accountability in Development (RAID), in 1998. She is currently a senior adviser for the US SAGE Fund.

Follow Sounds and Colours: Facebook / Twitter / Instagram / Mixcloud / Soundcloud / Bandcamp

Subscribe to the Sounds and Colours Newsletter for regular updates, news and competitions bringing the best of Latin American culture direct to your Inbox.
Share: