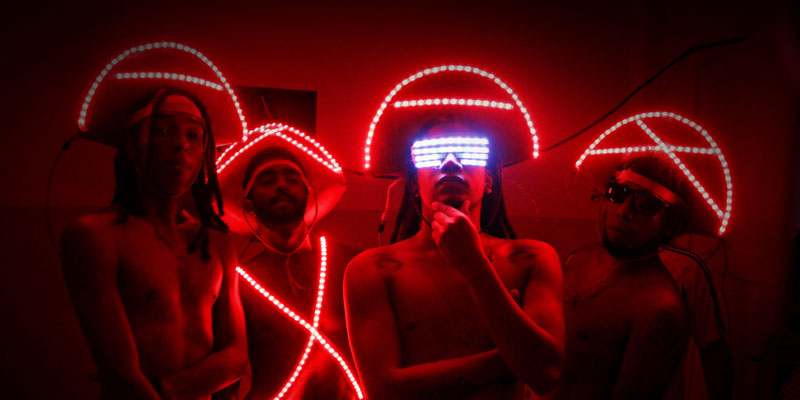 Setting The Scene: Salvador
02 December, 2013
This is an exclusive extract from Sounds and Colours Brazil, our book focused on Brazilian music and culture.
Incubator, lab and launch pad, the northeastern state of Bahia is the source of so many pivotal shifts in Brazilian music it's almost inconceivable that one place could generate all those shock waves.
The roots of samba originated in Bahia. It was home to bossa nova dreamer João Gilberto, crazy cool rock 'n' roll legend Raul Seixas and Tropicália's star players (Gilberto Gil, Caetano Veloso, Gal Costa, Tom Zé). In the 80s, Bahian axé music began its long domination of the national charts. And today Brazil's top commercial sound, sertanejo, has become infiltrated by the sauntering beat and sketchy lyrics of Bahian arrocha, the state's favourite romantic melody-machine. So what powers the powerhouse? And what's going on in Salvador right now?
Bass Is The Place
Bahia is the state with the strongest African heritage in Brazil. For three hundred years, until abolition in 1888, Salvador was a major centre of the slave trade to the Americas. As a result, Salvador today is steeped in African culture. It's a de facto cultural capital of the Black Atlantic, a city that has more in common with New Orleans than Brasília. That heritage of cultural collision is played out in Bahia's music at a profound level and today's artists also make the connect with contemporary worldwide currents.
Body-shaking bass beats run through Bahia's DNA. Candomblé, the widely practiced Afro-Brazilian religion, has transcendental African percussion at its core. Those rhythms have long been channelled into popular music in Bahia and give a euphoric kick and heady identity to much of its sound.
"When [carnival blocos] Olodum and Timbalada hit the streets playing surdo drums, the whole neighbourhood vibrates. In Bahia it's bass, bass, bass – it's all about the language of the drum. We want to put that into a dialogue with electronic music," says Rafa Dias, a softly spoken 23-year-old with cosmic tattoos who hails from Paulo Afonso, in the northern sertão/desert zone of the state.
His band Os Nelsons is a pioneering young presence emerging on the Salvador scene. They're mixing digital beats, dub delays, dancehall and metal guitar with pisadinha, pagode and arrocha – the ubiquitous pop styles of the day, pumped out of every bar in the region and routinely discounted as neon chart fodder. Os Nelsons fuse all this into a hectic, infectious blast of accelerated romantic melodies, heavy bass beats and rapid-fire vocals.
"We look at the ghettotech movement as a worldwide movement from the global periphery, creating original electronic music made with elements of traditional music from their own cultures. Sometimes people here look at what we're doing like we're extraterrestrials – but pagode is totally ghettotech! We call our sound Música Periférica Brasileira," says Dias. Loosely translated as "Brazilian Music from the Margins", it's a new coda for MPB, cranking up the volume for the sounds streaming in from the disenfranchised periphery.
Syncretic Soundsystems, Dub Resistance
In 1950, musical duo Dodô and Osmar famously fixed a speaker to a Ford Model T and changed Salvador's carnival forever with the first amplified party on wheels. Soundsystem had arrived! Ever since then carnival has been all about the trios elétricos – mega wattage stacks rolling through town on trucks blasting samba-reggae, afoxé and axé.
Away from the spectacle, in clubs and bars throughout the year, there's a wave of new artists bridging Bahian and Jamaican soundsystem culture. A key name in this syncretic syncopation is BaianaSystem. They mix the liquid riffs of Bahia's trademark mini electric "guitarra baiana" (essentially an electric mandolin) with dub effects and psychedelic ragga for a new kind of tropical dance floor mayhem.
BaianaSystem's vocalist Russo Passapusso is also a member of Bemba Trio. With Fael 1st and DJ Raiz, their dub flow is rich with Bahian slang and stories, mashing up northeastern repente poetry and Miami Bass beats.
"Bass frequencies took hold in Brazil, just like they did in the rest of the world. In Bahia, samba reggae drums always had that vibration, so I think we were already hooked into that current in a tribal, roots way," says Passapusso. "Today, what's interesting is to explore those rhythms and combine it with what's going on globally. Here, we've got the trio elétrico and we've got sound engineers who are looking to develop the musical aesthetic in a really natural way, just like in Jamaica or London."
On that deep dub tip, the MiniStereo Público soundsystem who formed in 2003 were forerunners, along with the Dubstereo collective. As much cultural activists as purveyors of trembling bass lines, they started a long-standing weekly club night, Quintas Dancehall, now running in Salvador's hip party quarter, Rio Vermelho. MiniStereo Público also stage neighbourhood cultural happenings in the outer boroughs as Mutirão Metemão, with graffiti artists and community groups. For them dub is a way to mobilise. Calls for black consciousness and social justice come through loud and clear in the work of many artists involved in Salvador's dub scene.
Bahia's affiliation with Jamaican culture stretches back before dub. "Roots reggae has always been very strong here – in Salvador and in Cachoeira," reflects Luciano Matos, editor of Salvador's leading music blog El Cabong. Cachoeira is Bahia's reggae capital and home to one of Brazilian reggae's biggest names, Edson Gomes, whose 1988 watershed album Reggae Resistência became the genre's first national hit.
"Dub is a more recent thing", Luciano continues. "Because up until 5-10 years ago Bahian reggae had got stuck in time, nothing new was happening, it was all in that Bob Marley/Peter Tosh/Jimmy Cliff vein. Hip-hop was growing and taking reggae's place as the music of protest. Then the dub scene started gaining momentum – with young artists, with other influences, and its own Bahian characteristics and I think today it is definitely one of the most innovative local music scenes."
Hip-hop, By Any Means Necessary
Brazil's hip-hop hubs are way down in São Paulo and Rio de Janeiro. In Bahia, hip-hop has an utterly different cultural backdrop and very little of the hefty rap infrastructure they have further south. OQuadro, from the coastal town of Ilhéus, are a seven-piece hip-hop crew who got together as teenagers 15 years ago and created their own route forward, by any means necessary. With no resources or access to digital equipment, OQuadro's line-up looks more like a rock band plus three MCs.
"We are hip-hop, our thinking is hip-hop. But we didn't have samplers or decks… so when we started out we transposed the sound of Afrika Bambaataa, Run DMC or Beastie Boys onto bass, guitar, drum kit and percussion", explains one of the MCs, Professor Jef (he's also a philosophy teacher). "We don't have an established hip-hop market in Bahia so when we play live we can end up playing alongside death metal bands, punk or reggae bands… this kind of influences us. I mean we like Bad Brains, Massive Attack, Sepultura, Anti-Pop Consortium, Lee Perry, Geronimo, Black Uhuru… All that falls into the frame we call OQuadro. We allow ourselves not to be defined. What hip-hop gives us is the framework for our music and it's also the way we use to construct our own poetry." With conscious rap courtesy of MCs Jef, Freeza and Rans backed by candomblé, dub, ijexá and afrobeat, OQuadro found their own hip-hop flavour, Bahian-style.
"Excellent this is why rap around the earth has made the USA mainstream seem a bit backward…" Chuck D's tweet recommending Opanijé's latest video "Se Diz" says it all. On a mission to put Bahia's African heritage centre-stage, Opanijé's sound mixes candomblé calls and old-school hip-hop vibes with a full-on cultural manifesto. The band's name is an acronym for Organização Popular Africana Negros Invertendo o Jogo Excludente (Popular Black African Organization Combatting the Exclusion Game). The sound is very, very funky and the lyrics are non-stop sense.
Back in the 70s, the pioneering blocos afro (Salvador's Afrocentric carnival troupes) Ilê-Aiyê and Olodum defied fierce municipal resistance to Afro-Brazilian rhythms at carnival by bringing candomblé beats to the heart of the parade. Directly influenced by the Black Power movement, at the time this was seen as a controversial, militant stance. Right now, those same rhythms are still proving to be a powerful force for battling the "exclusion game" for Salvador's black majority.
Enter The Portal
Salvador is a unique music hub, rooted in its vast hinterland yet progressive and always reinventing itself. For young reggae singer Soraia Drummond of Dubelétrica: "In Salvador everything is brand new. Everything here is born in an unexpected way." Journalist Luciano Matos agrees. "Bahia has always been innovative, always created new sounds, and I think we are living a very fertile moment," he says. "There is a sense now that you can do anything, everything is allowed and that has produced many new directions."
Any snapshot of new music in Salvador will manifest that the city's sound is always on the move and takes many forms. It's a portal into diversity. Take Letieres Leite's Rumpilezz – a 20 piece big band playing candomblé-jazz; composer Hugo Sambone, writing pagode arrangements for his classical youth orchestra. Or ethereal singer-songwriter Tiganá with his enigmatic ballads, inspired he says by "life, death and the ocean, the horizon and things we don't see beyond it."
As BaianaSystem's Russo Passapusso notes, "To me, it's like Bahia had a cry caught in its throat. I think now there's a new aesthetic that values what it is that makes us different. And since we have so much raw material to work with, I think this is going to explode."
This is an exclusive extract from Sounds and Colours Brazil, our book focused on Brazilian music and culture. If you want to know what this article would look like in the book you can also download it as a PDF (just click here). You can find out more information about the book at soundsandcolours.com/issues/sounds-and-colours-brazil

Follow Sounds and Colours: Facebook / Twitter / Instagram / Mixcloud / Soundcloud / Bandcamp

Subscribe to the Sounds and Colours Newsletter for regular updates, news and competitions bringing the best of Latin American culture direct to your Inbox.
Share: