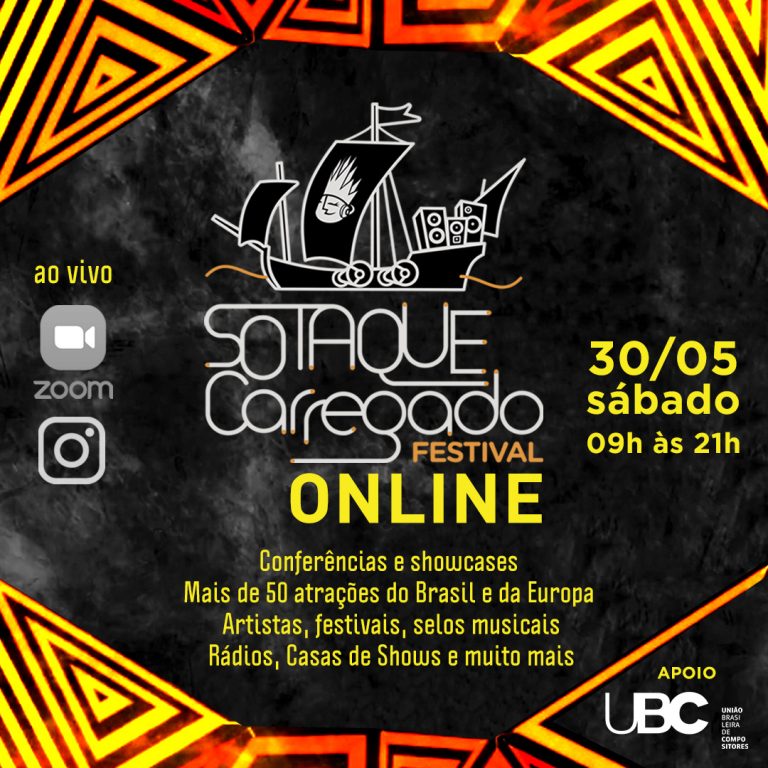 Sotaque Carregado Online Festival Bringing Together Brazilian Music Industry from Around the World
29 May, 2020
On Saturday 30th May, Festival Sotaque Carregado Europa, will offer a rare insight into the Brazilian music industry and the relationship between Brazil and Europe's industries, with 50 guests (including artists, producers, label bosses, agents, media and other representatives) taking part in a series of panels via Zoom, starting at 9am (Brazil) / 1pm (UK), with myself amongst those taking part.
The day will continue with live music from Donatinho, DJ Mam and others from 6pm (Brazil) / 10pm (UK) on Sotaque Carregado's Instagram.
As the event states: "Curated by DJ MAM, and supported by UBC, the event promotes a rich exchange between people from 12 countries with different experiences and visions, which will help to point the way for the moment of recovery."
CONFERENCES – ZOOM
9am (Brazil) / 1pm (UK) – WORLD'S MUSIC ON THE RADIO AND THE PLAYLISTS
Béco Dranoff (Brazillab – Spain)
Giorgos Markakis (ERT Kosmos 93,6 FM – Greece)
Rasmus Schack (Denmark)
Patrick Torquato (Frei Caneca FM)
Arthur Pessoa (Programa Conexões)
10am (Brazil) / 2pm (UK) – MUSICAL PRODUCTION: WORLD BEATS E CULTURAL HYBRIDISM
DJ Dolores
André Magalhães (Ponto BR / A Barca – Brazil)
Pharfar (Denmark)
Maga Bo (Kafundó Records – Brazil / USA)
Kosta Kostov (Bulgaria)
Troels Hammer (Denmark)
Furmiga Dub (Grave Brasileiro)
Antoine Olivier (Alabê Ketu Jazz – France)
Alex Moreira (Bossacucanova / Sotaque Carregado)
Ops (Sistema Criolina)
Eduardo Rezende (Foli Griô Orquestra)
11am (Brazil) / 3pm (UK) – FEMININE CREATIVE PROCCESS
Renata Amaral (Ponto BR / A Barca)
Magda Pucci (Mawaca)
Sutari (Poland)
Folakemi (England)
Doralyce (cantora e compositora)
Ivy Morais (cantora e compositora)
12pm (Brazil) / 4pm (UK) – MUSICAL LABELS, DISTRIBUTORSAND LUSOPHONIA
Lewis Robinson (Mais Um Discos – England)
Wolfram Lange (Soundgoods – Germany)
Alex Schiavo (Altafonte)
Leandro Silva (Believe)
1pm (Brazil) / 5pm (UK) – ARTISTIC INTERCHANGES
Luciana Adão (Oi Futuro)
Daniel Nogueira (BM&A – Brasil Música & Artes)
Anders Hentze (Instituto de Cultura da Dinamarca)
Rafael Ferraz (British Council)
2pm (Brazil) / 6pm (UK) – CARREER AND PROMOTERS IN EUROPE
Heikki Eiden (Eiden Music Agency – Germany)
Luís Viegas (Ao Sul do Mundo – Portugal)
Rodrigo da Mata (Bossa FM – Brasil / Germany)
Joa Azria: (Green Go Agency – France / Brazil)
Marinilda Boulay (MIDEM – France / Brazil)
David McLoughlin (Brasil Calling – Ireland)
3pm (Brazil) / 7pm (UK) – FESTIVALS AND CONCERT HALLS DURING COVID-19 PANDEMICS
Claudio Rocha Miranda (Brazil Music Conference / Rock in Rio, New Dance Order)
Pedro Azevedo (Musicbox e Festival MIL – Portugal)
Vanessa Damasco (Fundição Progresso)
Alexandre Rossi "Rolinha" (Circo Voador)
Tânia Pires (FESTLIP_festival / Festival Som da Língua)
Alessandra Debs (Casa Camolese / Manouche)
Vinícius Terra – (Festival Terra do Rap – Brazil / Portugal)
Cyz Zamorano (Navegadoors – Portugal)
4pm (Brazil) / 8pm (UK) – MUSICAL LABELS AND THE MEDIA
Russ Slater (Sounds and Colours – England)
DJ Makala (Boom Shaka Laka – Spain)
Rodrigo Faccinetti (Lapa 55 Radio)
5pm (Brazil) / 9pm (UK) – MÚSICA E ATIVISMO
Sônia Guajajara (APIB – Articulação dos Povos Indígenas do Brasil)
Batida (Portugal / Angola)
MPC (Digitaldubs)
Caio Prado
LIVE SHOWS – INSTAGRAM
6pm / 10pm – Gregor Schwellenbach (Germany)
6.30pm / 10.30pm – Donatinho
7pm / 11pm – Jonathan Ferr
7.30pm / 11.30pm – Kosta Kostov (Bulgaria)
8pm / midnight – DJ MAM

Follow Sounds and Colours: Facebook / Twitter / Instagram / Mixcloud / Soundcloud / Bandcamp

Subscribe to the Sounds and Colours Newsletter for regular updates, news and competitions bringing the best of Latin American culture direct to your Inbox.
Share: