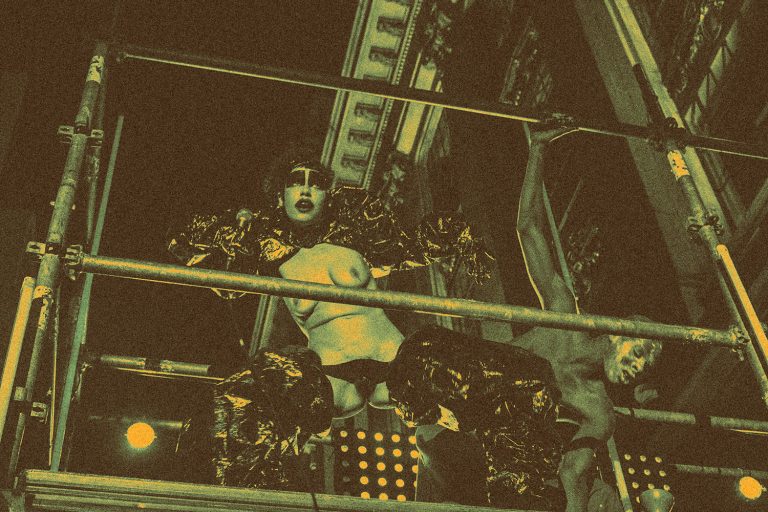 Strengthening the Electronic Community and Breaking Western-European Narratives with Latitudes
11 June, 2021
The position of Latin America has more often than not been one of an importer rather than an exporter of trends and sounds in the global market of electronic dance music. Clearly this stance was always going to be problematic in the short term and increasingly untenable in the long run. We can't ignore how influential the presence of Latin American music has been in the innovation and renovation of the global landscape of electronic music, whereas its representation amidst the global market of festivals and hubs of knowledge tends to be dismal, to say the least. This reflects directly on its undervalued presence at similar events taking place in our own homelands. 
The unsustainable nature of the Latin American landscape, currently made worse by the pandemic, has affected what should be the global interconnectedness of scenes based on the transit of talents. Touring is off the table, not only because of the sanitary restrictions imposed on the artists and the public by current circumstances, but also because the local economies are in shambles and what was once a game of few that slowly became more inclusive, is now an entirely prohibitive endeavour due to soaring exchange rates for all regional currencies.
All of this points to a problematic reality that has been hindering the growth, damaging the health and diminishing the wealth of the very creative landscapes we call our own, but also replicated with worrying uniformity across every single country in the continent. A coordinated effort is required to assess such a widespread condition and it came to fruition through an idea that could foster these collective dialogues. Latitudes was born out of a need to coordinate efforts and converge visions towards a common goal.
I spoke to Chico Cornejo, who works with the outreach and promotional side of the collective, about the Latitudes project and what we can expect from it.
How exactly do you think this project will strengthen an already weakened scene?
You see it as pessimistic and we see it as realistic. It took some decades for our independent scenes to finally start spreading their own wings without having to depend on greedy corporations or rely on a myopic music press to reach out to their audiences. It was starting to happen and then we were all hit by the pandemic, a phenomenon beyond our control that laid bare the essential precarity of our situation.
I mean, who will be comfy enough to let oneself REALLY go amid a lot of strangers in a sweaty dark dancefloor anytime soon? The national economies are in shambles, the rise of the most idiotic form of conservatism in politics threatens our very existence… not many reasons to be cheery, right? Hence it is crucial to strengthen those communal bonds that are created by the music and the rituals we maintain around it, the enjoyment of the company and the knowledge of ourselves that are nurtured in those moments.
Now how this will be achieved is yet to be seen in its full picture. We have some actions planned and some strategies devised, all of them based on creating spaces for the creation and circulation of ideas, as well as their materialisation in some form. First and foremost, we have to start valuing our own and enhancing the central image of Latin American music and musicians in the construction of the Western canon of electronic music, within and without the main centres of accreditation and diffusion of genres.
What kind of things can we find on the site?
You can find plenty of recommendations from our group of members, which we are constantly trying to expand in order to be more inclusive and hence more eclectic. Mixes, EPs, albums, literature on the topic, everything that makes the world spin in terms of music making and enjoyment, on and offline.
There are interviews with some wonderful groups of people that are doing their best to keep their local scenes going on many fronts. You have the guys from Sagraria in Ecuador explaining their MO to create events that are very unique, you have the people who run Guerrilla Tunes, a label that has been very successful in the upkeep of their hometown of Córdoba as focal point for avant garde electronic music in Argentina and the continent, you have a panoramic view of the factors and feats behind one of the most authentic movements of renovation of São Paulo's nightlife in the past decade materialised by the independent parties that took over the city.
Beyond the site, and the plans to offer it in English, what else will the project offer?
Basically, we aim at fostering the best conditions for debating the present and future of our local scenes, as well as spaces for properly appraising and discussing their past. And towards these goals, formats abound, from conferences, panels, fairs, gatherings, courses, free format events… who knows? The sky's the limit when the ground level is low enough and the need to communicate and promote the talent of the region is so urgent.
Tell me about future plans you are excited about.
Personally, I am interested in how it is all going to unfold regarding the wider discussion about inclusion. Most media vehicles are busy with their single minded "blackening", although it is long overdue and essential to any future survival of electronic music beyond that innocent idea of PLUR (peace, love unity, respect), but everyone else is being left aside or behind. We are trying to do our part for that not to happen with the Latin community and, in the process, offering a repository for them to fall back on when and if that happens.
I push Chico for something more concrete on their future plans.
This I cannot give you as of now because it involves other people's decisions and participation as well as disclosing some still undefined formats for what we have in mind. Let's say that we plan on giving everyone a good glimpse of what is going on just around the corner in terms of music and all the thinking that goes with it, so it gets easier to appreciate all the people that make it happen.
However, he leaves me with this:
The great reopening is upon us, expectations are high, some studies show an auspicious outlook for clubbing. We only hope we manage to do better – healthier, nicer, grander – in this post-normal that will shape our lives and loves from now on.
Find out more about Latitudes at latitudes-latam.net

Follow Sounds and Colours: Facebook / Twitter / Instagram / Mixcloud / Soundcloud / Bandcamp

Subscribe to the Sounds and Colours Newsletter for regular updates, news and competitions bringing the best of Latin American culture direct to your Inbox.
Share: