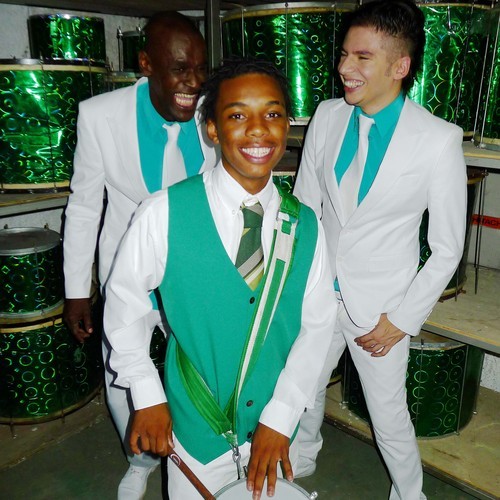 Sambasupercollider's The Battle of Cubango Vol. 2
04 March, 2014
We're happy to present the latest mixtape, The Battle of Cubango Vol. 2,  from our friends at Sambasupercollider, a collective of Brazilian musicians from various samba schools around Rio de Janeiro. Packing loads of tracks into a little less than 30 minutes, this is a sonic blast of bass and beats, perfect for one of those inconvenient little half hour spaces that crop up in your schedule from time to time.
Here's the full tracklist. It's as long as that snake that was eating the crocodile earlier this week.
Luciano Perrone e seus Ritmistas Brasileiros – Reco-reco da Lavadeira
Dedé da Portela – Porque Oxalá usa Ekodidé (G.R.E.S. Acadêmicos do Cubango 1984)
Jeff Mills – Automatic
Jeff Mills – Cubango
Elza Soares – O Morro
Mestre Geraldo e sua Bateria – Mistura número 2
ADJ – Beat
DJ Edgar – Beat Goes on
Batucada Brasileira – Samba continued
Phonat – Ghetto Burning (Arveene & Misk Remix)
Terror Danjah – Planet Shock
DJ Edgar – Chumbo Quente
DJ Sandrinho – Tiroteio
DJ Mumu do Tuiuti – Montagem Fudeu
Boddika – Acid Battery
Daniel Haaksman – Angola Gallopp
G.R.E.S. Acadêmicos do Cubango – Afoxé (1979)
Batucada Brasileira – Batucada continued
Drums of Death – Bang the Drum (Clouds Remix)
G.R.E.S. Acadêmicos do Cubango – Mercedes Batista, de passo a passo, um passo
Luciano Perrone e seus Ritmistas Brasileiros – Samba Cruzado
Arveene & Misk – Hum Drum
Os Originais do Samba – Volta Coração

Follow Sounds and Colours: Facebook / Twitter / Instagram / Mixcloud / Soundcloud / Bandcamp

Subscribe to the Sounds and Colours Newsletter for regular updates, news and competitions bringing the best of Latin American culture direct to your Inbox.
Share: