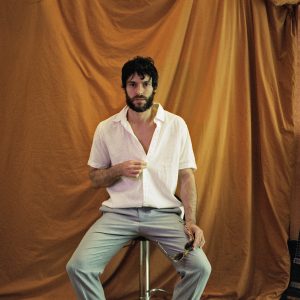 Review
Sweet Harmonies (Tagua Tagua, Rogê)
Today sees two fine new releases from Brazilian artists – one resident, the other expatriate – that would initially appear to be quite complementary. Both, though, reveal quite a different tale.
Tagua Tagua: Tanto
Wonderwheel
* * *
What goes around, comes around… The more I listen to this Paulisto artist's second album, the more it makes me think back to the golden age of US vocal groups of the late 1960s and early '70s. The Delfonics, in particular, the sound of Philadelphia in general and the songs of Thom Bell and Linda Creed all come to mind. There's something about Tagua Tagua's rich ethereal melodies and the sweet harmonies – in this case those of single or multi-tracked voice and keyboards, which the singer-songwriter and multi-instrumentalist from São Paulo plays himself. Like recent releases from fellow countrymen such as Sessa, it's dreamy stuff, with the kind of soulful pop sensibility that grabs you right from the start: the lovely filtered, slightly off-kilter sound of the opener, "Pra Tras", is followed by the delicious title track, in which an electric piano redolent of TSOP's Leon Huff or early Bill Withers and the singer's falsetto work wonders together. Felipe Puperi, to give him his real name, sees both the track itself and the album as "a feeling of falling in love for the sake of falling in love."
Having fronted the group Wannabe Jalve, who opened shows for Jack White and Pearl Jam, and after releasing his first solo album in 2020, Inteiro Metade, Felipe talked of wanting "to do something new, something that had my fingerprint. I was also starting to sing in Portuguese, so I was kind of re-discovering my references and myself as a composer." All ten tracks were written and performed by him in a rural retreat on the outskirts of his São Paulo hometown, with the support of Leo Mattos on drums and percussion and the additional guitar of João Agusto Lopes. Strings are used sparingly and unobtrusively, a subtle part of the ethereal, dreamlike soundscape. Love, as the singer himself suggests, is the keynote to this sweet, spare, seductive album and, while he does indeed sing in Portuguese, it's the American points of reference – such as D'Angelo, one of his soul heroes, on the splendid "Brisa" – that he channels throughout an album that places Tagua Tagua on the same kind of platform as Sessa, Tim Bernardes, Bruno Berle, Leonardo Marques and others one could almost describe as "novos românticos".
---
Rogê: Curyman
Diamond West
* * * *
Awarding stars is a fairly invidious task, but Rogê (pronounced, I'm reliably informed, "Haw-zheh") earns an extra one for the greater variety on show in this tremendous album. Nearing 50 now, the dues he's paid show in his music. Roger José Cury upped and left his native Rio with his family for Los Angeles, giving up a certain local fame to seek success and fortune in a foreign land. "I made a lot of progress there [in Rio]," he avows. "I met my grand masters. I wrote sambas for the Carnaval parade. I met the owners of the favelas, the police, the good guys and the bad guys, the rich people and the very poor." That's not to mention a ten-year residency at Rio's celebrated Carioca da Gema club, a Latin Grammy award nomination for the album he made with his mentor Arlíndo Cruz, the theme song for the 2016 Olympics in Rio that he and Cruz wrote together, and the benediction of producer Alexandre Kassin as "one of the most talented artists of my generation."
Nevertheless, move he did, after an invitation to perform at the 2018 World Cup in L.A. Right after making an album with Seu Jorge, released on a Dutch label in 2020, the pandemic scuppered his plans and immediate prospects. But then he met the producer Thomas Brenneck, guitarist with the Budos Band of Daptone fame. "Blown away" by Rogê's music "on so many levels," Brenneck chose the singer to launch his new label, Diamond West, investing in an expensive trip to Rio in order to engage Arthur Verocai for some of his renowned string arrangements on several tracks. His better judgement is vindicated by the results. As with Tagua Tagua's Tanto, there's a palpable retro feel, but of quite a different kind: much less an American soul vibe and far more one of post-Tropicália Brazil. A fine and quite powerful acoustic guitarist, Rogê can conjure up Jorge Ben and Gilberto Gil on faster numbers like "Mistério da Raça" and the infectious "Existe Uma Voz", and José Mauro and Milton Nascimento on slower, atmospheric songs like "Camará". Above all, though, Rogê sounds like Roger José Cury.
One could easily imagine that Curyman was unearthed in some overlooked corner of Rio to be hailed as a genuine lost classic. Terrific songs, strong vocals, potent guitar playing, lush arrangements, distinctive production – it all adds up to something quite special.

Follow Sounds and Colours: Facebook / Twitter / Instagram / Mixcloud / Soundcloud / Bandcamp

Subscribe to the Sounds and Colours Newsletter for regular updates, news and competitions bringing the best of Latin American culture direct to your Inbox.
Share: