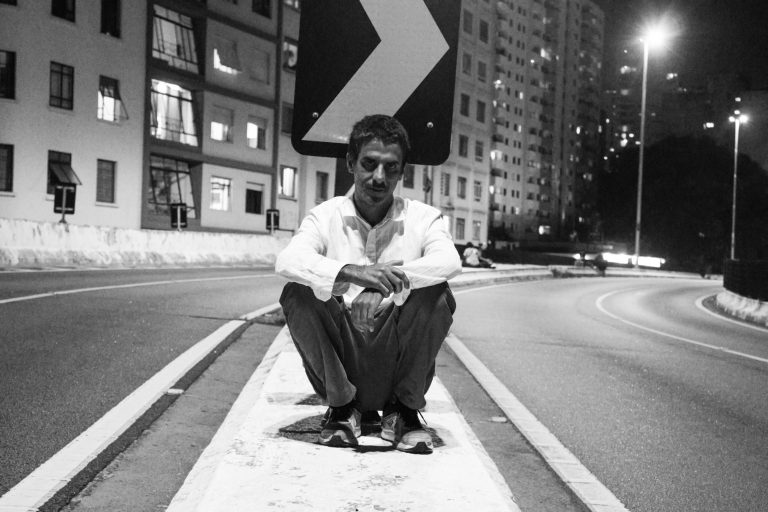 Take Five: MNTH
19 May, 2021
As co-founder of iconic underground São Paulo record label Desmonta – home to essential releases by Kiko Dinucci, Metá-Metá, Psilosamples, M. Takara and Response Pirituba – Luciano Valério is someone we've been in contact with over the years, however increasingly the focus of our correspondence has been his own musical compositions. This began with his collaborations in HAB and as the duo Nalesca Mantega, and now he takes centre stage with his solo project MNTH. Confusingly shorthand for manteiga (butter), Valério used this moniker for a debut album back in 2015 and reappeared under this name during the pandemic for a second instalment which has now been issued on cassette and digital by Mais Um.
This self-titled second album shares a similar rhythmic focus to those Desmonta releases by M. Takara and Kiko Dinucci, but is also completely its own creation. Rhythm is always at the core, but it finds its feet through a fog of organic and digital textures, the layered kalimba and guitar playing of opening track "kalimbau" giving way to the glitchy pseudo-dub of "tamanduateí". The pulsating broken groove of "trapaceiro" suggests prime Battles, though while that track never hesitates in pushing forwards, a track like "habitante" finds its rhythmic ballast in granular layering of largely-undistinguishable sounds that undoubtedly form its heartbeat. It's this to and fro between instrumental palettes and rhythmic cadences that keep us coming back to this alluring record. It's an album that could so easily be interpreted as a love letter from São Paulo and the interplay there between industry, commerce, relationships and environment that find themselves in conflict between the constructed and biotic, beautifully mirrored in the music.
We wanted to speak to Luciano to find out a few of his influences from across different cultural spheres, and so asked him to Take Five. So, here's the album, book, movie, person and memory that helped form who he has become:
Album
Sepultura – Beneath The Remains
The affective and imaginary memory that this record gave me, is very strong. For a long time it worked as a kind of ritual and amulet. I pressed play, concentrated on the sound, read and reread the credits, and wondered how all the information contained there could make sense of the whole creation. It was a dark, primitive, energetic expression. A revolt with a certain amount of freedom that I didn't see in other bands at the time. It was a portal to another world and there I fit these pieces together, on to some others already known, to form a little part of my universe. For example; I thought that there was an urban, marginal and nocturnal scene that also included skateboarding. I spent days trying to understand who was skateboarding in the video to "Inner Self" and discovered that it was Thronn, an idol at the time; you will not find anyone who skateboarded in Brazil in the 80s who did not have Thronn as an inspiration. I started to make this connection and saw that everything made sense. Skate, metal and punk were all part of the same world.
Movie
Once Upon a Time in the West
I don't remember the first time I watched this movie, I just remember that since that moment, I watch this film at least once a year. I think it was the first film that sharpened my senses as a whole with an impeccable soundtrack [by Ennio Morricone] and sound design, all very tied up. The space there is wide, infinite and the time is real, almost like a sequential plan of life. There was a time when I watched the version with comments by the director [Sergio Leone] a lot.
Book
A Máquina de Fazer Espanhóis by Vitor Hugo Mãe
I regularly go back to the pages of A Máquina de Fazer Espanhóis by the writer Vitor Hugo Mãe for its beautiful passages about what remains of loneliness, about abandonment and about a unique perception of death. Because it is a book without attachments to orthographic rules, fluidity occurs in another way. With each reading, new reflections open up.
A Máquina de Fazer Espanhóis is available from Amazon (UK | USA)
Person
Dona Jane
My mother was the person who helped me take my blindfolds off to a universe beyond my surroundings. In all my choices, from an early age, she was always there. Counselling me or just letting the decisions be all mine and letting me deal with the consequences of that. It never discouraged me in the most audacious adventures that have arisen from pre-adolescence to today. A welcoming person who always saw her neighbour as the first.
Memory
Amsterdam
At the beginning of 2000 I left for a second attempt at finding youthful independence in distant lands. Nothing made me feel like remaining in Brazil. I decided to leave and arrive in another continent, but my entry was denied and I spent a few days detained in a detention centre for illegal immigrants who expected to be deported to their countries of origin. They were dark days, with no contact with my family; inside I was robbed by the police themselves who stole some of my money. I managed to be deported to Portugal and not directly to Brazil as I feared. I persisted in the idea of ​​not returning and due to the flow of my destiny, I ended up in Amsterdam. It was a new chapter that lasted for five years. That was my education, my faculty of life as they say out there. I lived in a "parallel" world to what I had lived until then. Much of it still reverberates in my day to day and the way I do some things, even without an intention. But there were also days of loneliness, culture shock, language barriers, prejudices, etc. It was like a mouse always running away in secret but that in its safe universe and with its fellow companions, feels graced by the rewards of chance.
MNTH's self-titled second album is released by Mais Um on cassette and digital. Available at maisum.lnk.to/mnth
Watch the new video for "habitates" below:

Follow Sounds and Colours: Facebook / Twitter / Instagram / Mixcloud / Soundcloud / Bandcamp

Subscribe to the Sounds and Colours Newsletter for regular updates, news and competitions bringing the best of Latin American culture direct to your Inbox.
Share: