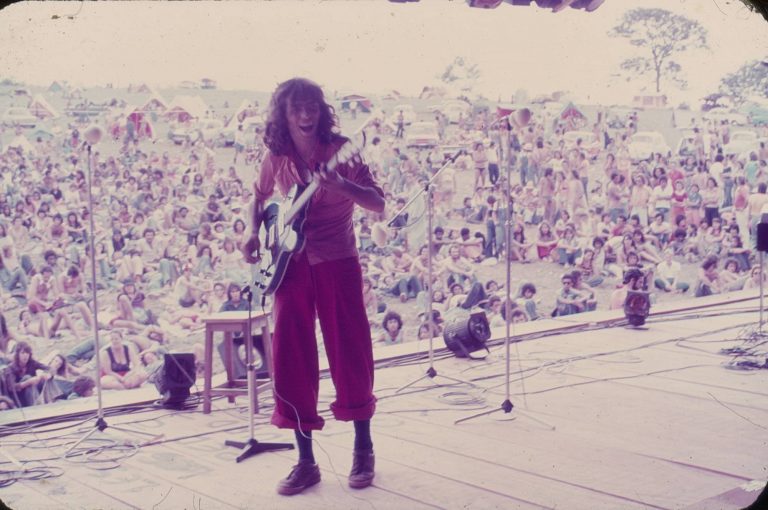 Taking Iacanga
13 December, 2019
If the US and Britain had their Summer of Love in 1967, then Brazil had to wait a little longer. With the arrival of new documentary Taking Iacanga maybe we can pinpoint their Summer of Love as taking place in 1975, and then somehow stretching into the early 80s. It was in 1975 that the first Águas Claras festival took place, bringing thousands of freewheeling music-loving Brazilians to a small farm in São Paulo for a weekend of good vibes, homemade vegan food and a fair share of nudity. This documentary tells the story of the festival, from its inaugural edition to its final manifestation in 1984.
And it's some story, painting Águas Claras as the equal of Woodstock and Glastonbury in terms of its DIY spirit, lofty ambitions and eclectic musical line-up. What's remarkable is that the festival ever took place in the first place. That was the main doing of founder Leivinha, whose idea it was to stage the festival in his family's farm near the small town of Iacanga, who had to work out a guerrilla marketing campaign (to get news out that it was taking place) and who had to persuade local police that it should go ahead – in the end, the police sent a plain clothes policeman, who delivered photos back to his superiors, and Leivinha was briefly detained by police for lacking all the correct permits. The seed had been sown though.
With just a small wooden stage, travellers and local businesses cooking up the food and 50 toilets, it is estimated that at least 30,000 people made that first festival. As the film shows, many of them didn't pay – just walking straight past the entrance – and many simply slept under the stars. Shocking, for the undercover policeman at least (who was interviewed for the documentary) was the amount of nudity and drugs, though equally important was the fact that there was no violence at all. This was all about peace.
The festival also featured an admirable line-up with Os Mutantes, Jorge Mautner and Walter Franco all featuring in 1975, as part of a line-up that mixed the stars of the day with local acts, folk groups and the avant-garde. They set the bar very high.
Following that first festival, it took Leivinha and his cohorts some time to contemplate putting the festival on again, with it finally seeing the light in 1981 with an even stronger line-up than previous years – Gilberto Gil, Luiz Gonzaga, Alceu Valença and Moraes Moreira were some of the acts to appear. For the edition after that, 1983, they would stage an even bigger coup, João Gilberto making a very rare live appearance. The film spends a little time bringing to life this episode of how one of Brazil's most notoriously-reticent performers decided to play at a huge homegrown festival that was anything but professional. It's a nerve-wracking story, and beautiful to see the genuine emotion that Gilberto felt as the entire audience sang back his words.
Equally impressive though must have been Hermeto Pascoal's set in 1981 as the maverick musician decided to perform an all-night set until sunrise. The following morning people had to wait until the afternoon for music as all the crew were still recovering from Pascoal's set.
Ultimately, the festival would become more commercialised in 1984, its forth edition, and its organisers would grow dissatisfied with its direction and decide to make it their last event. But, it had been quite a ride. Taking Iacanga must be congratulated for the number of talking heads and exhaustive material provided, with first-time director Thiago Mattar doing an admirable job bringing it all together. The film provides a fascinating insight into the Brazilian counterculture of the time, of the unexpected musical communities that existed during the military dictatorship, and of the fearless organisers that made sure Brazil would have its own Summer of Love.
Taking Iacanga screened at WOMEX 19. Latest info on the film, including screening info, via their Facebook page.

Follow Sounds and Colours: Facebook / Twitter / Instagram / Mixcloud / Soundcloud / Bandcamp

Subscribe to the Sounds and Colours Newsletter for regular updates, news and competitions bringing the best of Latin American culture direct to your Inbox.
Share: