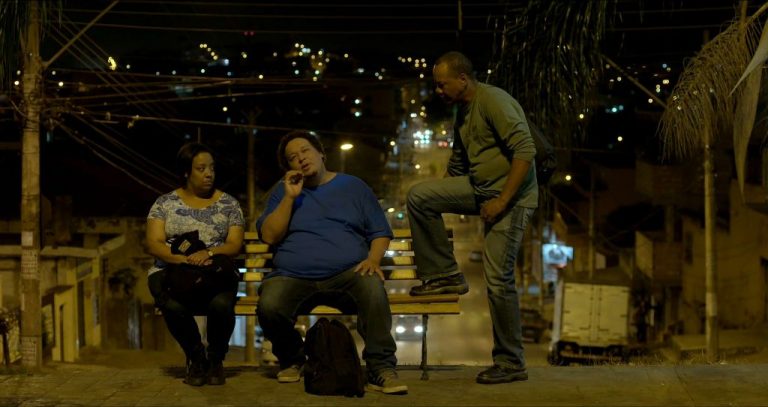 Temporada
13 May, 2019
Juliana moves alone to a new town to eke out a living working for a dengue control service, leaving behind her former, somewhat troubled life. Once in these new, unfamiliar surroundings, she is forced to adapt to a drastically different pace of life. As viewers, we can see the bleak loneliness taking its toll, imbued with subtle racism. Yet, as the film progresses, Juliana's world begins to radiate with genuine moments of elation as she establishes friendships.
Set in the outskirts of Brazil's southeastern state of Minais Gerais, Temporada (English title: Long Way Home) is a heartfelt film exploring the quotidian life of Juliana as she comes to terms with various changes, both emotionally and physically. Directed by the extremely talented André Novais de Oliveira, he seamlessly transforms the mundane into profound beauty through the use of vivid colours and striking cinematic shots in his second feature film [his first was in 2015, Ela Volta na Quinta].
During her day job, Juliana (Grace Passô) visits many homes in the local neighbourhood, Contagem, to carry out inspections due to a dengue outbreak, resulting in several encounters with other lonely ladies. She is met with a mixed reception, from outright hostility off a woman enraged at the unexpected visit at the crack of dawn, to a beaming old lady showering her with coffee and cake. Besides the grinding job, the exciting prospect of Juliana's husband Carlos coming to join her slowly begins to wane. Despite continuously facing challenges, be it rummaging with bare hands amidst scuttling scorpions or climbing a rickety ladder, Juliana manages to maintain a remarkable resilience.
In various interviews the director has highlighted that for him, conveying true and honest representations of his characters is of paramount importance. Temporada features a mixture of both local and non-professional actors, yet never feels voyeuristic or exploitative. Oliveira creates films based on his own lived experiences, having spent his childhood in the film setting, Contagem, as well as having worked briefly for a dengue inspection company, lending a certain sense of intriguing intimacy. Racism seems to be both everywhere and nowhere in the film, flickering for fleeting moments. It is seen in the small, seemingly insignificant gestures, rather than the prevailing sensationalist cinematic narratives of abject poverty and drug abuse.
Temporada is a must-see. In his early thirties, hard to believe considering his self-assured style, André Novais de Oliveira is definitely worth keeping an eye on. His visual language fearlessly asserts black Brazilian experience as indispensable to the national film industry, evincing the richness of communities systematically marginalized and denigrated, producing a refreshing and thoroughly enjoyable watch.

Follow Sounds and Colours: Facebook / Twitter / Instagram / Mixcloud / Soundcloud / Bandcamp

Subscribe to the Sounds and Colours Newsletter for regular updates, news and competitions bringing the best of Latin American culture direct to your Inbox.
Share: