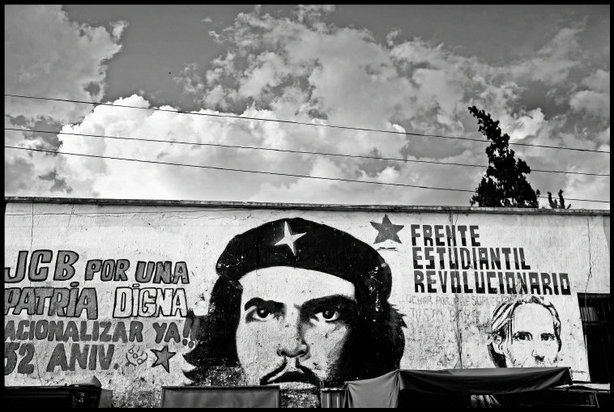 The Best Books on Street Art in Latin America
21 October, 2013
Street art has always represented an integral aspect of creative expression in Latin America, as is the case in many other parts of the world. Their capacity to convey ideas and messages in public arenas, and to showcase individual or collective artistic talent, explains street art's widespread popularity, while the role of the shared outdoor space as art forum is something familiar to urban inhabitants the world over.
Street art tends to reflect the idiosyncrasies of its social environment, subject to variable conditions of local influence. In this way there are notable differences in street art between, say, London, Mumbai and Rio de Janeiro. However, the means of relaying predetermined concepts of politics and culture remains a constant wherever you are. Street artists are able to articulate and amplify distinct messages, and the more openly accessible the location of the artwork, the better: hence the trend for painting subway trains, or the exterior of high-rise buildings.
In Latin America, street art is of major cultural relevance. The region's traditions of social movements and revolution have allowed the form to give voice to otherwise unheard sectors of the population. Of course, not all street art is politically or socially-oriented in content, but it does often provide insight into specific objectives and ideals.
There is also the fact that, when done well, it looks damn cool, the inherent rebelliousness and adventure in street art emphasised by its rampant appropriation by mega-brands seeking to identify themselves with contemporary underground culture. But the essence of urban expression remains a pure and inclusive means of promoting your beliefs, your values, or your skill on the most widely accessible stage of all: the street.
Keen to learn more about street art in South America, we headed into the depths of the Amazon (the virtual, book-selling one rather than the snake-filled, tropical one, unfortunately) to see what's readily available for those who are interested in the subject of street art in Latin America. Here's the lowdown on what we came up with: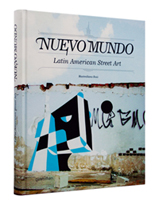 Nuevo Mundo: Latin American Street Art by Maximiliano Ruiz
A comprehensive overview of street art across Latin America, country by country, examining distinct aspects of each country, and the fusion of influences, such as indigenous traditions and colonial legacy, that gives regional street art a unique character. Ruiz looks at the history of this most popular form of artistic expression, and highlights many of Latin America's leading artists in a commendably thorough analysis.
Buy: Amazon
City/Art: The Urban Scene in Latin America by Rebecca Biron
The relationship between creativity and the urban environment, and how one affects the other, is the basis of this study, with contributions from artists, academics and writers. Crossing several Latin American metropolises to examine different movements and styles, the book pertains that the constantly shifting urban identity of major cities is heavily connected to the creative processes which inhabit them. From architectural transformation in Uruguay, to performance art in Santiago, to the modern urban landscape of Brasilia, this covers the artistic spectrum to give a grand synopsis of continental artistic expression.
Buy: Amazon
Urban Vodou: Politics and Popular Street Art in Haiti by Pablo Butcher & Carl Herman Middelanis
The period of 1986-94 was notable for the level of political upheaval experienced in Haiti, as the western hemisphere's poorest country experienced government overthrows, social violence, various coups d'état, and US military intervention. This book looks at how Haitian citizens documented the turmoil through street art, merging political slogans with Christian affirmation and voodoo imagery.
Buy: Amazon
Carnival, Art, Culture & Politics – Edited by Michaeline A. Crichlow
Although not strictly a book on Latin America, any social study into the wider contexts of carnival is going to be highly relevant to the region. The book argues that carnival is far more than just a means of popular festivity, but rather it can be used to determine the relationships between state and citizenry, the shared and the intimate, and individual and social identity. Academic in tone, but a deeply researched investigation into the social implications of the carnival phenomenon.
Buy: Amazon
Political Protest and Street Art: Popular Tools for Democratization in Hispanic Countries by Lyman G. Chaffee
The importance of street art as a tool of expressing dissent and establishing political communication forms the basis of this analysis of protest and art in Spain, Argentina and Brazil. Chaffee examines the effectiveness of cultural protest, and asks what can be learned from such forms of popular indignation.
Buy: Amazon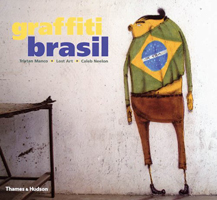 Graffiti Brasil (Street Graphics/Street Art) by Tristan Manco & Caleb Neelon
This book looks at the various graffiti artists who have contributed to the creation of one of the most renowned global subcultures, in Brazil, featuring some of the best art from Rio, Sao Paulo, Florianopolis and other Brazilian cities.
Buy: Amazon
Street Art in Curitiba, Brasil (Kindle Edition) by Diego Mathias Pineiro
Available as an e-book, this is a collection of pictures dedicated to street art in the city of Curitibia, the capital of the state of Parana. (Won't look nearly as nice if your Kindle is only in black and white.)
Buy: Amazon
Street Art Chile by Rod Palmer
Street art has always had a notable presence in Chile, being utilised as a means of political campaigning in the sixties, or later fomenting dissent against the Pinochet dictatorship. For a relatively small country, Chile's creative output, in art, film, music, or literature, has tended to find widespread audiences, and cities such as Santiago and Valparaíso are renowned for the art that adorns their public spaces. This book traces the roots of street art in Chile, as well as showcasing the contemporary scene in the country.
Buy: Amazon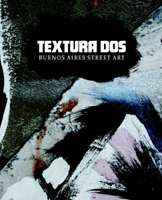 Textura Dos: Buenos Aires Street Art by Guilherme Zauith & Matthew Fox-Tucker
This book from the BA Street Art collective documents the scene in the Argentinean capital, featuring the exceptional graffiti and murals that give Argentina a strong international reputation among urban landscape artists. BA Street Art started off doing books (this was their first) to promote local artists and movements, with the subsequent popularity leading them to nowadays organise street art tours of the city. Find out more on their website or Facebook page.
Buy: Amazon
Realizing the Impossible: Art against Authority by Josh MacPhee & Erik Reuland
Now this is an interesting read, a compilation of articles and essays from various writers, which traces the aesthetic history of political and social protest through art, focusing on distinct forms such as cubism, impressionism, surrealism and punk. It's not specifically focused on any one global zone but does include sections on grassroots protest in the media in Latin America, stencil art in Argentina, mestizo and chicano design practices, and numerous other references to anti-establishment social movements in the region.
Buy: Amazon
MVD: Montevideo Street Graphics by Guido Indij
A graphic collection of Montevideo's street art, compiled by Argentinean photographer Guido Indij. His tour of the Uruguayan capital leads to the following observation: "I can't believe the things I see when out walking the streets of Montevideo: posters from our childhood, signage from our parents' days, archaeological traces of the last 'letristas' (sign-writers), bestiaries, Carlos Gardels, fish and more fish."
Buy: Amazon
Bogota. Grafiticity. Colombian Street Art by Jordi Raich
The contrasts and contradictions of Colombia are laid bare in this book that examines the social state of the country through its street art. There is a poetic essence to the book, as its looks at artistic interpretations of various aspects of Colombian life, such as politics, music, food and tradition. In Spanish and English.
Buy: Amazon
Bogota Street Art: 1 (Street Art around the World) by Jaqueline Hadel
This short book gives a brief overview of Bogota's artistic identity through its street art, with several images of pieces and murals from the city.
Buy: Amazon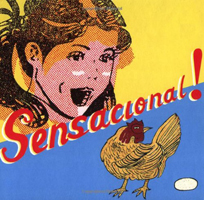 Sensacional: Mexican Street Graphics by David Byrne, Juan Carlos Mena, Oscar Reyes, Steven Heller
A celebration of the extraordinary omnipresence of street art in Mexico, which draws influence from South American and indigenous tradition to the south, while taking key characteristics of US hip hop culture from the north. The sheer range of experimental visual art in the country is displayed in this stupendously in-depth examination, containing over 300 images of Mexican artworks.
Buy: Amazon
Mexico: Stencil Propa by Editorial RM
The social uprising that was sparked by violent state repression of teachers' union demonstrations in the southern Mexican city of Oaxaca in 2006 saw the formation of a popular movement of artists united in protest. They articulated widespread public anger through the creation of politically-themed stencils and posters which covered the city and continue to be sold and displayed there, coming out in force whenever there is a demonstration. This book highlights the role played by street art in a specific urban area, and acts as a visual address of contemporary political themes in Mexico.
Buy: Amazon
Mexican Wall Painting: Bardas de Baile by Patricia Cue
Alongside political sloganeering, another common feature of Mexican street art is the promotion and diffusion of folk musicians and bands. Patricia Cue traces these traditions from their origins in the sixties through to the modern national music scene which continues to adorn walls and public spaces with advertisements for upcoming concerts and events.
Buy: Amazon

Follow Sounds and Colours: Facebook / Twitter / Instagram / Mixcloud / Soundcloud / Bandcamp

Subscribe to the Sounds and Colours Newsletter for regular updates, news and competitions bringing the best of Latin American culture direct to your Inbox.
Share: