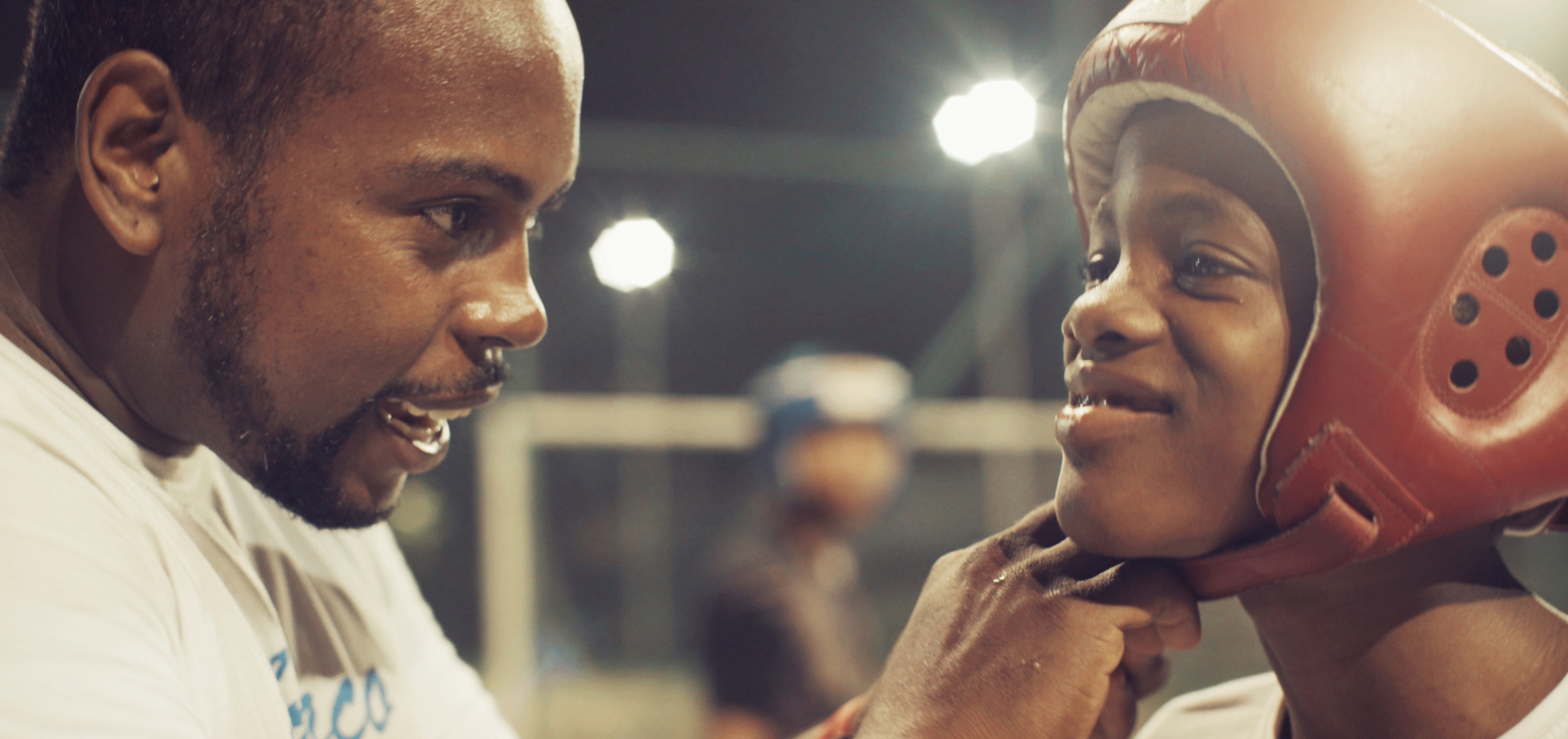 The Good Fight
07 December, 2017
"I haven't witnessed any family members die of natural causes," says Alan Duarte, whose poignant story is told in the electrifying, multi-award-winning documentary short The Good Fight (A Vida é uma Luta). We learn how Alan's brother, who was also his father figure, perished with nine other members of his family in gang warfare that pervades the Rio de Janeiro favelas where he lives. In a modern Brazilian echo of Sylvester Stallone's Rocky, it explains how he, too, found solace and salvation in boxing.
Brought up in a violent turmoil, Alan found boxing could provide him with an escape – one which he felt he could share with his community, whether old, young, male or female, as an effective way of keeping them off the streets and channelling their frustration. Alan decided to start his own club Abraço Campeão (Embracing Champions), which provides more than just an occupation for the residents of his favela – his mentorship and guidance aims to create a sense of belonging and hope for a more peaceful existence. "He embraces us all in a certain kind of way," as one of the club's young boxers comments. Amidst the thudding of the tropical rain and gunfire and with limited equipment, Abraço Campeão offered a shelter for the youth in despair, both literally and metaphorically.
To remind you of the violence and precarious nature of his world, The Good Fight opens to the unsettlingly-close rap of bullets. It's action-packed throughout, with quick close-ups of punches thrown and a choreography moving to the quick beats of kizomba and AK47s, reminiscent, to an extent, of City of God. So much energy and vitality bursts from the twisting labyrinth of Alan's favela and so much happiness is thrown up in the face of violence.
Although Alan's story is neither complex nor unique, the loud, vibrant rhythms are exciting and absorbing. The close-up shots take viewers right into the boxing ring, something that could only be achieved by understanding this world and gaining the confidence of those inhabiting it; which perhaps explains why it took two years to make and demonstrates the director's commitment to the cause. Duarte one day casually asked his long-time boxing companion and film-maker, Ben Holman, for a little help in publicising his initiative: "Can you make a two-minute film so that people know about my project?", he queried. What started out as a promotional video for the club turned into a beautifully emotive work of art – every one of its 16 minutes is wholly mesmerising.
Since Alan began his project and after the production of the film, Abraço Campeão now has its own inside gym and proper equipment. However, the project still has insufficient funds for employees, and Alan is still hoping that the project can one day be self-sufficient. Unfortunately, since the filming of the short and the 2016 Brazil Olympics, the situation in Rio's favelas has deteriorated. Mainly because of the withdrawal of the military police deployed in the communities to keep the gang warfare at bay for the duration of the Olympics. Even as it was then, we witness a boxing match interrupted by a nearby shootout, from which the kids disperse, still retaining the chillingly broad grins on their faces, as if they were playing hide and seek.
Winner of the Tribeca best documentary short as well as winning awards at the Atlanta Docufest and the Nevada City Film Festival, The Good Fight pulls no punches when it comes to the world it wants to describe, no doubt why it has proved a knock-out in so many festivals.
Help Rio's young boxers: abraceobrasil.org/en/projetos/abracocampeao
THE GOOD FIGHT (a vida é uma luta) – Trailer from Beija Films on Vimeo.

Follow Sounds and Colours: Facebook / Twitter / Instagram / Mixcloud / Soundcloud / Bandcamp

Subscribe to the Sounds and Colours Newsletter for regular updates, news and competitions bringing the best of Latin American culture direct to your Inbox.
Share: