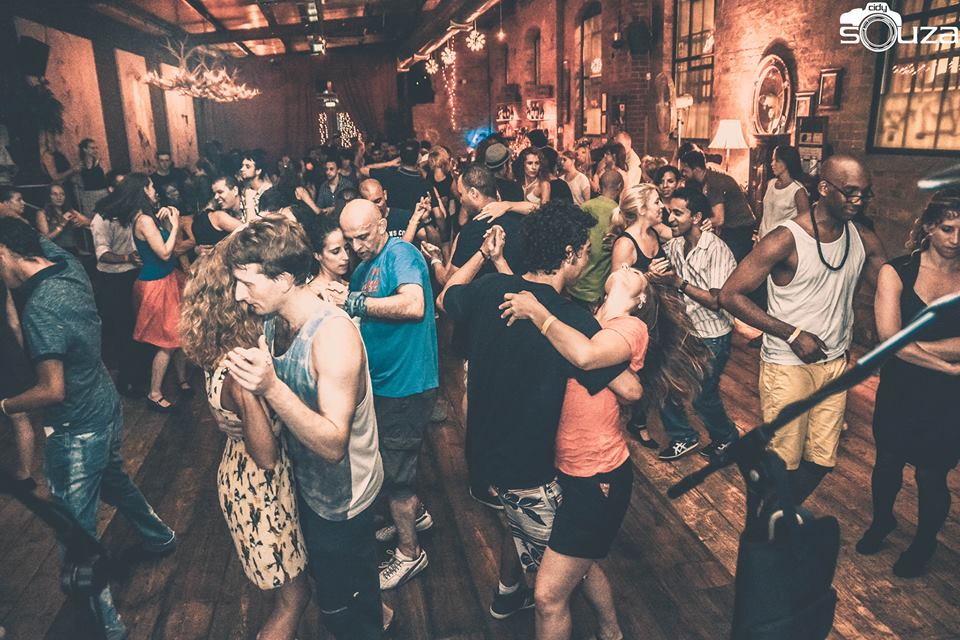 Cidy Souza
The Rise and Rise of Forró – The Couples' Dance from Northeast Brazil
13 January, 2015
There can't be many popular musical genres which feature the triangle, drum and accordion as three staple instruments. Forró, pronounced foh-ho, is one of them. It's a lively, addictive music that has its origins in Northeast Brazil and which can now be heard and danced to in bars and parties all over London.
Couples dance together coladinho, heads and hips often touching, spinning and skipping in a close embrace. There's something magical about a forró party – a live band and their traditional instruments squeezed into the corner of a Brazilian pub in South London every weekend. The crowd sing along to the lyrics as they dance, trying not to trip over tables. Many people dance barefoot.
Watch Anax Caracol, a London-based dance teacher perform a forró dance below:

There's a theory that the word forró comes from the English phrase 'for all,' though the more plausible origin is the Brazilian Portuguese forrobodó, a word for a big party.
It's no surprise that a musical style that has its roots in migration should end up playing a part in London's diverse cultural scene.
Carlos André, who has been teaching people to dance forró for 12 years, three in his native Brazil and nine in London, explains: "Forró talks about the people who left their lands to go to São Paulo, to Brasília, or to South Brazil to work… the immigrants inside their own country. It's about love, about land, about friendship, about childhood."
A forró from London-based forró band Forrobamba
[soundcloud url="https://api.soundcloud.com/tracks/141065700″ params="color=ff5500&auto_play=false&hide_related=false&show_comments=true&show_user=true&show_reposts=false" width="100%" height="166″ iframe="true" /]
Within Brazil, forró was popularised in the second half of the 20th Century through significant internal migration from the North of the country to the more prosperous South. A modernised version of the music and dance became fashionable in the 1990s, especially among university students (forro universitário, or 'college forró'). Carlos André is one of a large group of teachers and musicians who run events and dance classes in London and other cities in the UK and Europe.
"Forro in London has changed a lot since I arrived here," says Carlos, who also organises the London Forró Festival. The four-year-old festival brings together hundreds of dancers, teachers and musicians from Brazil and Europe. "In the past three years forró has become one of the most popular dances in Europe."
The forró scene is an outlet for London's large Brazilian community to matar a saudade (literally, "kill their homesickness"). But it's also a chance for Brits and enthusiasts of other nationalities to get a taste of a side of Brazilian culture that is less well-known internationally.
Tassie is an example of this. She describes being so captivated by the "fun, warmth and humility" of the dance that she was moved to help forró migrate outside of London when she moved to Oxford. She set up a weekly forró night in a bar, a building converted from an atmospheric old church, still going strong two years later. "When I started forró, no one I met seemed to know what it was, but increasingly people have heard of it or have even tried it," Tassie says. "2014 was a big year for Brazilian culture across the world. I think that helped forró as well."
For information on where to dance forró visit forro.co.uk

Follow Sounds and Colours: Facebook / Twitter / Instagram / Mixcloud / Soundcloud / Bandcamp

Subscribe to the Sounds and Colours Newsletter for regular updates, news and competitions bringing the best of Latin American culture direct to your Inbox.
Share: