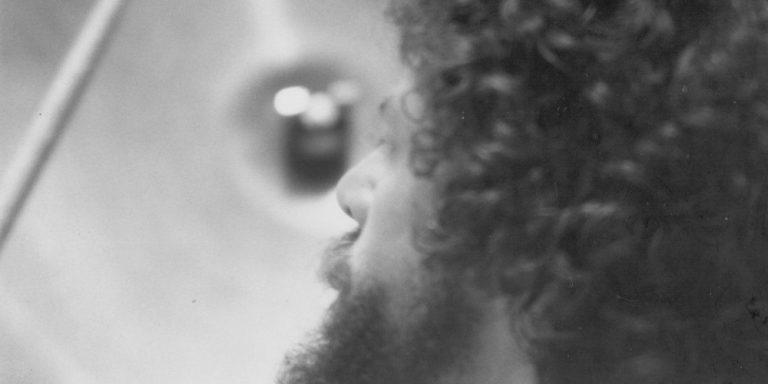 The Story of Zé Eduardo Nazário's Neglected Masterpiece 'Poema Da Gota Serena'
26 July, 2019
Poema Da Gota Serena, the only recording ever released by Zé Eduardo Nazário as a bandleader, is an odd album in the Brazilian jazz canon. Released in 1982, original copies of the album are very rarely seen, but it is now finally being reissued, on vinyl, by São Paulo's Lugar Alto. Nazário is one of Brazil's most talented drummers and percussionists, although he does not share the international renown of some of his peers, such as Airto Moreira and Naná Vasconcelos, that, among other Brazilian musicians in late 60s and 70s, left their homeland in search of greater possibilities.
In 1973, Zé would have gone to the US if it wasn't for an invitation to join the new band of Hermeto Pascoal, "one of the most important musicians on the planet", as Miles Davis once said. Only 21 at the time, Nazário, who has been playing professionally since 13, boasted an impressive musical résumé for his age. He performed frequently in Rio de Janeiro and was a habitué of the São Paulo nightlife, where he partnered with pianist Tenório Jr. at the Totem nightclub, one of his teenage haunts. In the late 1960s, Totem would also become the birthplace of Grupo Experimental de Percussão, formed by Guilherme Franco, Oswaldo D'Alessandro, and Nazário himself, who recounts: "It was a 'cutting-edge' project for the times, like so many others I would be part of, and it focused on the various types of percussion – classic, Brazilian, jazz, and elements of folk all rolled into one". The short-lived group played only sporadically, but to Nazário, it signaled the beginning of a journey which led him further away from the more traditional aspects of jazz and bossa nova, in search of new musical horizons: first with the cult psychedelic band Mandala, then with Hermeto, in the so-called cozinha paulista (São Paulo kitchen), with which Zé's younger brother, pianist Lelo Nazário, made his debut (a 1976 recording, recorded at the Vice-Versa Studio, was recently reissued by Far Out Recordings); and with another Brazilian master, Egberto Gismonti, he performed on the 1978 album Nó Caipira. He also played on the legendary Taiguara album, Imyra, Tayra, Ypy, as well as Marlui Miranda's Olho D'água, among others.
The time spent working with Hermeto helped Nazário develop the skills to make the kind of music he'd always dreamed of – an aspiration which had been somewhat stymied while playing with cozinha paulista, but which began to flourish during "the wizard's" (as Hermeto is also known) absences – together with his brother Lelo and bass player Zeca Assumpção. In the basement of Nazário's house, on Rua Teodoro Sampaio, the trio gradually developed the characteristic style which would become Grupo Um's signature. "We sought to make music that combined the rhythmic richness of more elaborate popular tunes with the contemporary classical style". When the drummer joined Gismonti's Academia de Danças, in 1977, Grupo Um was put on hold until its return in 1979, which resulted in the Marcha Sobre a Cidade album. Recorded and released at their own expense, at the onset of a Brazilian music industry crisis, the band's debut album was launched at the Lira Paulistana theatre – which had been recently inaugurated, and which would become the heart of São Paulo's independent music scene. Zé tells me that, while scouting for a place to launch the album, he learned that a theatre, only one block away from his house, was about to open its doors to business. "I went to the theatre and there were two guys painting its façade, and we talked. It turned out to be the Lira Paulistana and they were leasing it. So we arranged to launch the album there." They were the first ever instrumental group to perform at Lira, garnering excellent reviews from local newspapers.
The Marcha album was also somewhat successful, being reprinted two years after its release by the Lira Paulistana label, and is considered a groundbreaking work in Brazilian instrumental music, as much for its pioneering independent production, as for its unique, complex yet accessible sonority, arising from its compositional diversity – with influences of classical music and African percussion – and consummated by the tight-knit relationship between Zé, Lelo and Zeca, joined by Mauro Senise and Carlinhos Gonçalves.
Despite some conservative boycotting, Grupo Um saw positive reactions from both critics and the public and stuck to their avant-garde musical aesthetics, focusing less on jazz and, with the introduction of synthesizers, adding elements of electro-acoustic music into their subsequent albums: Reflexões Sobre a Crise do Desejo (1981) and A Flor de Plástico Incinerada (1983). The latter was released by Lira Instrumental, a subsidiary of the Lira imprint focused on instrumental music and founded following a period of relative success for instrumental music projects, leading to increased demands for albums of that 'genre'. From 1983 onwards, 'sublabel' releases were financed by the Continental record company, due to an agreement, atypical in the music industry, by which the major label, seeking to gain credibility and reinvigorate its catalogue, would pay for album production and distribution. Although inefficient for both parties, and lasting less than a year, the deal resulted in the release of a at least a few albums in which musicians had complete autonomy over their music. Among them was A Flor de Plástico Incinerada, Grupo Um's third album, as well as Nazário's first solo album, Poema da Gota Serena. Both were recorded in October 1982, during the few recording sessions made available to them at JV Studios by Continental. The time limitations didn't really pose a problem for the musicians who, being used to it, overcame this contingency with ease. Poema da Gota Serena was made in two recording sessions which lasted all of two days.
Each session featured a different duet, with each becoming a side-long suite on the resultant album. The A-side was by Zé and his brother Lelo, with whom the percussionist had been "developing an original concept" since 1972. The result is evocative of Grupo Um's then-recent work – particularly similar to the A side of their last album – in which the influences of concretism and third stream are harmonically juxtaposed with organic and percussive music. An energetic passage from the tense first part leads up to the suite's final half, of a steady rhythm lasting 10 minutes, improvised with the use of a vast percussive arsenal which included a number of Indian instruments as well as Indian vocalizations, while Lelo alternated between synthesizer and acoustic piano. Guesting on the B side is reed player Cacau, a member of Hermeto's band in the 70s and 80s. On "Energia dos Três Mundos", both musicians explore a more "traditional" form of free jazz, in the drums-and-saxophone format. A drum solo anticipates the transition to the suite's final part, "Só Para Ouvir", announced by the tabla and the mridangam, instruments that are central to the track, which, incidentally, is dedicated to Hermeto Pascoal. Nazário says that it was "because of his courage, at the time, in leading a professional instrumental group with an open musical concept, [that] I was able to chase my own goals, even after I'd left the band". Zé remarks that his tribute to Hermeto draws on the musician's use of myriad and unusual instruments, one of which is the Laotian khena, given to Nazário by Egberto Gismonti, who had used it on one of the Nó Caipira tracks. "The fact I had these instruments at the time allowed me to use them freely in the recordings – I was practicing all of them then".
Given the low production budget of both Grupo Um's and its members solo albums, the quality of the recordings is noteworthy. JV and Rogério Duprat's Vice Versa studio had excellent, open-minded sound engineers, and Zé praises the musicians' "technical knowledge, which allowed them to determine what kind of frequency, as well as other details, were necessary to reach the ideal sonority, even when faced with the limitations of the recording room and its equipment – they were small studios, yet we obtained excellent results". Once Grupo Um's latter recording was over, they went on a European tour, passing through Switzerland and France, where Marcha Sobre a Cidade was reissued (with a different cover). Their tickets were paid for by Continental, which meanwhile was having trouble distributing the 'independent' artists' new albums, considered 'anomalies' in a company catalogue dominated by 'popular music for the masses'. The fate of most copies is unknown, and the artists were not aware of how many of copies were produced or sold. On the other hand, the Lira/Continental deal maintained Lira Paulistana's practice of allowing musicians to keep the original recordings.
The Grupo Um albums and Poema da Gota Serena were reissued on CD by Editio Princeps, with Zé's solo album, now being reissued on vinyl by the Brazilian label Lugar Alto. With the "de-inversion" of the sides, due to a "mess-up" in the original release that saw them sequenced incorrectly: the duet with Cacau is now on the A side and the duet with Lelo is on the B side. Completely remastered for vinyl directly from the original tapes by the pianist himself, with a new interpretation of the original cover by Sometimes Always design studio, Poema da Gota Serena returns with new vigor to gain the recognition it deserves, particularly outside Brazil.
According to Lelo, the recordings from October 1982 were the "conclusion of a cycle" for the group's musicians. After spending one more year playing shows, Zé decided to focus on teaching, which he'd been doing from his "basement', which was frequented by a number of musicians who wanted to understand and learn that new musical language. Thus, in a sense, he continued the work he'd begun with Grupo Um by encouraging and teaching a new generation of musicians. He also returned to his love of football, but with no interruption to his musical career. Despite a decrease in production, he delved into Indian music and performed with Duo Nazário, Percussônica and the ZEN group; he also performed with the Pau Brasil combo, and today is considered one of the best drum teachers in Brazil. Thanks to his permanence in Brazil, in 1973, and his relentless search for new forms of music, he created some of the best, most innovative and most important musical projects in the country.
Poema da Gota Serana has been reissued by Lugar Alto

Follow Sounds and Colours: Facebook / Twitter / Instagram / Mixcloud / Soundcloud / Bandcamp

Subscribe to the Sounds and Colours Newsletter for regular updates, news and competitions bringing the best of Latin American culture direct to your Inbox.
Share: