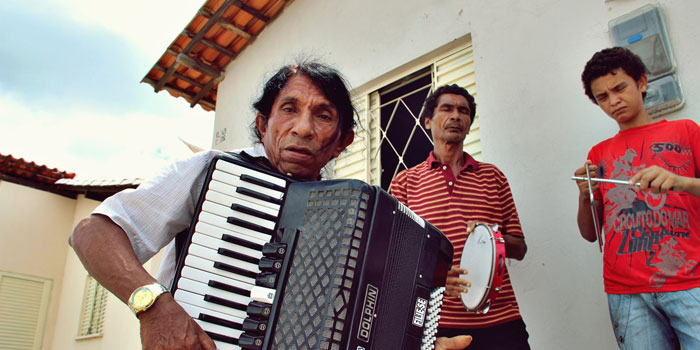 Tonny Cajazeira: The Brazilian Star You Need to Know
03 February, 2014
The northeast of Brazil is different from the rest of the country in many ways. The climate, the ecosystem, the food, the "intimate" way in which people relate to each other. Those who live there – close to 53 million people – have made it a distinct place for all Brazilians. It's also one of the hardest places in the country to live, where lack of water and food has seen many generations leave to create a better life in São Paulo, Rio de Janeiro or one of the country's other 27 states.
The northeast is a social, cultural and artistic cauldron, conceptually responsible for the foundations of what we call Brazilian music. It's from this region that came musical genres such as forró, samba, baião and bumba-meu-boi, and artists like Caetano Veloso, João Gilberto, Lenine, Hermeto Pascoal, and the list goes on and on. There are nine states that make up this region, and of these, it's the the state of Maranhão where the singer and accordionist Tonny Cajazeira comes. Now, I want to tell you a little about his life and work.
First, I must talk about his world: the city of Chapadinha is an important city in northern Maranhão – it is 274km from São Luis, the capital of the state and has around 90,000 inhabitants. Outside of the city limits, 12km into the woods, you will find a town called Cidade Nova [see picture below). There lives Antonio Alves de Oliveira, a semi-literate farmer, who is also a singer, songwriter and multi-instrumentalist known throughout the region by the name of Tonny Cajazeira.
Cajazeira has released five albums filled with typical northeastern rhythms like forró, baião, xote, bolero, seresta nordestina [literally translated as northeastern serenade], reggae, arrocha and he is considered one of the finest interpreters of brega in the Baixo Parnaíba region, which comprises much of the northern region. He is the son of rural workers, has always lived on the farm, never had a teacher to show him how to sing or play an instrument and today, at age 64, without ever learning to read or write, he looks after his ten sons purely from playing shows.
"Without Teacher or Anybody", Learning How To Play Alone
Imagine a young apprentice, in a town like many others in northern Brazil, with an illiterate family, living in the countryside. By chance he sees someone playing an instrument and decides to learn how to play it, and how to sing, without any reference, without any role models, without musicians to teach him. Keep thinking. And if this same "cabra" [northeastern slang for "dude"], with such a lack of references and masters ends up inventing a very peculiar style of singing, playing and composing, and not even knowing how to read, sustained the ten children through music, creating dozens of hits in the region, and becoming the spokesperson of music in his region.
Right now, as I think about writing this article, I'm backstage at a show in a public square in the city of Chapadinha shooting footage for a documentary about him. Tonny is beside me, as 10,000 people wait for the show to begin. He is calm, though in my ear he says: "No, I'm not nervous, but always it [the show] gives me something inside, a little fear, that's what I like". Minutes later he takes the stage and plays a show that would be talked about much the next day, when I went to interview him for my documentary. Sitting on a stool, surrounded by animals, I began to understand the musical training of the little Tonny.
"Since I was a boy I went to the parties here in the region and would spend the whole night without taking my eye of the musicians, thinking of how I wanted to play their instruments. My fingers were fidgeting, I was fascinated by the accordion, but I did not say anything to anybody about this mad desire. Until one day, when I was eight years old, my cousin came back home with an accordion, he left the room and I was there, hidden, I picked up the accordion, put it to my body and a song came out, on the first attempt. My mother and brother came to look at me and were amazed when they saw me playing and heard the sound coming from the instrument."
Tthe living conditions of his family did not allow the young man to follow an artistic career just yet – farming, as with his siblings, would be his path – but from that day on Tonny only thought about one thing, playing an accordion again. "My father said that he didn't want an artist at home and that the hoe would be my instrument. When he said that, I was sad inside, a child without joy. My mother saw how I was and asked my father in her special way to buy me an accordion. She sent me to a shop in Chapadinha to get some goods but she didn't say what. When I got there, there was an accordion. I almost died of joy. I rode back on my bicycle smiling at the sun, at the birds. I got home and I didn't want to eat or play with friends or anything, just play that beautiful and great instrument".
Finally the young musician had his own instrument and it would not take much before he played his first show. "After a few days I knew how to play a lot of songs. Then two days later I started sewing an outfit for myself, the way I had learned from my mother. Then my father took me to a nearby village from ours called Santa Fé and I played all night at a party and there was such joy from the people there, everyone liked it and my father made some good money and let me play the next evening too. I do not even want to know about the money, I was just thinking of staying up all night, playing, making the people happy."
At the same time as playing countless shows Cajazeira gained much notoriety as a songwriter. However, it wasn't until he had reached 50 years of age that he first entered the studio to record. A born musician without the ability to score or even write, since he is illiterate, Cajazeira tells how he began recording. "When I was recording the producer asked me for the written music and I just pointed to my head saying that everything was in there. He thought I was crazy and didn't want to record me. Then I told him to play an E on the keyboard, and I played the first song, which was "A Gigana Falou" ("The Gypsy Spoke"). When I finished the song he was amazed, and asked for another. We recording everything, all from my head. At the end he said I was a phenomenon".
This first album was called Tonny Cajazeira and was released in Maranhão and some other regions. It helped to expand the northeastern brega rhythm (born in the neighbouring state of Pará) in the north. His music became a symbol of Chapadinha, where he still has his largest fanbase, and which features in many of his songs. It is a local pride, with many feeling injustice that such a great musician has not had the opportunity to showcase his talent outside of the state. [It's for this reason that I decided to make a documentary about Cajazeira and his work.]
Tonny currently plays about three shows a week, regularly travelling between the villages around Chapadinha. Wherever he goes, if he suddenly decides to sing and play, people will begin to appear until the place is buzzing with excitement. His best-known songs come from his first album, and any song he sings from this repertoire, is an immediate success. His biggest dream now is to be "able to record the more than two hundred songs that are already written, and open the doors that are in my head".
Tonny Cajazeira's Documentary – The Star of Maranhão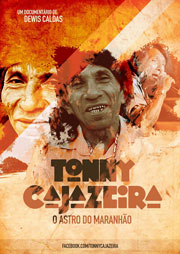 For seven years I have written about Brazilian music, researching countless rhythms such as lambadão (from Mato Grosso state), baião, 70s brega, Brazilian rock, gospel and even classical music, always looking for a narrative to explain the Brazilian-ness that comes from the diverse music of our country. And that was the intention for why I made a documentary about Tonny Cajazeira (which will be released soon). I also hope that this work will encourage further audiovisual productions about the music of a region that has been poorly studied by national ethnomusicology.
All words, photos and research by Dewis Caldas.
You can download Coletânea Tonny Cajazeiras – O Astro do Maranhão, a special compilation of music by Tonny Cajazeiras by clicking here
[soundcloud url="https://api.soundcloud.com/tracks/132873537″ params="color=ff5500&auto_play=false&hide_related=false&show_artwork=true" width="100%" height="166″ iframe="true" /]

Follow Sounds and Colours: Facebook / Twitter / Instagram / Mixcloud / Soundcloud / Bandcamp

Subscribe to the Sounds and Colours Newsletter for regular updates, news and competitions bringing the best of Latin American culture direct to your Inbox.
Share: