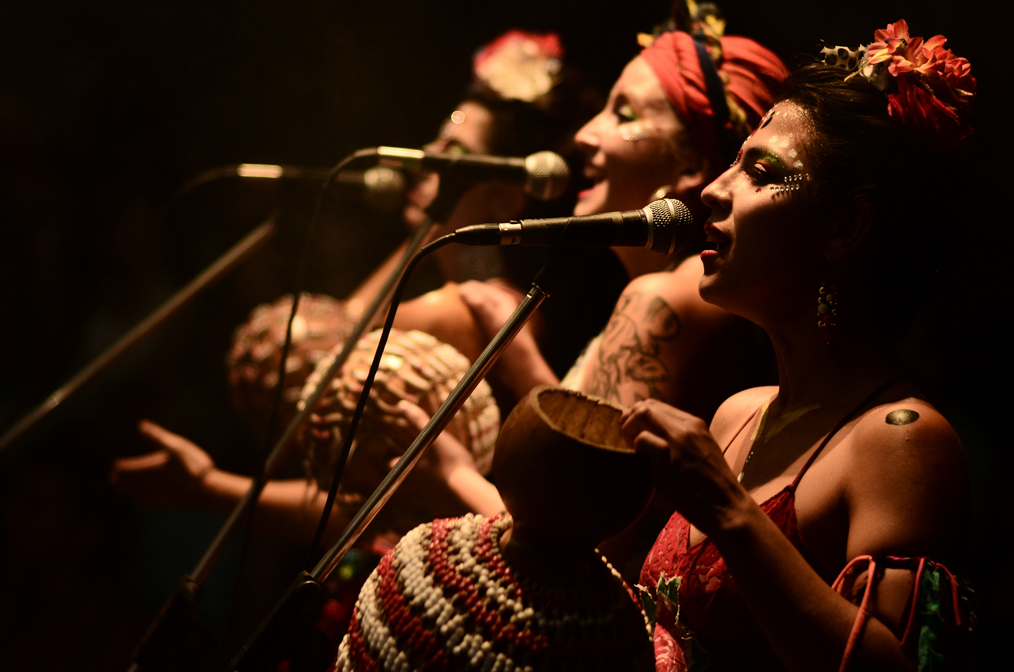 Top 10 South American Afrobeat Jams
16 February, 2016
It's beautiful to see how artists come together and make an international community from a musical style taken out of a humble region of the world, especially when the sound is fuelled with rebellious attitude and search for unity. Afrobeat was born between Ghana and Nigeria before the African diaspora exported it to the rest of the world.
For a long time, South American contribution to the proliferation of the genre is not clear, but you can see the influence on music from heavy afro-mestizo countries from the north of the continent, with notable references during the late 70s on in the sound of Banda Black Rio from Brazil and Wganda Kenya from Colombia.
Nowadays, you can finds contemporary bands of afrobeat in southern countries like Argentina, where the love for the vintage sound is evident in the FELA Festival (Festival Latinoamericano Afrobeat), and Chile, where the locals Newen Afrobeat and Argentinean orchestra Tam Tam Afrobeat recently joined forces in Santiago to hit the stage with Seun Kuti, inheritor of the blood from one of the originators, Fela Ransome-Kuti.
El Gran Capitán – Llanuras (Argentina)
Starting off with a slight feel of South-American folklore before building into a deep African funk, El Capitán Afrobeat from Buenos Aires show their intentions on one of the first original compositions the orchestra has recorded.
Newen Afrobeat – Nación Nueva (Chile)
One of the first significant afrobeat outfits from Chile, the name of the band is taken from the word "newen" which means "force" in Mapudungun. "Nación Nueva" blends clear references to the Nueva Canción movement with an excerpt from Victor Jara and socially conscious lyrics.
Abayomy Afrobeat Orquestra – Malunguinho (Brazil)
Funky from the start to end, the track is a party starter, it's hard to say if it's the Portuguese language or the upbeat instrumentation, but when you hear Brazilian Afrobeat, the tropical essence of the genre pops up like the degrees on a summer vacation on the Caribbean.
Morbo y Mambo – Chori '95 (Argentina)
Morbo y Mambo plays a varied range of genres like funk, dub and psychedelic rock, so their compositions are often darker and a little more introspective, with the traditional brass section playing along deep and dark synths and powerful electric guitars.
BNegão & Seletores De Frequência – Alteração (Éa!) (Brazil)
As times goes by, the versatility of BNegão as an MC has been put to the test, whether singing samba covers over dancehall beats with Digitaldubs or baile funk rhymes with Maga Bo. One of the icons ofrap carioca explores dub, punk and afrobeat in his project with Seletores Da Frequência.
Tragavenao Afrobeat Orquesta – Ñequito (Venezuela)
How many afrobeat song titles start with the letter Ñ? The iconic character for Spanish language, it also gives you a hint of the track with the vocals adding a Caribbean folkloric flavour to the mix, making the song very authentic and full of Latin identity.
Nelda Piña & La BOA – Viejos Tiempos (Colombia)
Straight fusion of cumbia and afrobeat, Nelda Piña & La Boa take rhythms from Colombia and blend them with funky elements of Nigeria. The band is formed by the front woman Nelda Piña and BOA or "Bogotá Orquesta Afrobeat", an eleven piece instrumental combo.
Bixiga 70 – Kalimba (Brazil)
Taken from their 2014 album Ocupai released by Mais Um Discos, "Kalimba" is a carnival of pantropical elements. Bixiga 70 is one of the most successful afro funk bands from São Paulo, acclaimed by the international press and always touring around the world.
Tam Tam Afrobeat – Fertilizado (Argentina)
More than an Afrobeat orchestra, the music from Tam Tam Afrobeat sounds like a sonic adventure through the roots of African rhythms, keeping the funk elements on hold for a deeper tribal experience, with Afro-Latin percussion playing a big part in their psychedelic explorations.
Ondatrópica – Tiene Sabor, Tiene Sazón (Colombia)
When Mario Galeano (Frente Cumbiero) and Will Holland (Quantic) decided to put together legends of Colombian tropical music like Michi Sarmiento and Pedro Ramayá Beltran to compose new classics, it was evident that the African roots would eventually show up, as on "Tiene Sabor, Tiene Sazón".

Follow Sounds and Colours: Facebook / Twitter / Instagram / Mixcloud / Soundcloud / Bandcamp

Subscribe to the Sounds and Colours Newsletter for regular updates, news and competitions bringing the best of Latin American culture direct to your Inbox.
Share: