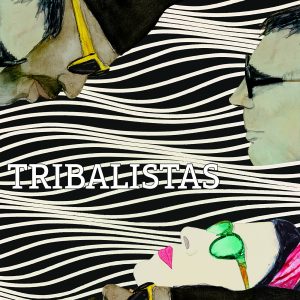 Review
Tribalistas – Tribalistas (II)
After a hiatus of 15 years, Marisa Monte, Carlinhos Brown and Arnaldo Antunes are collaborating again as Tribalistas. The years apart have done the Brazilian megastars' reunion well. Their album, Tribalistas (self-titled like their first), is effortless, warm and stimulating, a testament to their maturity as artistes and their integrity as a trio. They have managed to recall the simpatico of their first long-ago union, while embarking on more contemporary sounds in the same easy groove.
These 'tribalistas' sport none of the negative stereotypes the word unfortunately evokes. There's nothing insular nor menacing here; instead, one senses their tribalism marked by camaraderie and common purpose, reminding us of their grounding in tropicália, the seminal and innovative movement born in the late 60s, and its seamless wedding of music with message. Neither maudlin nor antagonistic, the album is a lament for the world's crises, from the forced displacement of many peoples to the plight of the environment and animals harboured therein.
The album is a digital-only release; the first four cuts were dropped in June live and by surprise via Facebook. All ten tracks are now available on Spotify and digital platforms worldwide, with YouTube carrying the videos and separately, the lyrics (in Portuguese).
"Diáspora", the first of the four 'dropped' tracks, voices a poignant reminder of the horrors facing the world's refugees, the countless stateless people who have fled their homelands, leaving them "como romanos sem coliseu" (like Romans with no Coliseum). There is scarce optimism here, yet not defeat, as the percussion remains insistent and vital, as if to move the exiles continually forward. Marisa Monte's plangent echo rides above an imagined sea, searching for all those who have been wrenched from her, while imprecating a higher being to save them from their fate. "Diáspora" is perhaps the most complete and beautiful tune on this compelling and poignant album.
Not far behind is "Os Peixinhos" (Little Fishes), another song evoking the sea, spilling musical colours that gently splash over the water, landing like the notes of a song on music paper. The tune evokes the small and grand world under the sea by combining a number of effects to simulate the song of whales as well as the little fish of the ocean depths gurgling up oxygen to sustain life above and below them. "Os Peixinhos" avoids gimmickry, offering instead a sonic and meditative backdrop to images of the imperilled sea and climate change. Adding to the bittersweetness of "Os Peixinhos" is the elegant young fadista, Carminho, who elongates and bends her vocals, reimagining the song as a 'fado tropical".
Um Só (We Are One) harnesses community in a more sanguine offering. Repeating in nearly every line, "Somos" (we are), "Um Só" becomes a mantra of mindfulness and peace. As disparate as we may seem, say the Tribalistas, "communists and capitalists", "…the law… the thief", "half-breeds and the pedigreed", we are nonetheless one, and it is as one that we will persevere.
Other standouts include "Aliança", languid, acoustic and seemingly crafted especially for Ms. Monte's vocal charms (she's also on guitar here), recalling her earlier work with Carlinhos Brown, and "Anima", again water-themed and dreamy, gracing us with more Marisa, and trippy yet relevant lyrics: "I'm on this flight, not bringing weight, just bringing wings". ("Vou nesse voo, não levo peso, só levo asa.")
We can easily marginalize the minor gripes, as when repetition sits just on the somnolent side of simplicity ("Trabalivre"), and feels cozy within the intimacy of a compact conjunto of six or fewer players, florid yet crucial lyrics, affecting melodies, and tasty yet not overpowering vocals. Tribalistas is, in short, luscious.

Follow Sounds and Colours: Facebook / Twitter / Instagram / Mixcloud / Soundcloud / Bandcamp

Subscribe to the Sounds and Colours Newsletter for regular updates, news and competitions bringing the best of Latin American culture direct to your Inbox.
Share: