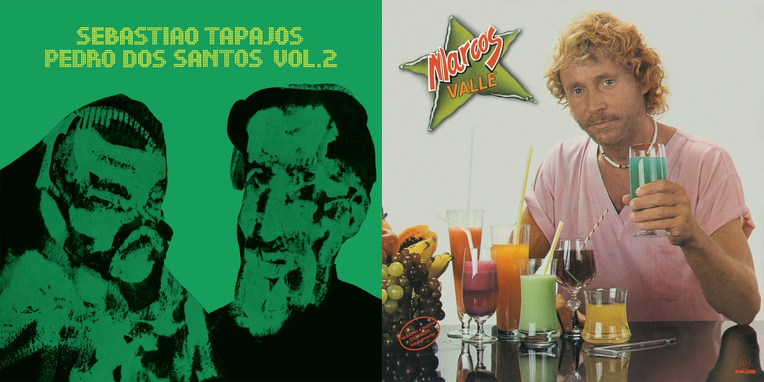 Two Blasts from Brazil's Past (Sebastião Tapajos & Pedro Dos Santos, Marcos Valle)
05 March, 2020
It may be a case of chalk and cheese, but this pair of contrasting re-issues from Vampisoul testifies to the rich variety of Brazilian music still waiting to be (re)discovered.
Sebastião Tapajos & Pedro Dos Santos: Vol. 2
Vampisoul
****
The term 'lost classic' gets bandied about a little too frequently these days, as more and more reissues emerge from a dim and distant past. 'Lost' this lovely little album certainly was. Originally, it was recorded in Buenos Aires and first released only in Argentina back in 1972. Given that its hallmark is the delicacy of the interplay between acoustic guitarist, Sebastião Tapajos, and the inventive percussionist, Pedro 'Sorongo' Dos Santos, it's incongruous that "Tornei a Caminhar", one of only two tracks here that could have conceivably tempted people onto a dance floor, should have renewed interest in the album during the heyday of the London Latin/jazz dance scene.
As for 'classic'? Well… it's certainly a rather remarkable affair in its own quiet, unassuming way. Tapajos plays beautifully throughout, recalling the likes of Toquinho and Baden Powell. But the real star of the show is Dos Santos, whose percussion is both discreet and highly imaginative. On "Ganga", for example, the up-tempo opener, he uses heavy breathing and the simulated sound of castanets to push the guitarist along. On his solo tour de force, "Escola da Samba", double-tracking allows him to build up the individual layers to create a virtuoso one-man samba school. If this is the one track that could be possibly be labelled as 'showy', the other 10 tracks on which he plays suggest that it is not simply done for effect.
Tapajos' solo slot, "Feitio de Oração", is the very model of taste and discretion – two qualities here in spades throughout. Like most of the tracks, it serves to exemplify the maxim, 'Less is more'. On several tracks, it's just the two of them, with Tapajos playing a bass line of sorts on the lowest of his six strings. On others, a full four-string electric bass makes an appearance, particularly on the aforementioned "Tornei a Caminhar" (which also features a minimal vocal refrain and even a little bit of brass), and the quasi-cinematic "Emboscada", which adds among other things a flute, used in a sparing and welcome fashion on the second side. Suitably, "Sambaden" serves as a brief and minimalistic closer, leaving the impression that, if not a 'lost classic', Vol. 2 is a little gem that went missing for too long. Sincere thanks to Vampisoul for finding it again. Now to search for Vol. 1…
Vol. 2 is reissued by Vampisoul
Marcos Valle: Marcos Valle (1986)
Vampisoul
***
It seems that Marcos Valle must be having the time of his life. Last summer, Far Out Recordings issued Sempre, to scotch any idea that the septuagenarian was losing his powers. Then Mr. Bongo re-released Braziliance! in the new year to remind us of a youthful tunesmith at the outset of a long career. Coming soon to a disco near you is this eponymous album from 1983, re-issued by Vampisoul to demonstrate how the years spent in L.A. during the mid-to-late '70s marked the middle-aged groover. And groovy, it certainly is. Having worked with the likes of Leon Ware in the U.S., there are shades of the man who collaborated with Marvin Gaye on I Want You throughout, but particularly on the lovely late-night vibe of "Tapa No Real", which opens the second side. Taken as a whole, this second album following Valle's return to Brazil transports you straight back to the tail-end of the disco era. It was a time when producers like Quincy Jones worked their magic on artists like George Benson and every LP, it seemed, of a certain denomination would have an obligatory and judicious mix of dance tracks and lush ballads.
This is no exception. The opening track, "Estrelar", co-written with Ware, was Valle's biggest hit of the '80s and one of his most enduring career highlights. It's straight outta disco heaven: a Whispers-like bass line, horns as crisp and snappy as Earth Wind & Fire's, and a memorable melody based on a structure of call-and-response between singer and female chorus. "Para Os Filhos de Abraao" has enough BPMs to get even the laziest slacker onto the floor. The bass, it has to be said, is slapped, but not in too forthright a way, and there's an echo of The Players Association, who turned the music up back in '79 with the help of a whole clutch of leading jazz men of the period. Concluding the first side, "Naturalmente" is one of Valle's trademark scat-sung instrumentals propelled by keyboards and synth bass. "Dia D" on the second side sounds unerringly like EWF with their "Boogie Wonderland" sidekicks, The Emotions.
The big-production ballads include another of Valle's perennial classics, "Samba de Verão", updated appropriately for the era, and the instrumental "Viola Enluarada", which concludes proceedings and features a harmonica in the style of that Quincy Jones regular, Toots Thielemans. We shall gloss over the album's one indelible stain, the bizarrely awful "Tapetes, Guardanapos, Cetins" on which Valle appears to make a garbled attempt to sound like Johnny Mathis. Either that or it's an in-joke for Portuguese speakers only. Had he been thinking clearly, the artist and/or producer would have made this the last track, so one could raise the arm or press 'stop'. Never mind. Marcos Valle aficionados will want to add this previously hard-to-find album to their collections. Lovers of Brazilian music generally should check it out if they still have a place in their heart for records like Give Me The Night.
Marcos Valle (1983) is reissued by Vampisoul

Follow Sounds and Colours: Facebook / Twitter / Instagram / Mixcloud / Soundcloud / Bandcamp

Subscribe to the Sounds and Colours Newsletter for regular updates, news and competitions bringing the best of Latin American culture direct to your Inbox.
Share: