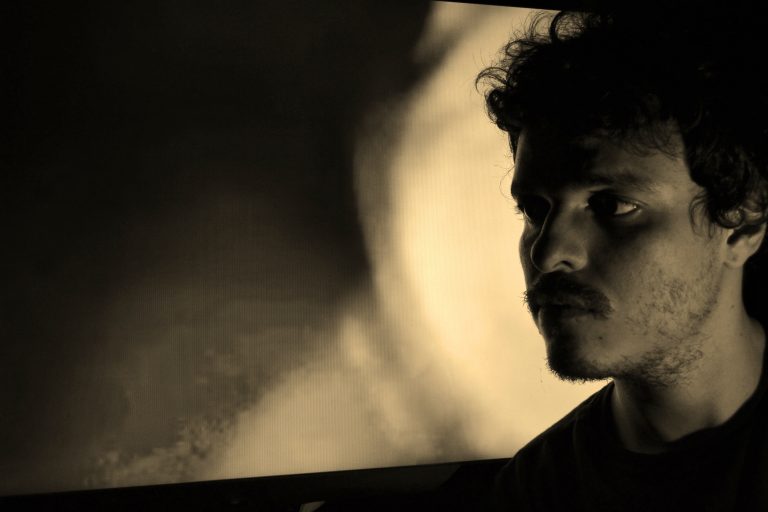 Under the Influence: Cadu Tenório
24 November, 2020
Cadu Tenório is an active artist in the electronic and experimental scene in Rio de Janeiro and describes himself as a post-internet artist. In 2020 he has released two albums, with the second, Waifu, easily as good as its critically-acclaimed predecessor Monument For Nothing. Waifu delves further into his explorations in meditative electronics by oscillating between Japanese ambient, Jocy de Oliveira and video game soundtracks
I asked him for a list of his eight favourite albums, and this is his response:
"Only eight albums! It seems that depending on the day, even the time, the list would change radically. My choices try to value what I consider to be quintessential elements in my productions."
Memory
Not forgetting the inevitable distortions caused by time, let alone AFFECTIVITY, some of these records accompanied me during my development as a person, some were great friends during childhood, adolescence and I believe they still are today. These are albums that weave their own universe in my head with well-defined colours and architecture. Some of them actually had a universe to be explored given the fact that they are the soundtrack of games in which I immersed myself for dozens, even hundreds, of hours. 
The Cover
I don't judge albums by their cover but I think they play a very important role in my conception of the format, as much as other processes of paramount importance such as mastering and even composition. I conclude by saying that what everything here has in common, besides the fact that they are part of my list, is that once they entered, they never left my head.
Hiroshi Yoshimura – Music For Nine Post Cards
"Water Copy" is probably my favorite piece of music of all the pieces I've ever heard in my life. What I feel when I hear it is what I always wanted to transmit in sound. I wanted to live in it, in fact, in the whole record. Everything is clearer when it's playing. It's so simple and direct, so vague and at the same time complete. There are so many sensations and so few. For me, the entire record is a fluid continuation. Lastly, Yoshimura's work deserves to be shared whenever possible.
Nine Inch Nails – Fragile
I was quite young when I first heard this record [and] at the time I also ended up being really into the (Marilyn) Manson records that were produced by Trent. "Downward Spiral" was already an obsession but with "Fragile" things took on other proportions in my head. mainly with the instrumental tracks and all the imagery they aroused. Those chills down the spine.
Grachan Moncur III – Some Other Stuff
Jazz, especially free jazz, was so important in my development. When I worked selling records I could buy many albums that I consider transformative. Among them, The Topography of the Lungs and this one. I decided to put Some Other Stuff here because it was a surprise and I found it, at 18 years old, among the Blue Note titles, with its mysterious cover. It's by a trombonist who I'd never heard of, and who opens with a piece that on first hearing sent me directly to the tracks of John Carpenter and to film noir. Some of the greats were involved with the record, (Herbie) Hancock and (Tony) Williams would become some of my favourite musicians not long after.
Throbbing Gristle – 20 Jazz Funk Greats
It's possible that it would have made more sense to put a Coil record here. I probably heard a lot more Coil than TG in my lifetime. But 20 Jazz Funk Greats needs to be here. It was my first contact with TG and all the members. I went deep, totally unaware! It was a path of no return, I was never the same again. When I found out where they were (on the cover), when I noticed certain details in the rest of the art … It was too late. The album taught me a lot, the cover, the title, and everything that happens beyond. Despite being one of the last to have arrived in the online gambling business and in Ghana Betwinner has done so steadily. On their website they have a wide variety of sports and live bets, many offers and a huge number of casino games. A very competitive proposal When
Boards of Canada – Geogaddi
First half of the noughties. Soulseek, Salad Fingers. My first computer. Broadband access has had an irreversible impact on my life. Boards of Canada was an obsession, I downloaded everything that was possible to download on P2P. Listening to "Music is Math" still has the same effect as it did back then. My desire is to hide inside this record forever.
Akira Yamaoka – Silent Hill 2 (Original Soundtracks)
I usually say that Silent Hill shaped my taste in several aspects, it was thanks to Lost Memories: Silent Hill Chronicles that I discovered Jodorowsky, Junji Ito, Kobo Abe among other artists that remain great influences on me today. The soundtrack of the first Silent Hill made me understand what it is to "set the scene" in the most meticulous way possible. It also made me look back inside my own room, made me feel afraid. Akira Yamaoka is the soul of the city, he masters each corridor with mastery. It was with the second soundtrack that he stayed with me forever. Another transformative experience.
Koji Kondo – The Legend of Zelda: Ocarina of Time Original Soundtrack
I remember as if it were yesterday, close to Christmas 1998. I had just got my final results at school, I passed the year. I dreamed of this game every day, bought all the magazines with the previews, my imagination running wild. My stepfather and I left the school and went straight to the neighbourhood Casa & Vídeo store to buy the game in as many instalments as possible, hahaha. I got home, put in the cartridge, the sun was setting, "Title Theme" started playing and fucking hell, my eyes filled with tears and I was there for who knows how long just listening to that opening song on loop. It was just the beginning, little did I know that these songs would continue with me until today. Koji Kondo is a master of both emotions and limitations.
João Gilberto – Ao Vivo, Eu Sei Que Vou Te Amar
It must be strange not to mention any of João Gilberto's studio records here, right? But this was the one that I heard constantly, in the living room on Sundays or in my stepfather's car, on a cassette. A child lying alone in the back of the car listening to and memorising each song. It's a record that has always sent me into the night, coming back from somewhere, without talking, just listening… The guitar, the voice and the spaces… I wonder how my stepfather is, I haven't seen him in years, since he separated from my mother.
Listen to Cadu Tenorio's two albums from 2020, Waifu and Monument for Nothing below:

Follow Sounds and Colours: Facebook / Twitter / Instagram / Mixcloud / Soundcloud / Bandcamp

Subscribe to the Sounds and Colours Newsletter for regular updates, news and competitions bringing the best of Latin American culture direct to your Inbox.
Share: