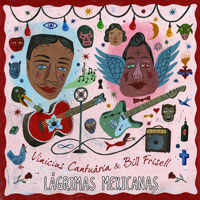 Review
Vinicius Cantuária & Bill Frisell – Lágrimas Mexicanas
A duet is special when the chemistry between the partners is focused and unforced. A duet is exceptional when the partners somehow create a band that suggests more than two members. Brazilian vocalist-guitarist Vinicius Cantuária and American guitarist Bill Frisell have a major advantage in this respect as the former also plays percussion and the latter uses a pedal board that creates a wide range of loops and effects that lend orchestral detail to any chord sequence and main melody of a song.
So the bulk of the tracks on this enchanting disc do indeed sound like the work of a three or four-piece combo, but the rub is that there is a delicacy, an eye-of-the-needle precision, that still retains something of the heightened conversational intimacy that defines the duet format at its best. Arguably the most legitimate heir apparent to Tropicalismo legend Caetano Veloso, Cantuária has emerged as a fearlessly experimental figure in Brazilian music in the past 20 years and daringly steered bossa nova towards an undefined stylistic space in which fractured, non-linear electronica, hard-edged rock and understated jazz resonances synthesize as if to the manner born.
Frisell, one of the great omnivores of modern music, is an apposite collaborator primarily because he is as interested in crafting threads, fringes and veils of sound by way of technological means as he is playing strong theme and improvisation, and the union of the two men on this programme of originals that shifts seamlessly from Brazilian to Spanish to Mexican inflections pays substantial creative dividends. Given the wistfully light but piercing quality of Cantuária's tenor, the vocal songs command immediate attention; but on repeat listening it is the instrumentals that reveal greater riches. "Briga De Namorados" is a highlight – a wordless tragicomic ghost story, such is the evocative power of its eerie deceleration from bright samba skip to bleak adagio crawl. Frisell's teasing tremolos glisten over spirals of processed sound before an abrupt reprise of the sunny opening chords, the effect of which is as bizarrely beautiful as it is beautifully bizarre.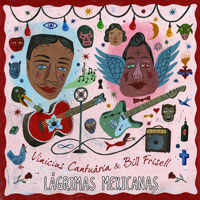 Tracklist:
1. Mi Declaration
2. Calle 7
3. La Curva
4. Lágrimas Mexicanas
5. Lágrimas De Amor
6. Cafezinho
7. El Camino
8. Aquela Mulher
9. Briga De Namorados
10. Forinfas
You can buy this CD from Amazon and iTunes
Originally published on BBC Music

Follow Sounds and Colours: Facebook / Twitter / Instagram / Mixcloud / Soundcloud / Bandcamp

Subscribe to the Sounds and Colours Newsletter for regular updates, news and competitions bringing the best of Latin American culture direct to your Inbox.
Share: