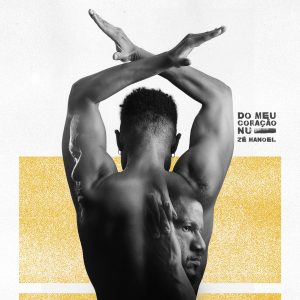 Review
Zé Manoel – Do Meu Coração Nu
Keen followers of Brazilian music will be well aware of the talents of Zé Manoel. Born in Petrolina, Pernambuco, he studied classical piano before moving to Recife in the mid-2000s and establishing himself there as a huge talent, working with local musicians from bands such as Orquestra Contemporânea de Olinda, Spok Frevo Orquestra and Grupo Bongar. Since then, his star has continued to rise. He's released a handful of albums and EPs, as well as recorded with a who's who of MPB singers (Adriana Calcanhotto, Fafá Belém, Elba Ramalho, Ava Rocha), but his music has largely always felt (at least to me) as if it was bound to the conservatory, his training giving the music a layer of erudition that made finding its soulfulness that little trickier.
Something has changed on his latest album, Do Meu Coração Nu, which feels like an artistic awakening, Zé Manoel opting for simplicity on songs like "Canto Pra Subir" and "História Antiga" that allow his voice and piano to soar, and creating a narrative across the album that sees him discuss his own African ancestry, as well as the stories of his fellow Afro-Brazilians. Historian Beatriz Nascimento is sampled (her voice taken from the 1977 documentary O negro – Da senzala ao soul) on "Escuta Beatriz Nascimento", her speech talking of the invisibility of black and indigenous voices in a history written by whites. He then builds on this discourse on "Notre Histoire", feeding from his research, and finding musicality and poetry in this sombre topic. The following track "Não Negue Ternura" is lighter in tone, though no less emotional, a duet with Luedji Luna that deals with black love and acceptance.
Manoel has created an album in conversation with Afro-Brazilians past and present, but also with international references, "Canto Pra Subir" being inspired by Charles Aznavour's song "Il Faut Savoir" (popularised by Nina Simone as "You've Got To Learn"), and in particular the lines: "You've got to learn to leave the table, when love's no longer being served". The simple arrangement, trills of effervescent piano interwoven with woodwind instruments that dance around the melody, is sublime, giving Manoel's voice and beautiful lyrics all the space they need to shine.
On "Pra iluminar o Rolê" there is real levity in its samba-bolero swagger, with the contributions of Stephane San Juan on drums and Kassin on guitar no surprise, the sound recalling the progressive takes on MPB and samba they make with their countless projects. American singer Gabriela Riley, who showed up recently on Thiago Nassif's Mente album, also makes an appearance on the soulful dreamy jazz of "Wake My Divine".
Then, there is final track "Adubé Obaluaê", which samples Os Tincõas' classic "Obaluaê". In Manoel's version it features strident piano bolstered by flourishes of wind and brass, with percussion and an assured vocal making it the most powerful track on the album. Its accompanying video continues the themes of African identity and legacy that are imbued throughout the album, and which have led Zé Manoel to make his most impassioned album to date. It feels like a decisive step out of the conservatory, the depths of feeling now able to match the quality of Manoel's playing, which has never been in doubt.
Do Meu Coração Nu is available from digital platforms

Follow Sounds and Colours: Facebook / Twitter / Instagram / Mixcloud / Soundcloud / Bandcamp

Subscribe to the Sounds and Colours Newsletter for regular updates, news and competitions bringing the best of Latin American culture direct to your Inbox.
Share: