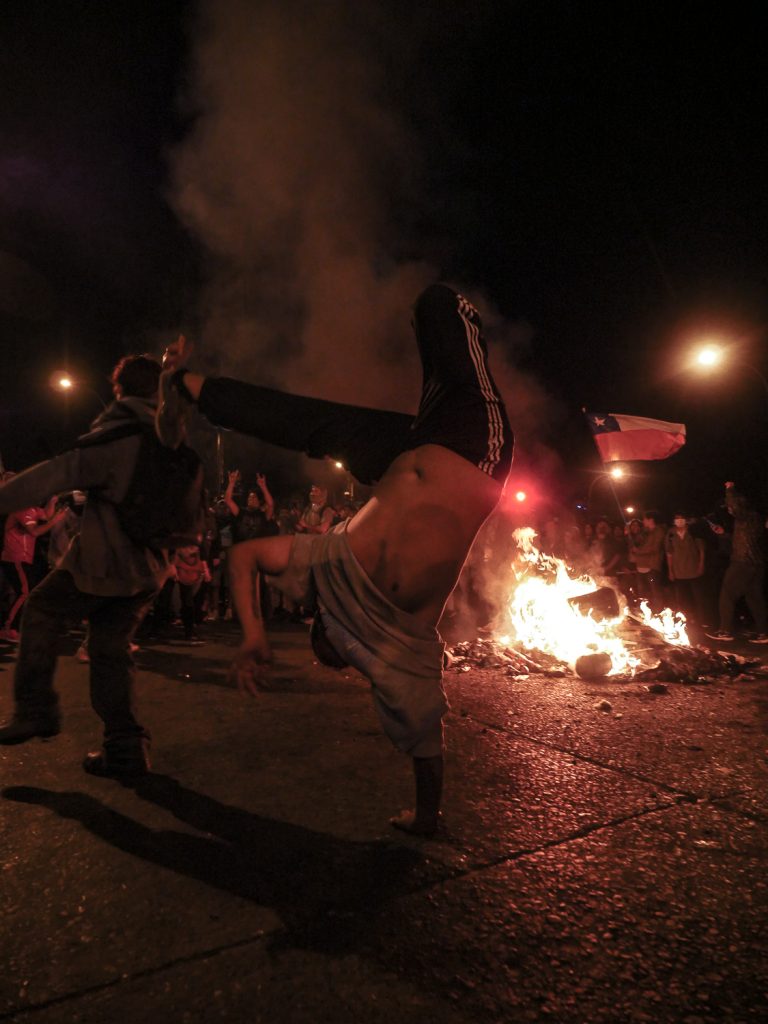 10 Chilean Tracks Inspired by Current Protests
30 October, 2019
Protest for social inequality in Chile haven't stopped, even after efforts by the government to calm the airs. There may be a "change of faces" in the cabinet but there are no signs yet of a change in their political views. There was a hope, from some, that last Friday's biggest march since the end of the dictatorship would be a way of closing up a week of manifestations, but it seems that people will not stop until their demands have been listened to. The protests continue.
The initial criminalization of the protests, due to the riots and metro fare evasions, led to many artistic manifestations. Graphic artists and illustrators filled digital walls with their political cartels and musicians took over the streets to perform songs by Victor Jara, Quilapayún's "El Pueblo Unido" [above] and 80s electropop classics by Los Prisioneros, whose members have all spoken out against this government.
Although it is hard for some musicians to create, and a lot of them are on the streets supporting the people, here is a list of music made this past week, inspired by this social movement:
Ana Tijoux – #CACEROLAZO
One of the first original tracks to surface on the network, it was a "better late than never" support by Ana Tijoux, who was abroad on tour and could only show support to the movement in a way she has done before, with her music, as she has done previously with songs like "Shock".
Lluvia Acida – El Pueblo Está En Las Calles
An iconic duo in Chile's experimental music scene, their experience of field recordings is present in this recording using the sounds of manifestations taking place in Magallanes, in the south of the country. This was one of the first tracks that didn't focus on strong lyrics but on raw electronics.
Jonas Sanche – #DictadoresFuera
His flow has been certified and his topics of internal struggle and self development were always poetic and lyrically complex, but this may be Jonas Sanche's first direct hit on social inequality and the political status, though he did already throw some punches on songs with his friends Habitación Del Pánico.
Merci Merci – De Jorge Para El 19
Made as a kind of tribute to a track by Valesuchi called "Nasty Woman" that featured a feminist speech on protests in the USA, Merci Merci took old footage of Los Prisioneros' vocalist Jorge González talking about his vision for the future of the country, where he predicts the recent political crisis.
Ender – La Real Amenaza
Raised in one of Santiago's most marginalized areas, Ender knows the real face of police repression, the cops using their more aggressive tactics on the country's poorer people. That's where the subject topic and title of his song, translated "the real menace", comes from.
Syntrovert – Barricada
Rave culture and underground club music have always managed to be on the side of social dissidence. This has been made clear in the new wave of Latin club music these past few years, with collectives like Hiedrah and Bateko flying the flag. Syntrovert joins the pack here with a song made for inspiring you to erect barricades.
Ases Falsos – Yo Sí Estoy En Guerra
Always politically incorrect, though not always in a good way, Ases Falsos add pop sound to the political discourse. In their polemic fashion, they turn around the hashtag #YoNoEstoyEnGuerra (I'm not at war) saying "Yes I Am At War", singing along about police brutality and social discontent.
Diego Robot – Evadir
Using a whole pack of free-to-use beats, Diego Robot is one of the beatmakers behind the Vaguada Costera label, where you can listen to instrumental hip-hop and trap from Chile. This is the intro to the Evade Mixtape, sampling newsflashes about metro fare evasions.
Various – Por La Rima O La Razón
This cypher brings together some well know faces of the Chilean rap scene with plenty of underground spitsmen in it's over 8 minute length. The list of MCs is long, with El Tipo Borderline, Jazone, Omega El CTM, Claudio Bastardo, Macrodee, Latina Sativa, Jhonny Fumo, Gran Rah, Zita Zoe, Droow, Lely Soul, Leviatán, Autodidacta and E.Cais all contributing.
Various – El Derecho De Vivir En Paz
A song that has became the anthem of this movement, originally written and performed by Victor Jara. It's lyrics were a call to peace about the Vietnam war, that's why this cover version has new verses to adjust it to the current Chilean context. Performed by Cami, Gepe, Camila Moreno, Moral Distraída, Fernando Milagros, Mon Laferte, Denisse Malebrán, Benjamín Walker, Fernando Milagros, Pedropiedra, C-Funk, Kanela (Noche De Brujas), Pollo (Santaferia), Lalo Ibeas (Chancho En Piedra), Consuelo Schuster, Augusto Schuster, Gianluca, Princesa Alba, Tommy Boysen, Joe Vasconcellos, Roberto Márquez (Illapu), Nano Stern, Javiera Parra, Eli Morris, Fran Straube (Rubio), Mariel Mariel, Paz Court and Manuel García.

Follow Sounds and Colours: Facebook / Twitter / Instagram / Mixcloud / Soundcloud / Bandcamp

Subscribe to the Sounds and Colours Newsletter for regular updates, news and competitions bringing the best of Latin American culture direct to your Inbox.
Share: