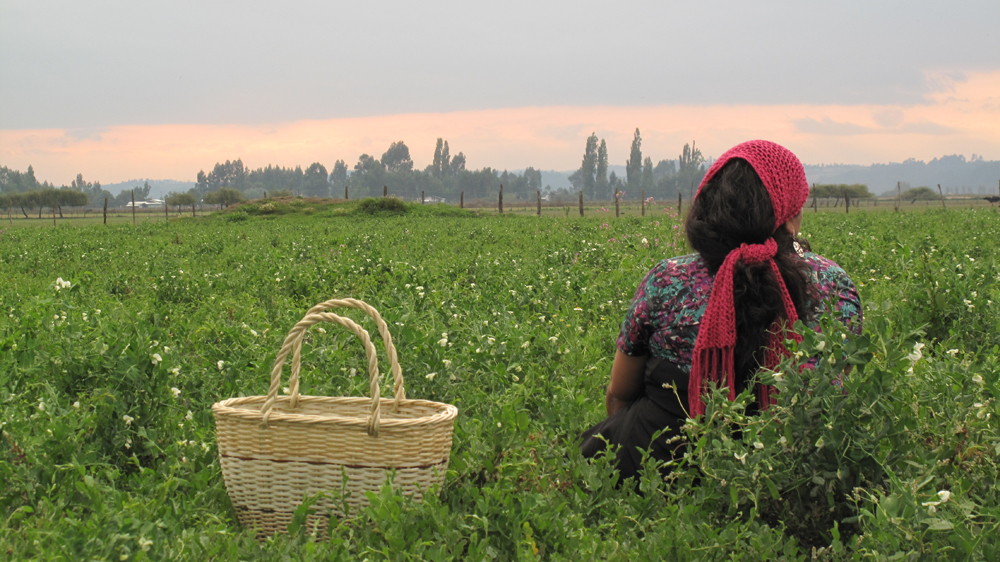 Calling The Shots: Chile's New Wave of Female Filmmakers
04 April, 2013
The traditionally male-dominated global film industry has shown gradual signs of evolution in recent times, and nowhere is this more evident than down in Latin America's Southern Cone. The film scene in Chile has witnessed a new wave of award-winning and highly well-received films directed by women over the last two or three years. In addition to the prizes picked up at international festivals, national sections in a number of Chilean film fests have featured a majority of women directors, a far cry from the typical boys' club that has been the norm for so long. It is a positive surge in filmmaking that reflects the international success enjoyed by several other contemporary female directors in Latin America, such as Argentina's Lucia Martel, director of La Mujer Sin Cabeza (The Headless Woman), or Peruvian director Claudia Llosa, who made La Teta Asustada (The Milk of Sorrow). The rise of female filmmaking can be seen across the region, yet in Chile a movement that has been largely unheralded outside of the country seems to particularly be in full bloom.
Much of this was evident in Santiago's recent Femcine festival, which gave a strong account of what's going on right now with regards to female filmmaking in Latin America. The event, now in its third year, featured several films from Chilean and international directoras, with competitions for short films, or cortometrajes, in both the national field and the Spanish-language international category. But Femcine's main attraction is not so much in the prizes, which focus only on short films, but in what lies elsewhere on general show. Entry to all screenings is free, therefore making the event highly accessible and bringing in large and diverse audiences. Ten feature films broaching a wide range of themes, both fictional and documentary, from female Chilean directors showcased the high quality output that Chile's feminine side is nowadays producing. It's not possible to write about all of them but some were very good; Paola Castilla and Tiziana Panizzi's 74m2; Maite Alberdi's El Salvavidas (The Lifeguard), about simmering lifeguard rivalries (Baywatch it is not); or Dungun, La Lengua (Dungun, The Language), from Pamela Pequeño, which follows a teacher in one of Santiago's working class poblaciones as she attempts to preserve Chile's indigenous Mapuche heritage by teaching the language to her young charges.
There were also a few winners from previous festivals on show. Constanza Fernandez' Mapa Para Conversar (Map for a Talk) won the national director's prize at the 2011 Santiago International Film Festival (SANFIC), the capital's biggest film event, the first time a woman had taken the award, while the following year it went to Cuentos Sobre El Futuro, a coming-of-age documentary from another Chilean woman, Pachi Bustos. The documentary Sibila was the overall winner at last year's Santiago Festival of International Documentaries (FIDOCS), an event that was notable for the number of female nominees in the category eventually won by Teresa Arredondo's excellent film.
Out of nine films in the national category competition at FIDOCS 2012, six were directed by women, while the 2011 competition was won by another Chilean woman, María Paz Gonzalez, for her film Hija. When you consider that Dominga Sotomayor's De Jueves a Domingo took home the gong at the 2012 Valdivia International Film Festival, it becomes plainly apparent that Chile is currently riding the crest of an exceptionally talented wave of female filmmakers.
Sibila director Teresa Arredondo is one of this modern crop of directoras, and was the deserved winner of FIDOCS 2012. What does she think is behind the new wave of femi-cine and the subsequent success garnered by so many of these films? "I wouldn't say it's specifically related to feminine themes but it seems to more that there is a particular feminine vision, "she says. "I think that a lot of these films focus on general topics but perhaps interpreted from a female viewpoint."
Sibila is certainly told from a highly personal perspective. A Chilean-Peruvian who grew up in Lima, Arredondo's film focuses on her own aunt, the eponymous Sibila, who was imprisoned in Peru in the 1980s for involvement in the Sendero Luminoso (Shining Path) revolutionary movement. Amid the wider social contexts of the Sendero, whose civil war with the military resulted in an estimated 70,000 deaths, the film provides a character study of an elderly woman of impenetrable moral substance, whose kind face and warm smile provide an explicit contrast with the seriousness of the crimes that saw her serve fifteen years in a high-security prison.
According to Teresa, there is a distinct characteristic that goes some way to explaining the exceptional output of female-directed films.  "I get the impression that there is a strength among Chilean women which sees them carry out their projects until the very end, and to commit themselves fully to what they want to do. They finish it, they show it at festivals, and they stay with it completely until it's finished. They stay focused with the thing until the end. It's the same with female politicians."
So, does she attribute this strength as particularly emblematic of Chile? "I wouldn't say it's necessarily something more apparent here than in other countries, but from what I've seen I think that there is a sense of fight here." It's an interesting concept that can find substance in the high profile and influential personalities of several women in Chilean culture, such as the mercurial Violeta Parra and her songs of social justice, the revered leftist politician Gladys Marin, or the leader and public face of the 2011 student uprising, Camila Vallejo.
There are a couple of things which go some way to explaining why so many talented women have emerged on the Chilean film scene. Firstly, technological developments have made filmmaking much more accessible to the masses, with quality production possible on a relatively low budget. Then there's the fact that Chile has been enjoying something of a cultural flourishing in recent times. The Pinochet dictatorship of 1973 – 1990 stifled individual identity and artistic expression, persecuting musicians, artists, writers and so on, leading to an exodus of creativity and the imposition of a cultural vacuum in the country. The last few years have seen those born in the dictatorship's latter stages or shortly after the return to democracy reach adulthood and occupy that void with relish, determined to embrace the artistic spirit so cruelly denied their parents' generation.
The director of the Femcine festival, Antonella Estevez, acknowledges the importance of higher accessibility to film production equipment as a key factor in the rapid increase in not just female directors, but all filmmakers in Chile. "One could say that Chilean film is living a good moment in general," she says. "Access to technical equipment has significantly reduced the costs of film production. There has also been a proliferation in film schools in Chile that has allowed young people to acquire the abilities that make them more efficient. In the case of women, it seems to me that a journey began various years ago, in fiction but especially in documentary. What we see today is the crossing of many factors that allow women to have more presence onscreen and behind the camera."
She also believes that documentary has been utilized by female directors for reasons of exigency as much as creativity. "Unfortunately, there still exists a mistrust, in all areas, and also in film, of the leadership and capabilities of women.  That's why it's not strange that the majority of films directed by women are documentaries of limited production or low-budget fiction. There exist today some notable exceptions that are marking the difference and making the road for the new generations of female directors."
Could it also be that a loosening of social attitudes has allowed more women to forge successful careers in the arts? Chile has a reputation as one of South America's more conservative countries but the post-Pinochet generations largely reject the social inequalities that for such a long time have been facts of life for the majority. This desire to forge a more just and equal society was catapulted into the limelight with the massive student revolt of 2011 that shook the country to its very foundations, just like so many earthquakes in the past.
As a male foreigner who has lived in the country for a little over three years, I'm probably not the most reliable authority on the role of women in Chilean society. But the country seems to be something of a contradiction in regards to attitudes towards women.  Chile showed its progressive side in 2006 with the election of Michelle Bachelet, making it only the second country in Latin American history to elect a female president (Panama's Mireya Moscoso was the first in 1999). In addition, two of its three greatest cultural icons are women, the folk singer and artist Violeta Parra (herself the subject of a recent film, Violeta Went to Heaven, from one of Chile's most prominent male directors, Andrés Wood) and the Nobel Prize-winning poet Gabriela Mistral, with the third being Pablo Neruda.
On the other hand, as in several countries, domestic violence is a serious problem. A 2004 National Women's Service report found that 50% of married women in Chile had suffered abuse from their husbands, while 34% had been subjected to physical violence. It is also one of the few countries in the world where abortion is prohibited under all circumstances, even in situations where the mother's life is in jeopardy.
One thing that does seem clear, however, is that young Chilean women today enjoy greater personal liberty than any previous generation, and this is evident in the rich crop of feminine cinema, art, music and so on that is being produced in the country. There is no one definite reason to explain this surge in creative output but one can suppose that social changes, Chile's strong economy, and growing public interest in the independent arts are all factors.
But rather than ponder the social make-up of a country, why not check out some of the many men and women who have made a vast contribution to Chile's bubbling film scene? The nomination of Pablo Larraín's No at the 2013 Oscars was a big boom for the industry but that particular film is just the tip of an ever-swelling iceberg of independent and cutting-edge cinema. With the sheer amount of innovative young filmmakers in the country, the future for Chilean film looks very promising indeed.
Ten of the new wave of Chilean directoras
Teresa Arredondo – Winner of the Santiago International Documentary Festival (FIDOCS) 2012 for her documentary Sibila.
María Paz Gonzalez – Her documentary Hija (Daughter) focused on a roadtrip across Chile undertaken by Gonzalez and her mother, both on personal missions to discover their past in the form of long-lost relations.
Dominga Sotomayor – De Jueves a Domingo (Thursday to Sunday) won at the Valdivia International Film Festival and has just been released in the UK. She has also made several short films.
Constanza Fernández – Director of Mapa Para Conversar (Map for a Talk), winner at the Santiago Film Festival 2011.
Marialy Rivas – Joven y Alocada (Young & Wild) was a sparkly tale of very horny Chilean teenagers which won the World Cinema Screenwriting Award at the Sundance Festival in 2012.
Pachi Bustos – Renowned Chilean director who has made several films, the most recent of which was Cuentos sobre El Futuro (Tales about The Future), a look at life's social realities for a select group of santiaguinos.
Ana María Hurtado – Hurtado´s film Palestina al Sur  (Palestine of The South) is a warm, humourous and moving account of Iraqi refugees starting new lives in the city of La Caldera in Chile. It won Best Documentary in the New Horizons section of the Al Jazeera Film Festival 2012.
Pamela Pequeño – Director of Dungun, La Lengua (The Dungun Language), a new film about Chile's indigenous Mapuche language and community which has been highly acclaimed by Chilean critics.
Maite Alberdi – Director of El Salvavidas (The Lifeguard), a light-hearted look at the competition between two lifeguards on Chile's Pacific coast.
Susana Díaz – Director of Hardcore: La Revolución Inconclusa (Hardcore: The Inconclusive Revolution), which details the origins of Santiago's underground punk movement.

Follow Sounds and Colours: Facebook / Twitter / Instagram / Mixcloud / Soundcloud / Bandcamp

Subscribe to the Sounds and Colours Newsletter for regular updates, news and competitions bringing the best of Latin American culture direct to your Inbox.
Share: