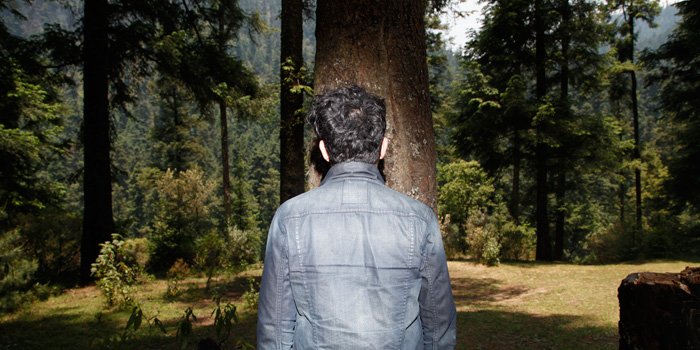 Dancing To Death with Talking Heads: An Interview with Sokio
18 November, 2014
We are extremely happy here at Sounds and Colours this week to be previewing Sin Mucho Sentido, the new Latin takeover of Talking Heads' landmark live album Stop Making Sense. The album was put together by Ponk Records, a Brooklyn-based record label interested in promoting Latin American artists to the wider world, and will be officially released on Friday 21st November. Here, we chat to Ponk Records' main-man Sokio (who's also one of the artists on the compilation) about the record and why he thinks that Latin artists have such love for Talking Heads.
Click here to listen to our exclusive stream of Sin Mucho Sentido
Why did you decide to put this album together?
As a label we identified language as a barrier for Latin indie artists to reach an international audience, and we realized we needed to offer a compilation in English to promote our artists and the others that we like. With Amanda, Francisca and Catalina, the core of Ponk Records, we started thinking last October about ways to break through this barrier and we came up with the idea of making a tribute to an iconic band that sings in English. We cast around for an album and stumbled upon Stop Making Sense, which is celebrating its 30th anniversary this year. It was such a clear and obvious choice! One of the most important bands from the 80s from NYC, who brought so much soul to the US scene, embracing styles and rhythms from all over the world, not to mention that every song's a hit… it was simply the perfect match for connecting the artists with a potential larger audience.
What's your own personal take on this album? When did you first hear or see Stop Making Sense? What impact did it have on you?
I was attracted to the Talking Heads from the very first time I heard them. It was an uncle who introduced me to their music, specifically the Stop Making Sense album, and I was very, very excited. The whole idea of the first song and that boom box was transformative. What is the true essence of a song? What tools does one need to express one's deepest fears? Then during my teenage years, we used to put that record on at every party, and dance to death, probably imagining we were part of the crowd during those recordings. The big suit also made a big impression, and I ended up buying huge ones in different colours trying to imitate the style.
Some of the tracks have taken quite a different approach to the original music, offering an introspective electronica or dream pop interpretation. Were you surprised by how different everyone's approach has been to the originals?
Absolutely. What is most interesting is the general feeling around this tribute. I think most Anglo listeners will be surprised with the lack of salsa, sabor caliente and happiness which Latin American music is often associated. This is a record with a contemporary sense of melancholy, but we never asked the artists to take that approach, it simply happened. Torreblanca's "Psycho Killer" and Miss Garrison's "Girlfriend is Better" are really impressive. They took the originals, then they forgot about them, and started all over. They are the same songs, but not really. The introspective aspect you ask about is something I've given a lot of thought. It's pretty clear to me that every artist involved in the project went down a rabbit hole to find themselves within the songs they cover, which is what makes the whole album feel organic and sometimes a little bit dense.
Was it easy to assign tracks to artists or did everyone want to do "Psycho Killer" or "Once In A Lifetime"? Did any fights break out in the selection process?
Yes and no. From the beginning we decided which songs to assign each artist based on our knowledge of them. We had these "audible visions" where we imagined how each of them would transform the song into their own language. Some of them were reluctant, saying "I really don't like this song" or "I prefer 'Psycho Killer', can I do it"? But in the end, once everybody worked with their songs, their opinions changed, and they ended up really loving the result. One thing was absolutely clear for us from the beginning: Sonido San Francisco needed to cover "Burning Down The House" but we chewed on the other pairings quite a bit. The songs you mentioned are so ubiquitous that it was difficult for the artists to think of a different choice, but that was part of our job as a curators.
You decided to cover "This Must Be The Place" for this album (although it wasn't actually part of the original 1984 release!). Why did you choose this song?
After inviting all of these artists to collaborate, I realize there wasn't a song left for me! It was a tricky decision to add that song in there, but let's consider it "a bonus track", and I gave myself a special curatorial license. It is one of my favourite songs (and probably for a lot of other people too) and I wanted to tweak it, and take it to "another place". Most of my own songs, especially after "Atlántico" carry some disenchantment and a dreamy sound. This is how the 80s sounds to me, even the most danceable songs. I think my soul can't think in different terms today.
Do you think that Talking Heads have had a big influence on modern Latin music? If so, why do you think this is?
Oh yes they absolutely do! Most of the artists involved in Sin Mucho Sentido were so grateful to be called because of their connection to that record specifically. I'm sure most Latin American artists knew about Talking Heads thanks to the huge promotion of that album at the time. In my particular case, I remember my dad buying me Stop Making Sense on cassette. He was in the US for a job, and he brought me that album on the week of the release. I was super impressed with its cross-cultural nature, the sophistication of the and arrangements. It sounded to me like they worked intensely mixing in these African and Latin influences, so much rhythm and soul combined with a dark vision of the world.
Do you have any plans to perform this album in a live environment wearing a large suit and running round the stage for the whole performance?
There was an idea of having the artists perform in their own countries, but I don't know if that will happen any time soon. It's a lovely idea, but to put all schedules together is a little bit complicated, and probably beyond our abilities at the moment. Maybe in Chile we will be able to do something in January. Some of the artists are making videos, and they will release them soon. I would love if one of them uses as a reference any aspect of the mise en scène from the movie. And of course, I would love to use a large suit in my video!
Click here to listen to our exclusive stream of Sin Mucho Sentido

Follow Sounds and Colours: Facebook / Twitter / Instagram / Mixcloud / Soundcloud / Bandcamp

Subscribe to the Sounds and Colours Newsletter for regular updates, news and competitions bringing the best of Latin American culture direct to your Inbox.
Share: