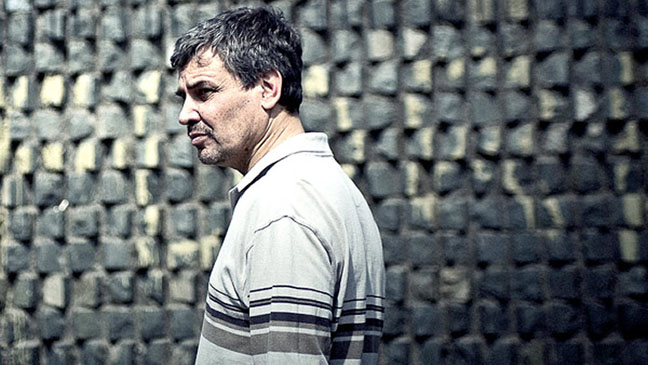 Dog Flesh (Carne de Perro)
18 June, 2013
Redemption for past sins is the key premise of Dog Flesh (Carne de Perro), the debut feature film from Chilean director Fernando Guzzoni. It is the story of Alejandro (played by Alejandro Goic), a middle-aged man who is unable to unshackle himself from a past role in Pinochet's security forces, and who is prone to bouts of uncontrolled anger and violence. His precarious mental state prevents him from forming social bonds while failed attempts to redress his emotional instability sned him into an ever deeper state of anxiety. Trapped in a perpetual cycle of self-loathing and rage, Alejandro is not so much wrestling with his demons as collapsing under the sheer weight of their collective shit-kicking.
Few details are revealed about Alejandro's dark past other than that he committed savage acts under the dictatorship. What the film focuses on is the breakdown he is now experiencing, anchored in the nightmarish actions of another time from which he cannot extract himself. He is a lost soul, living in a personal purgatory of remorse and shame that he endures as a numbingly impotent daily reality.
This is a darkly drawn out character study in which the camera never leaves Alejandro's side as he drifts emptily through life, where even apparently regular activities such as interacting with people or going to work are loaded with foreboding and angst. It constantly feels that at any second an explosion will occur, which it does most brutally in a harrowing section from which the film gets its title.
Dog Flesh's brooding pace foster the corrupted sense of worthlessness that surrounds the lead character, but at times it feels like it is somewhat wallowing in Alejandro's discomfort. There are some nicely-shot scenes, such as an extremely downbeat trip to the beach, but for much of the time the camera is set upon Alejandro's shoulders as he dolefully shuffles through his bleak existence.
Is it possible to care for a character with a past such as Alejandro's? The film doesn't ask pity of its audience and it provokes an important question: is Alejandro personally responsible for the vile deeds he once committed or is he himself a victim, a vulnerable man easily exploited to carry out the moral malefactions of an inhuman system? His efforts to exorcise the ghosts of the past are dashed by the extreme acts to which he is still prone, and it is left to the viewer to either accept or reject the notion of Alejandro as worthy of sympathy. The film provides a portal but judgment is to be cast by the individual.
The latest in an impressively large number of films to deal with themes related to the period of military rule in Chile, Guzzoni's film was well-received on last year's international festival circuit and picked up prizes at the San Sebastian, Havana and Valdivia film festivals. Its lengthy narrative style and the murky gloom in which it unfurls won't suit all tastes, but as a portrayal of the disintegration of the human psyche, it is very convincing. Following its successful festival appearances of 2012, Dog Flesh has recently gone on general release in Chile although a UK release date has yet to be announced. Cats will probably enjoy it.

Follow Sounds and Colours: Facebook / Twitter / Instagram / Mixcloud / Soundcloud / Bandcamp

Subscribe to the Sounds and Colours Newsletter for regular updates, news and competitions bringing the best of Latin American culture direct to your Inbox.
Share: