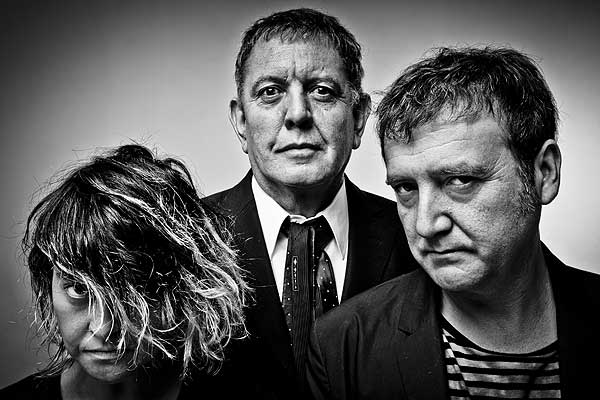 Electrodomésticos back with a new video and album
27 June, 2013
One of the best music documentaries to have come out of Chile in recent times (and there have been a substantial number) was Sergio Castro's Electrodomésticos: El Frio Misterio. The film tells the story of eighties Santiago band Electrodomésticos who emerged on the city's underground scene at the height of the Pinochet dictatorship, a time when dissenting voices were greatly repressed and individual expression curtailed. By the time the eighties rolled around, military rule in Chile was so firmly ensconced that a slight loosening of restrictions occurred, meaning that a small yet vibrant, semi-clandestine music scene was able to emerge. These pulsating gigs attracted a crowd of young Chileans who hungrily embraced the formation of their own alternative outlets following several years' endurance of the cultural vacuum engineered by the military regime. Drawing influence from the British new wave and punk sound of the time, this new scene in Chile saw the emergence of bands such as Los Prisioneros and Electrodomésticos.
Times have changed sine then and Electrodomésticos are these days venerated heroes of national music in Chile, so much so that their latest video was directed by a man whose last project received an Oscar nomination. Pablo Larraín's No was an international hit in 2012 and the Chilean director has followed that up by making an artsy video to 'Detrás del Alma', his first music video and the first single from new Electrodomésticos album, Se Caiga el Cielo (The Sky is Falling).
The video is set amid the trappings and finery of a very fancy soiree in some kind of French palace, a long way from the band's early days in electric underground venues in Santiago. There is a bit of role-swapping going on in the video, as the three band members switch between playing their instruments and serving the drinks. While they shake the martinis, their places onstage are taken by ex-Weichafe vocalist Angelo Pierattini, Miss Garrison frontwoman and drummer Francisca Straube, and, er, the owner of a Santiago bar. According to Larraín, the video's black and white pouting solemnity and box-style frontal shots pay tribute to the band's video to the 1989 song 'Yo la quería', which was released in the last year of military rule. Larraín says that "these images generated in the dictatorship served to build a bridge between what the band was and its return", in reference to Electrodoméstico's reformation in 2011 after almost a decade apart. In spite of the band and their fans getting older and a marked rise in the means of video production (ie. more money), by linking the imagery of the new video with that of earlier visual content the band can be identified with its younger self.
Electrodomésticos originally formed in in Santiago in 1984, a period when a huge part of Chile's artistic community was either living in exile or had been deterred from pursuing their creativity by the military authorities. Listening to the likes of Talking Heads and Joy Division gave young Chileans a sense of what was happening internationally with music, and it was these bands that Electrodomésticos looked to as they developed their own style. Mixing in elements of seventies-era David Bowie, most notably in singer Carlos Cabezas' melancholy and languid vocal lilt, they also experimented with electronic sound effects to produce a sound that was rooted in several external styles but difficult to pin down under one genre.
The band has had a distinctive on-off relationship, breaking up in 1992 for the first time only to reform ten years later before going their seperate ways again in 2005 until getting back together in the current guise in 2011. Cabezas maintained his profile with a string of well-received solo albums while fellow founder member Silvio Paredes, whose driving or slap-bass rhythms form a vital component of the band dynamic, formed the influential electro outfit Los Mismos. The latest incarnation has seen the addition of drummer Edita Rojas, and it is these three who now make the up the group's core.
Se Caiga el Cielo is Electrodoméstico's first album since 2004's La Nueva Canción Chilena. It is released on the 3rd July.

Follow Sounds and Colours: Facebook / Twitter / Instagram / Mixcloud / Soundcloud / Bandcamp

Subscribe to the Sounds and Colours Newsletter for regular updates, news and competitions bringing the best of Latin American culture direct to your Inbox.
Share: