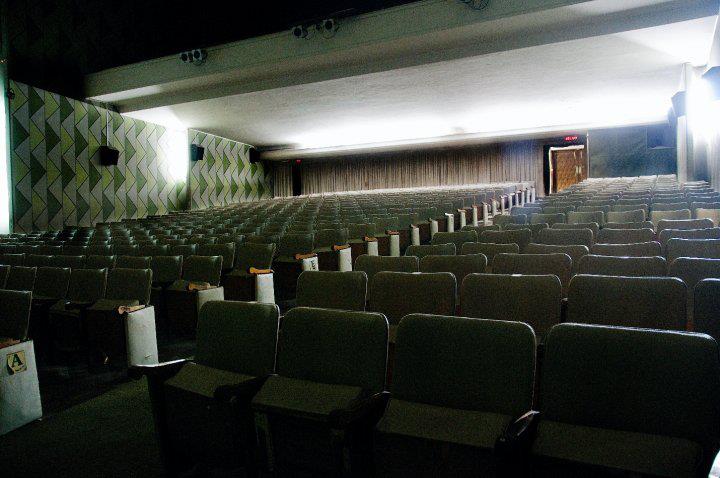 Fight for the Right to Be Seen: How Chilean film struggles in the face of Hollywood
09 July, 2014
It's a familiar feeling for anyone whose filmgoing tastes stray from the incoherent, overblown, cultural-imperialist offerings that Hollywood constantly pumps into cinemas. You want to go and watch a film so you check the listings. You recoil in repulsion at the utter drivel on show.
I remember vividly one particular instance as I walked past the local multiplex in Santiago de Chile. Here I was, living in the cradle of the Andes, in a land of rich culture and creativity, presented with a choice of Scream 4, Pirates of the Caribbean 4, Fast and Furious 5 (or maybe 6), Mission Impossible 17 and so on.
Fortunately, Santiago boasts an eclectic and broad cinema scene, with numerous picture houses, cultural centres and universities that show films, past and present, from all over the world. As I lived in the city centre, it was easy to head to the Normandie or Centro Arte Alameda and catch something original and thoughtful from Chile or elsewhere. So I was OK. But what about all those people who aren't blessed with independent cinemas on their doorstep?
Not only are audiences fed a product that turns them into brain-rotting consumer zombies, the omnipresence of big-budget Hollywood blockbusters smothers regional filmmaking. Chilean films, and those from many other countries, struggle to compete with Hollywood's insatiable appetite for cinematic hegemony. The mass media bombards us with dazzling imagery from these films until seeing them becomes a matter of necessity. I remember the pitying reactions when I mentioned I still hadn't seen Avatar (don't worry, I have now).
There are, of course, many people who feel this way. I suspect that you, as a Sounds and Colours reader, are of similar mind. So, in late-2013, when the Chilean film industry announced plans aimed at supporting national cinema, reaction was generally positive. The Estrenos del Cine Chileno (Chilean Cinema Premieres) project, made up of various organisations from within national film, proposed a series of guidelines which would support an industry battered by the force of foreign imports.
That's not to say Chile hasn't been punching above its cinematic weight in recent times. Films such as No and Gloria have been successful in several countries, while Alejandro Jodorowsky's new film The Dance of Reality has garnered widespread interest through the identity of its director. But for each success, several other films are dragged down by the sheer dominance of Hollywood.
Juan de Dios Larraín, vice-president of the Asociación de Productores de Cine y Televisión (Association of Cinema and Television Producers and a filmmaker, was one of the main figures behind the agreement. Speaking in the La Tercera newspaper, he said "there were a lot of (Chilean) films which had little possibility of competing in cinemas. Applying the same rules as with films from American studios, it was impossible to support them."
The agreement focused on three principal elements. The first called for cinema chains to guarantee Chilean films a minimum of two weeks on the bill, regardless of financial performance. Next was the demand that Chilean films be shown on a specified number of screens nationwide. Finally, the organisation proposed higher levels of coordination with regards to national cinema so as to avoid Chilean films competing with one another for ticket sales. "Even if a film sells zero tickets, it goes to a second week," said Larraín. "The agreement also guarantees a minimum of screens. Ten screens allows for a level of sufficient exhibition."
Alejandro Caloguerea, manager of the Cámara de Exhibidores Multisala (Chamber of Multi-Screen Exhibitors), which looks out for the interests of the chains, said that "foreign films do not receive this benefit and can be dropped at the end of the first week if they fail to sufficiently attract the public." In the Chilean case, after a film has completed an initial two-week run, a third week, and so on, depends on its ability to attract 300 people to at least one function.
While there is consensus that it is necessary to take measures to support national cinema, putting the agreement into practice has not been without its problems. Chief among these is the duplicity of the leading chains, for whom big-budget, star-driven Hollywood movies are far more lucrative. While on the surface they comply with the guidelines, the measures taken by the chains can actually harm Chilean films' market share.
The comedy Soy Mucho Mejor que Voh (I'm Much Better than You) was one such film which experienced difficulties. Released at the same time as Spiderman 2, Rio 2 and Noah, it struggled to gain a foothold, while chains sought to maximise their intake by screening the most commercial films during peak cinema hours, relegating the likes of Soy Mucho Mejor que Voh to the graveyard shift.
Director José Manuel Sandoval described how obstacles were placed in the way of the film's success. "The chains are always trying to remove Chilean films by finding ways to avoid 300 spectators so that the film is dropped, as Spiderman does better (financially)," he said in La Tercera.
Even the larger-budget Chilean films have struggled as chains like Cine Planet and Cine Hoyts continue to cater for the mass-market. Manuel Bosoalto's film Neruda told the story of Chile's revered Nobel Prize-winning poet Pablo Neruda and was backed by a marketing campaign which cost five times more than the average release. The film was also the first national production to be released following the new agreement. With the marketing campaign and the international acclaim for 2011's Violeta Se Fue a los Cielos (Violeta Went to Heaven), a biopic of one of Chile's other great cultural icons, Violeta Parra, the film displayed the potential hallmarks for success.
But, according to Bosoalto, Neruda was also hampered by the chains' deliberate scheduling, which allotted the film a late-night slot, knowing that audience numbers were lower at this time. "There were a lot of new films and they put our second function at midnight," he said. "This caused the film to be dropped."
This led to criticism of the Estrenos del Cine Chileno for overlooking an important detail when formulating the new guidelines. "The agreement was made through the exhibitors being able to avoid a quota. This favours them," said Sandoval. "Exhibitors must be obliged to supprt Chilean films and public television. The agreement is not the best way, so it needs to be reviewed. A law on screening quotas is a more realistic option."
According to Caloguerea, who represents the chains and other film distributors, this is unfeasible. "A screening quota is unconstitutional. In private places such as cinema screens, the state would be taking control, without reason, of a part of its exhibition time," he said. "In addition, this would mean arbitrarily discriminating against a sector; it limits exhibitors' freedom of expression."
What was intended as a proactive step in supporting regional film now seems to have become bogged down in accusations of insufficient compliance on one side and surreal defences of the constitutional rights of multinational companies on the other. As Hollywood floats on an ocean of its own commercial dominance, Chilean films struggle to keep their heads above water. More than anything it's up to audiences to support and promote independent film. That way, we might even get something resembling varied choice in cinemas before the next century.
Keep up to date with Chilean film at the Cinechile website.

Follow Sounds and Colours: Facebook / Twitter / Instagram / Mixcloud / Soundcloud / Bandcamp

Subscribe to the Sounds and Colours Newsletter for regular updates, news and competitions bringing the best of Latin American culture direct to your Inbox.
Share: