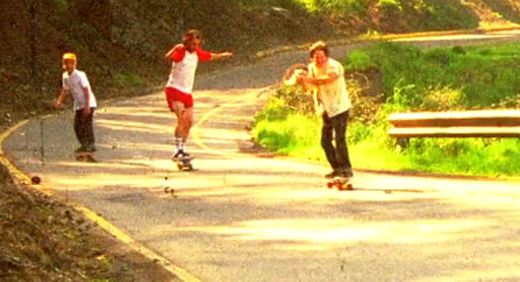 Flying on the Board: A Glimpse into Santiago's Skate Scene
13 February, 2017
It seems that only stray dogs and skaters are out in the blistering midday heat of February in Chile's capital Santiago. Braving 30°C plus on a day like today, the vast and shallow pool of curving concrete at the Parque Bustamante feels more like a baking tray than a skate park. In fact the two central volcano-like bumps look fit to bubble over in any second. This does not, however, deter half a dozen skaters from tirelessly working on their moves as the other half watch on complacently from the safety of shady sidelines.
Spanning 3,000 m² and sporting sparsely-placed rails, pipes and ramps, Bustamente skate spark sits at the heart of Santiago, enveloped in the bustle of the city. With its ideal wideness, this space led the skating wave that hit Chile in 1976, serving as a hub for the likes of notorious names such as Tony Sarroca, Felipe Fredes, Claudio and Rodrigo Izzo. On his return from California, where he had mixed with members of the Dogtown crew, Chilean skating pioneer Tony Sarroca sparked a revolution with his first-hand experience. Until his arrival, skating had been a grey and constrained scene under the dictatorship of Pinochet.
Local rider Jolton Oveltona, who comes here sun or rain, assures me that skate park Bustamente is without doubt the best in Santiago, partly for its historical significance but mainly for its nature. His dream is to discover the Southbank skate park in London.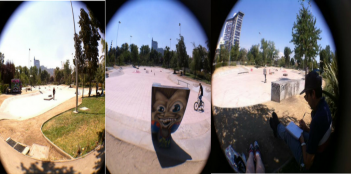 "Un nuevo truco es una satisfacción y una alegría que te ayuda a seguir amando el skate e inspirarte en nuevos trucos" ("A new trick brings satisfaction and joy that helps you to keep loving skateboarding and inspire you to learn more tricks") Jolton Oveltona, Parque Bustamente.
The first official skate park, however, dates back to the late 70s at the Estoril neighbourhood in Las Condes, built by a company named Hitman. A U-bowl of 1,800 m² that once accommodated up to 170 skaters, the park closed down in 1981 under the economic crisis. The gradual rebirth of skating in the following years resulted in the opening of the skate park at Parque Los Reyes in 2006, a historical moment from which the phenomena spread. With five bowls of different sizes shoulder-to-shoulder and a street section with rails, steps, ramps and boxes, Los Reyes is an understandably popular spot. Colleagues at Movistar, Gonzalez and his pals skate here on a daily basis since it is close to their work. They describe the park as a haven for skating competitions.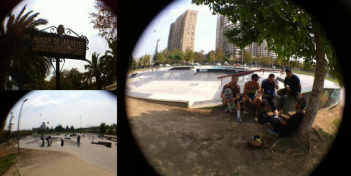 "Somos un grupo de compañeros de trabajo que usamos nuestro horario de colación para compartir y andar en skate" ("We are a group of colleagues who use our lunch time to share and go skating") Gonzalez Hernandez and friends, Parque de los Reyes.
On visiting some of the other skating hot spots, it becomes clear that this sport and 'estilo de vida' have emerged as an integral part of Chilean culture with a strong hold on Santiago. Each park offers something different. With two bowls alongside boxes, rails and steps of different sizes, the skate park at Parque O'Higgins is smaller than the one at Parque Los Reyes and certainly the one at Parque Bustamente, yet is well equipped. Situated within a stretch of cafés and restaurants in the park, O'Higgins offers a relaxed vibe and is surrounded by grass and trees. 17 year old Kevin Urtubia has been skating here since he was a child and can't imagine life without his board.

"Me lo paso muy bien ya que comparto con mis amigos y los más genial es que me encanta volar en la tabla" ("I love it because I share it with my friends and the best thing is flying on the board") Kevin Urtubia, Parque O'Higgins.
For a contrasting scene, indoor skate park Mall Sport in Las Condes can be used regardless of the weather and boasts obstacles for all levels. Competing with Bustamente, the outdoor skate park at Las Condes also spans 3,000 m² and bears everything necessary to enjoy outdoor skating – no bikes allowed. Whilst discovering what Santiago's skating platter has to offer, the continuous flow of street skaters does not escape my eye. Aided by the city's flat streets and wide concrete public spaces, skaters are at home here, especially with the recent closing of certain main streets every Sunday for sports.
Whether streets or parks, one thing shared by all of the spots, however, is the passion and commitment of skaters to their own patch of turf (or, more correctly, concrete). This sense of communal integration and social unity driven by a plank of wood on wheels appears to exist all over the world. Whether you speak to skaters in Jamaica, Czech Republic or Chile the message will always be the same: "No matter where you go, if you have your skate, you immediately have friends". This simple outlook on life, shared by Finnish street rider Anna Nittylä, offers a ray of light in times clouded by political mistrust and increasingly-inward looking societies. The powerful and wide reaching impact of skateboarding on unifying people and places cannot be overlooked, especially in this heat.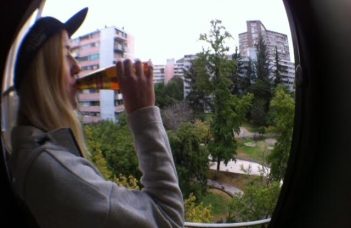 "No importa de donde andas, si tienes tu skate, tienes amigos" ("No matter where you go, if you have your skate, you immediately have friends") Anna Niittylä, Providencia.
Want to know more about skateboarding in Chile? You can watch the full-length documentary Esqueibor: La Historia del Skate in Chile (with English subtitles) below:

Follow Sounds and Colours: Facebook / Twitter / Instagram / Mixcloud / Soundcloud / Bandcamp

Subscribe to the Sounds and Colours Newsletter for regular updates, news and competitions bringing the best of Latin American culture direct to your Inbox.
Share: