Francisca Valenzuela On Ruidosa, Chile's First 'All-Female' Music Festival
14 March, 2016
Earlier this year, the #freekesha case propelled the deep-seated issue of women's rights in the music industry into public view. Yes, while some of the biggest stars of the music industry are largely female (Beyoncé, Adele…), the majority of music industry executives and those who hold top positions are men. Fed up of the inherent sexism that comes with making music, Chilean pop star Francisca Valenzuela, together with women's collective and blog Zancada, launched Ruidosa, a festival that seeks to address this imbalance through a series of concerts and conversation.
"Women are refused equal participation in so many different areas of the industry. A study from Billboard Magazine found that in 2014 only 6% of women held high-ranking managerial positions in the entire US music industry. In Latin America, the statistics didn't even exist." Valenzuela says "…it's not just with executive positions. Why are there so few women producers or sound engineers? Aside from that, there are ingrained barriers in the music industry, whether it's the treatment of women or the expectations and demands on women. People ask, is this fight necessary? So many women have successful careers and are killing it! That's true, but that doesn't mean there aren't issues that should be questioned and discussed."
Valenzuela knows first-hand what she is talking about. After ten years of releasing music professionally she has been continually exposed to male chauvinism, "I've had meetings with labels and they say 'why don't you do ballads or songs you can take your clothes off to?' The treatment I've received has been so condescending at times – one label even feigned a marriage proposal to ask me to sign with them. I mean, how humiliating and inappropriate is that?"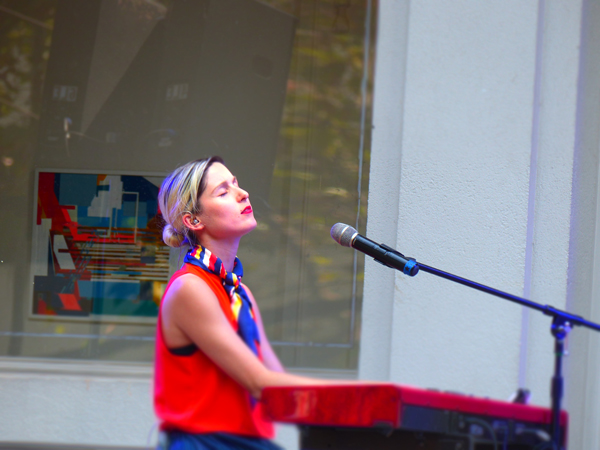 Francisca Valenzuela
Taking place in Providencia, Santiago, Ruidosa combined seven concerts with two live discussion forums. One discussion, "From the Music", was curated by Valenzuela and featured a panel of Chilean artists: Camila Moreno, Javiera Mena and Denise Rosenthal. "There are respectable musicians who cannot believe that a woman can know how to use synthesizers" shared Javiera Mena, listing just one of the many instances that each female artist had been subject to bigotry.
Assembling a solid line-up of women from different sectors of the industry was a major factor for Valenzuela. "The initiative of Ruidosa has to do with bringing women together, to serve as examples for other women", she explains. "Whether it's the US or Latin America, I've spoken to a lot of female musicians who share these similar experiences, but we don't notice it's wrong until we get together and talk about it. Sometimes I never thought something was sexist at the time and but I look back at it and think 'damn, that was super sexist'!"
Valenzuela is a vocal advocate of women's rights, and not just cases within the music industry. She has tweeted support for the need to change Chile's strict abortion laws, which currently outlaws abortion in all cases. At Ruidosa, a team of Amnesty International volunteers asked audience members for their support and signatures to petition for a change in the law. Despite a female president, Chile can still be considered lacking in terms of female rights. Could women musicians more likely be subjected to sexism in Chile?
"…I think it is something embedded in the industry in general. In Chile we have this dichotomy, we have a scene full of women, very varied and diverse, we have a female president, and then you have Violeta Parra and Gabriela Mistral, who are matriarchs of Chilean culture", Valenzuela explains. "Yet there is still a condescending approach to the capability of women, to the idea of what women are supposed to be."
Despite the prevalent prejudicial barriers, Valenzuela had no problem securing support for her festival. She presented the idea for Ruidosa last year to the Muncipalidad de Providencia, a council headed by two women, who enthusiastically encouraged the project. Artists and industry experts similarly seized the opportunity to participate. "Every woman I invited to come said 'of course'! It's coherent to them what we're trying to do. It's a free event, a modest and organic event – it's not a big Lollapalooza type of production. There are a few similar festivals in Europe and the US, but not a lot."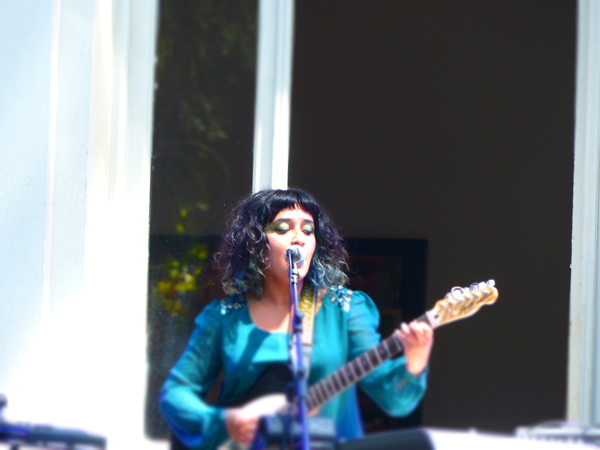 Natisú
Valenzuela lives between Chile and LA, she's preparing for a tour in South America and will release a new single in the upcoming months before taking some time off to work on new music. Despite her busy schedule, she doesn't plan on Ruidosa being a one-off event.
"I'd love to expand this concept in other South American countries because we need it. I have never done anything like this before but I hope if it all goes well we can do it again!"
Ruidosa took place in Santiago, Chile on Saturday March 5th 2016. More information at ruidosafest.com

Follow Sounds and Colours: Facebook / Twitter / Instagram / Mixcloud / Soundcloud / Bandcamp

Subscribe to the Sounds and Colours Newsletter for regular updates, news and competitions bringing the best of Latin American culture direct to your Inbox.
Share: